Benghazi!! (Wait, What?): Tales from the State Department
The ongoing destruction of the Department of State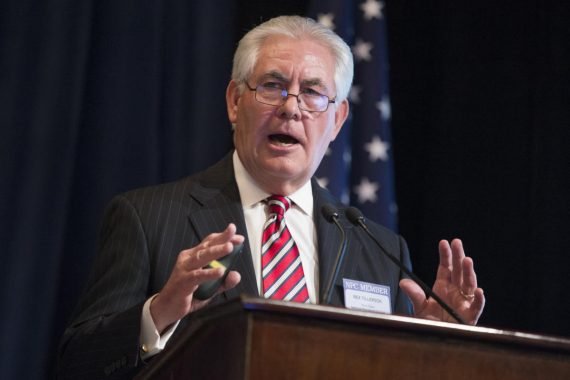 Via the NYT:  Diplomats Sound the Alarm as They Are Pushed Out in Droves.
Of all the State Department employees who might have been vulnerable in the staff reductions that Secretary of State Rex W. Tillerson has initiated as he reshapes the department, the one person who seemed least likely to be a target was the chief of security, Bill A. Miller.

Republicans pilloried Hillary Clinton for what they claimed was her inadequate attention to security as secretary of state in the months before the deadly 2012 attacks in Benghazi, Libya. Congress even passed legislation mandating that the department's top security official have unrestricted access to the secretary of state.

But in his first nine months in office, Mr. Tillerson turned down repeated and sometimes urgent requests from the department's security staff to brief him, according to several former top officials in the Bureau of Diplomatic Security. Finally, Mr. Miller, the acting assistant secretary for diplomatic security, was forced to cite the law's requirement that he be allowed to speak to Mr. Tillerson.

Mr. Miller got just five minutes with the secretary of state, the former officials said. Afterward, Mr. Miller, a career Foreign Service officer, was pushed out, joining a parade of dismissals and early retirements that has decimated the State Department's senior ranks. Mr. Miller declined to comment.
It's as if all the talk about Benghazi and security by the GOP vis-a-vis the Secretary of State was nothing more than pointless grandstanding.
Beyond my snark, I would note that the piece is yet another detailing of the utter disaster that is the Tillerson State Department.
The number of those with the department's top two ranks of career ambassador and career minister — equivalent to four- and three-star generals — will have been cut in half by Dec. 1, from 39 to 19. And of the 431 minister-counselors, who have two-star-equivalent ranks, 369 remain and another 14 have indicated that they will leave soon — an 18 percent drop — according to an accounting provided by the American Foreign Service Association.

The political appointees who normally join the department after a change in administration have not made up for those departures. So far, just 10 of the top 44 political positions in the department have been filled, and for most of the vacancies, Mr. Tillerson has not nominated anyone.
Two key quotes from the piece from former State officials:
"The United States is at the center of every crisis around the world, and you simply cannot be effective if you don't have assistant secretaries and ambassadors in place," said R. Nicholas Burns, a retired career diplomat who was an under secretary of state for President George W. Bush. "It shows a disdain for diplomacy."
Recently resigned Ambassador to Qatar,  Dana Shell Smith:
"These people either do not believe the U.S. should be a world leader, or they're utterly incompetent," she said. "Either way, having so many vacancies in essential places is a disaster waiting to happen."
While it is certainly the case that any bureaucratic structure, whether in the public or private sectors, can use some shaking up from time to time, this is not the way to go about it.  Really, either the Secretary is being destructive on purpose, or is utterly incompetent (or both).
As Daniel Drezner, noted Tillerson critic, put it recently:
So, to sum up: An incompetent secretary of state has demoralized the diplomatic corps, demonstrated zero ability to reorganize the State Department beyond vacuous PowerPoint presentations, alienated Congress, alienated every foreign policy observer inside and outside the Beltway, and is, in essence, flying blind on all of the regions in which he has no experience.
Making American foreign policy great, or something.