Bernanke's Reply to China
The finger-pointing about the global economy continues.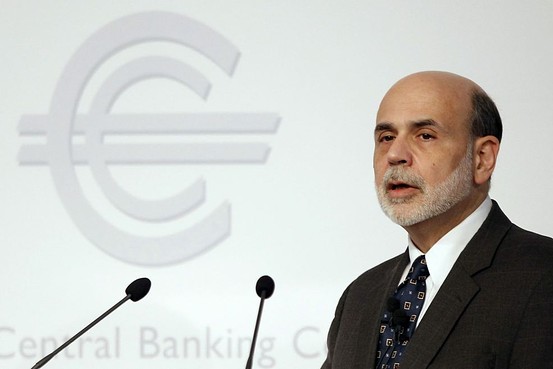 Although he didn't mention China by name, I'm sure the Chinese authorities took Dr. Bernanke's remarks as being addressed at them. In remarks made in Frankfurt, Federal Reserve Chairman Ben Bernanke issued a retort to Chinese complaints about his second assay at quantitative easing:
By keeping their currencies artificially weak, Mr. Bernanke argued in Frankfurt Friday, China and other emerging markets are allowing their economies to overheat, preventing trade imbalances from adjusting and worsening what he called a "two-speed" global recovery.

Their "strategy of currency undervaluation" is preventing more "balanced and sustainable" global growth, he warns, echoing a view expressed by Obama Administration officials.
He continued:
"Why have officials in many emerging markets leaned against appreciation of their currencies toward levels more consistent with market fundamentals?" Mr. Bernanke asks. Mainly, he says, because they are sticking to a long-term strategy of pushing for export-led growth with cheap exchange rates.
Rather than attempting to lay blame I think it would be more productive for Dr. Bernanke to recall that the United States is almost completely unable to influence Chinese behavior and policy. China comprises an enormous territory containing more than a billion people. The Chinese authorities have their own goals and objectives and U. S. wants and needs play little role in them.
If we have objections to the relationship between China and the United States we should look rather to changing our own behavior and policy. We were not forced to extend most favored nation trading status to China, expand trade with China, or sell U. S. Treasury notes to China. We were also not forced to allow commercial banks to get into the investment bank business, loosen lending standards, or make risky bets on perpetually rising housing prices.
Those were policies, conscious choices, we made them, we had good reasons for making them, but they were not the only possible choices.
They are not laws of nature and treating them as such while treating Chinese policies as malleable to suit our needs is mere petulance.
The behavior we change must be our own.