Bernie Sanders' Rights Talk is Nonsense on Stilts
The Vermont socialist likes to invent rights that don't exist.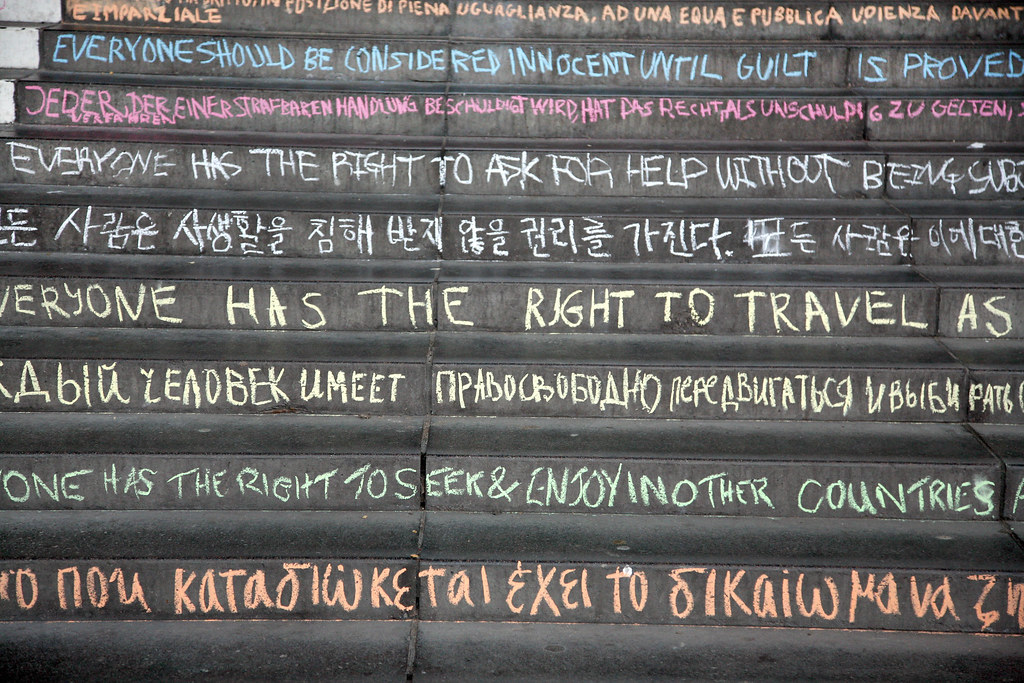 In an otherwise perfectly sensible discussion of handling "gentrification," Vermont Senator and Democratic Presidential front-runner Bernie Sanders had this to say:
People have a right to live in rental units that are affordable.

— Greenville News, "Bernie Sanders offers 3 ideas to help battle gentrification while in Greenville"
It's a common theme of his.
For instance,
Joining every other major country on Earth and guaranteeing health care to all people as a right, not a privilege, through a Medicare-for-all, single-payer program.

— Bernie Sanders 2020 campaign website, "Health Care for All"
Not to mention,
Make quality education a right

— Bernie Sanders 2020 campaign website, "Fight for Working Families"
And of course,
[E]veryone who can work in America should have the right to a decent-paying job

— Bernie Sanders 2020 campaign website, "Jobs for All"
While I likely disagree with Sanders on how to implement these policies, we're in agreement that human beings—particularly in a society as wealthy as ours—deserve to live in reasonable comfort and dignity. And, while we may differ on where one draws the line, we're certainly in agreement that decent housing, education, healthcare, and employment are part of that.
Where we disagree is on the notion that these things are somehow "rights."
In the tradition of the Enlightenment, out of which our own Declaration of Independence sprang, rights are almost always negative. The government may deprive us of life or liberty only under certain preset conditions after application of agreed-upon processes. We're entitled to "the pursuit of happiness" without interference from government; we're not entitled to happiness itself. Similarly, the government isn't allowed to infringe upon our speech, worship, expression, and so forth. Our rights are almost all simply listings of things the government may not restrict or may restrict only under certain conditions.
Offhand, the only positive right I can think of in the Constitution is the right to have "the assistance of counsel" found in the 6th Amendment and later incorporated via the 14th. While it was initially narrowly construed—the government couldn't prevent people from hiring an attorney—it gradually evolved into a right for one provided by the government, at least for indigent persons, when facing criminal penalty.
Still, while this is a positive right—in the sense that government is providing a benefit rather than simply refraining from taking an infringing action—it stems from a negative right—preventing the government from denying life or liberty without due process. It's simply understood that the law is sufficiently complex that a citizen without access to an attorney is at such a huge disadvantage in court against the government.
Sanders' proposed rights are all positive. And this is problematic.
I agree with Sanders that we ought, as a society, guarantee health coverage to all citizens. While I don't pretend to have figured out the finances, I even agree with him that something like "Medicare-for-all" is the best way to go about providing this guarantee. But, unlike liberty writ large or more concrete rights like freedom of assembly, health care doesn't exist in a vacuum. Another human being has to provide it. It seems odd, indeed, to say that we have a "right" to other people's work.
Similarly, "rental units" are property. Those who own said property have rights; we declared as much in 1776. To say that those who don't own the property have some sort of "right" to live in it is baffling.
The same is true of "a decent-paying job." Leaving aside what constitutes "decent-paying," it makes little sense to argue that one citizen has a right to the property of another. Again, the property owner has an "inalienable" right to have it protected from government taking absent due process of law. But how does another citizen gain a right to it?
Some of these objections go away under socialism. If government owns the means of production, there is no private property right to be alienated.
We've largely done this with primary and secondary education. While no one has a "right" to go to Phillips or Groton, we can say they have a right to free public education if the state is building and otherwise financing the schools. Some societies have decided that even university education is a "right," to be paid for by the state.
But while Sanders labels himself a "socialist," he doesn't advocate government taking over all the nation's industry or nationalizing all of the apartment buildings. He doesn't even want a British-style National Health Service, where the hospitals are state-owned and the staffs are civil servants.
So, talking about these things as "rights" is just an odd formulation. It makes much more sense to talk about "safety nets," community, and human dignity.