Bernie Sanders' Soviet Sister City
There's nothing to see here, folks.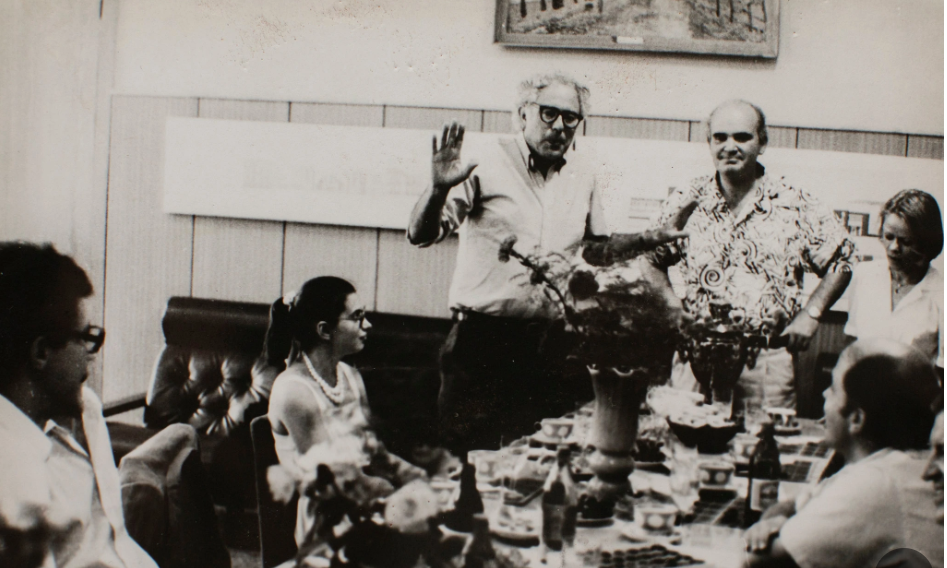 The New York Times conducted an exhaustive study of the Russian archives involving then-Burlington, Vermont Mayor Bernie Sanders' efforts to find a sister city in the Soviet Union. It published its findings in a report titled "As Bernie Sanders Pushed for Closer Ties, Soviet Union Spotted Opportunity." It has the ominous subhed "Previously unseen documents from a Soviet archive show how hard Mr. Sanders worked to find a sister city in Russia when he was a mayor in the 1980s. Moscow saw a chance for propaganda."
I read the report twice-biased against Sanders. First, he's by far my least favorite of the major contenders for the Democratic nomination and I would welcome an exposé that further diminishes his chances in that contest. Second, I already think he is a fellow traveler and Communist sympathizer.
But there's nothing even the least bit damning here.
The mayor of Burlington, Vt., wrote to a Soviet counterpart in a provincial city that he wanted the United States and the Soviet Union to "live together as friends."

Unbeknown to him, his desire for friendship meshed with the efforts of Soviet officials in Moscow to "reveal American imperialism as the main source of the danger of war."

That mayor was Bernie Sanders, and the story of his 1988 trip to the Soviet Union has been told before. But many of the details of Mr. Sanders's Cold War diplomacy before and after that visit — and the Soviet effort to exploit Mr. Sanders's antiwar agenda for their own propaganda purposes — have largely remained out of sight.

The New York Times examined 89 pages of letters, telegrams and internal Soviet government documents revealing in far greater detail the extent of Mr. Sanders's personal effort to establish ties between his city and a country many Americans then still considered an enemy despite the reforms being initiated at the time under Mikhail S. Gorbachev, the Soviet general secretary.

They also show how the Kremlin viewed these sister city relationships as vehicles to sway American public opinion about the Soviet Union.
"One of the most useful channels, in practice, for actively carrying out information-propaganda efforts has proved to be sister-city contact," a Soviet Foreign Ministry document provided to Yaroslavl officials said.
Now, that above-linked report from last year, "Mayor and 'Foreign Minister': How Bernie Sanders Brought the Cold War to Burlington: Referendums, rallies, a trip to Nicaragua — all were part of his effort to infuse left-wing activism into local politics," is indeed damning. It shows him in the mid-1980s as a willing stooge and apologist for the brutal socialist dictatorship in Nicaragua. It also shows him as a rather lousy mayor—more interested in undermining his country's foreign policy than fixing potholes and otherwise tending to his constituent's interests.
But the sister city relationship with Yaroslavl was harmless. It was part of a longstanding effort that began under President Eisenhower in 1956 and was still enthusiastically supported by President Reagan three decades later.
That the Soviets saw the project differently than the Americans is, well, not surprising.
Nothing in the documents suggests that Mr. Sanders was the only local American official targeted for propaganda, or even that he was particularly receptive to it, though they do describe him as a socialist. But the documents do show the Soviets' intensive preparation to use Mr. Sanders's interest in their country to their advantage.
But there's no evidence presented that they gained any advantage or that Sanders meaningfully contributed to it. And, as much a Cold Warrior as I was at the time—I was commissioned and started field artillery training at Fort Sill the year in question—we were in fact in the era of Glasnost and Perestroika and near the collapse of the Soviet Union.
This is as bad as the report gets:
Mr. Sanders's involvement in the Cold War debate grew in the 1980s as he forcefully opposed the Reagan administration's plans to have Burlington and other American cities make evacuation plans for a potential nuclear war.

Instead, Mr. Sanders reached out to the Soviet Union via an organization based in Virginia, requesting a sister-city partnership with the Cold War adversary in an effort to end the threat of nuclear annihilation.

"We were saying: The goal is to not have a nuclear war, not to plan and prepare for it," said Terry Bouricius, a Burlington alderman at the time who accompanied Mr. Sanders on the trip.
While I very much support the goal of avoiding nuclear war, that doesn't mean it's not prudent to plan and prepare for the eventuality. And, again, it's not the remit of the mayor of fucking Burlington to decide United States foreign policy.
This report is yet another reminder that Sanders is something of a simpleton when it comes to foreign policy. But there's no evidence of wrongdoing. He may well have been an idiot, but he was not a useful one.
Correction: In the original version of the post, I misidentified the Sandinista government as "communist" when they self-identified as "socialist." Still, Daniel Ortega considered himself a Marxist-Leninist, he was trained in Communist Cuba, and "his first period in office was characterized by a controversial program of nationalization, land reform, wealth redistribution and literacy programs." It wasn't Scandinavian social democracy.