Best Blogs of 2010: Washington Note
Congrats to Steve Clemons, whose "Washington Note" has been named one of TIME's Best Blogs of 2010.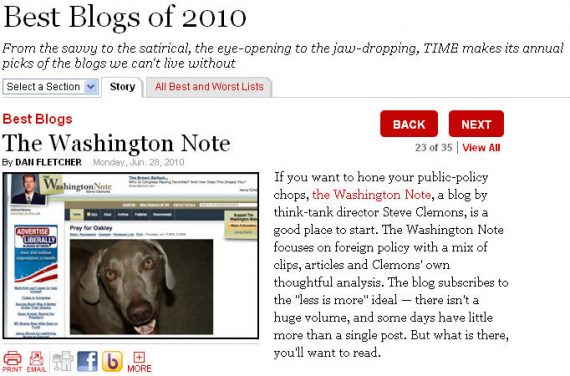 Steve Clemons' The Washington Note has been named one of the Best Blogs of 2010 by Time magazine.
If you want to hone your public-policy chops, the Washington Note, a blog by think-tank director Steve Clemons, is a good place to start. The Washington Note focuses on foreign policy with a mix of clips, articles and Clemons' own thoughtful analysis. The blog subscribes to the "less is more" ideal — there isn't a huge volume, and some days have little more than a single post. But what is there, you'll want to read.
Congrats to Steve for a well-earned honor.
OTB has been snubbed yet again!  Perhaps we need more tear-jerker dog stories with happy endings.