Beware The Barrenness Of A Busy Tax Code
Tax compliance employs more workers than Wal-Mart, UPS, McDonalds, IBM, and Citigroup -- combined.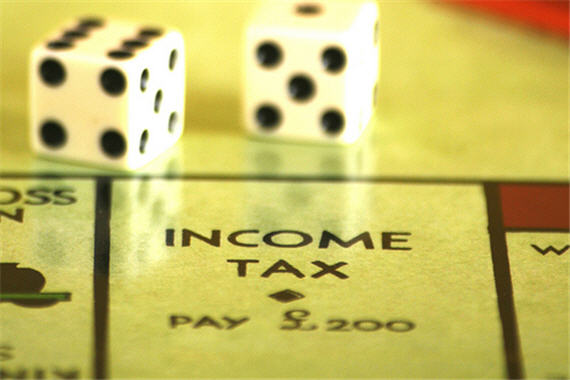 "The hardest thing in the world to understand is the income tax." — Albert Einstein (attrib.)
Tax returns are due today. Arthur Laffer marks the occasion by pointing out that tax compliance employs more workers than "Wal-Mart Stores, United Parcel Service, McDonald's, International Business Machines, and Citigroup combined." The result is a markup of "30 cents on every dollar paid in taxes":
To start with, individuals and businesses must pay the government the $1 in revenue plus the costs of their own time spent filing and complying with the tax code; plus the tax collection costs of the IRS; plus the tax compliance outlays that individuals and businesses pay to help them file their taxes.

In a study published last week by the Laffer Center, my colleagues Wayne Winegarden, John Childs and I estimate that these costs alone are a staggering $431 billion annually….

A complete accounting of compliance costs would also include the efficiency losses created when individuals and businesses invest in tax-avoidance activities that lower their tax liability at the expense of creating more jobs and economic growth. These lost opportunities are impossible to measure but could be the largest cost of all.
The simple solution? Tax code simplification:
If we think of the tax-compliance markup as simply another tax, we can also think of a reduction in compliance costs as a tax cut.

A tax reform to a simple flat-rate tax with no deductions would significantly reduce the current complexity inherent in our progressive tax system, which is full of loopholes, exemptions and special interest carve-outs. Based on the estimates from our new study, if a static, revenue-neutral flat-tax reform were to reduce the tax complexity in half, the long-term growth in our economy would increase by around one-half of 1% per year.
As William Simon put it, "The nation should have a tax system that looks like someone designed it on purpose." Given the difficulty even IRS employees have providing correct answers to tax questions, simplifying the tax code makes sense just from a practical standpoint. Add in the benefits of freeing up hundreds of billions currently being wasted merely filling our forms for more productive use and it's a no-brainer. But, to paraphrase the Esteemed Professor, there's no opportunity to coerce people's behaviour in that plan, so it probably won't happen.