Tax Burden At Historic Low?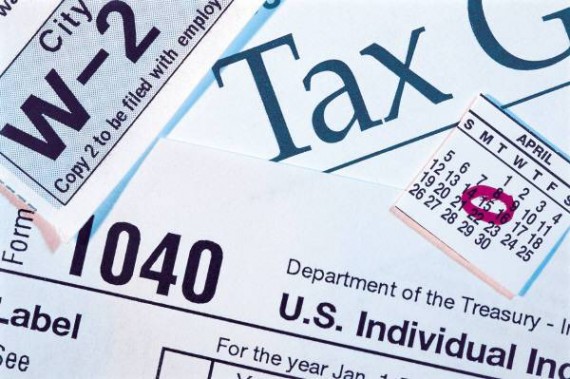 According to one study the federal tax burden for individual Americans is at a level unseen since the 1950's:
For the past two years, a family of four earning the median income has paid less in federal income taxes than at any time since at least 1955, according to the Tax Policy Center. All federal, state and local taxes combined are a lower percentage of per-capita income than at any time since the 1960s, according to the Tax Foundation. The highest income-tax bracket is its lowest since 1992. At 35 percent, it's well below the 50 percent mark of much of the 1980s and the 70 percent bracket of the 1970s.

Even the combined California state and local taxes, while tied for fourth highest in the nation, aren't particularly high for the state. In 2009 – the most recent year for which data are available – they accounted for 10.6 percent of Californians' per-capita income, just slightly above the 25-year average of 10.3 percent.

"There's this impression that there's a colossal tax burden and that's not really the case," said Raphael Sonenshein, a political science professor at Cal State Fullerton. "But if you're really angry at the government, you're going to think taxes are too high."

The recession contributes to lower taxes because many incomes have stagnated or fallen, and fewer retail sales mean less sales tax. But low tax brackets and a series of special deductions are primary factors in the reduced tax burden.

Meanwhile, government spending continues to grow, leading to record budget deficits and a $14 trillion national debt. Some tax hawks advocate holding the line on taxes and balancing the budget by cutting programs. But many economists think higher taxes are inevitable because of the limited trims possible for major expenses such as Medicare, Medicaid and Social Security. Those three entitlements account for 40 percent of federal spending.
The result of that is pretty predictable:
Those lower taxes have helped give the U.S. government the lowest revenues as a percentage of gross domestic product of seven industrialized countries surveyed in 2010 by the Congressional Research Services. (The other countries were Japan, Canada, the United Kingdom, Germany, Italy and France.) The U.S. also had the lowest spending as a percentage of the GDP.

But with the biggest gap between revenues (31.6 percent of GDP) and expenditures (42.2 percent of GDP), the U.S. also posted the largest deficit as a percentage of GDP – 10.5 percent.
That's just nonsensical. If you're going to increase spending, which is all we've done under two Presidents now for ten years, then cutting revenues makes absolutely no sense at all. Moreover, saying "no new taxes" doesn't strike me as a governing philosophy so much as it's a political slogan, and that's coming from a guy who would prefer that taxes be as low as possible for everyone.