Fiscal Cliff Compromise
A outline of a deal both sides could live with.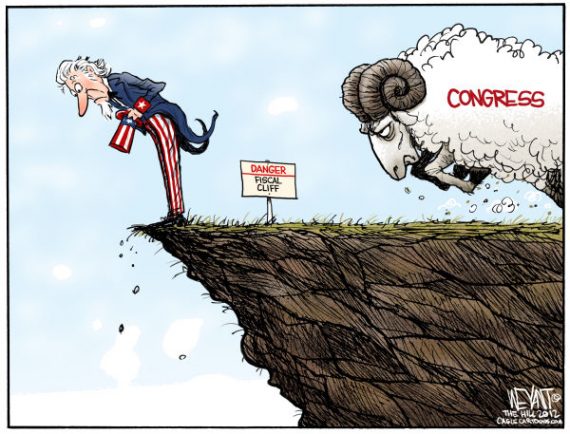 Ezra Klein reports that, despite all the public blustering, the two sides are actually quite close on a deal on the so-called fiscal cliff:
Talk to smart folks in Washington, and here's what they think will happen: The final tax deal will raise rates a bit, giving Democrats a win, but not all the way back to 39.6 percent, giving Republicans a win. That won't raise enough revenue on its own, so it will be combined with some policy to cap tax deductions, perhaps at $25,000 or $50,000, with a substantial phase-in and an exemption for charitable contributions.

The harder question is what Republicans will get on the spending side of the deal. But even that's not such a mystery. There will be a variety of nips and tucks to Medicare, including more cost-sharing and decreases in provider payments, and the headline Democratic concession is likely to be that the Medicare eligibility age rises from 65 to 67.

That's not a policy I like much, but New York magazine's Jonathan Chait accurately conveys the White House thinking here: They see it as having "weirdly disproportionate symbolic power," as it's not a huge (or smart) cut to Medicare benefits, and most of the pain will be blunted by the Affordable Care Act. But Republicans and self-styled deficit hawks see it as a big win. And Democratic House Minority Leader Nancy Pelosi, who staunchlyopposes raising the retirement age, has stopped well short of ruling it out.
Paul Krugman hopes that this isn't true:
First, raising the Medicare age is terrible policy. It would be terrible policy even if the Affordable Care Act were going to be there in full force for 65 and 66 year olds, because it would cost the public $2 for every dollar in federal funds saved. And in case you haven't noticed, Republican governors are still fighting the ACA tooth and nail; if they block the Medicaid expansion, as some will, lower-income seniors will just be pitched into the abyss.

Second, why on earth would Obama be selling Medicare away to raise top tax rates when he gets a big rate rise on January 1 just by doing nothing? And no, vague promises about closing loopholes won't do it: a rate rise is the real deal, no questions, and should not be traded away for who knows what.
Krugman's right here, at least in terms of the politics. I'm not sure why President Obama would concede so much given that he holds almost all of the cards. The Clinton rates will return automatically and there's nothing the Republicans can do to prevent that; all they can do is block making the Bush tax cuts permanent for the bottom 98 percent–which would be the biggest gift to the Democrats since nominating Barry Goldwater. And, yes, raising the Medicare age actually increases costs, making the victory symbolic but stupid.
Bargaineering's Tim Wang has done the drudge work of putting together the three baseline scenarios together in a concise format, so I'm going to just use his tables outright while cutting some of his analysis for simplicity:
Three Proposals

Current Law: The current law, in which Bush-Era tax cuts expire, goes into effect.
Obama Budget: President Obama's Fiscal Year 2013 Budget Proposal is passed.
Bush Era Cuts: The current brackets are extended, the Bush-Era tax cuts are extended.

Tax Brackets

Here are the tax brackets under the Current Law scenario:

| | | | |
| --- | --- | --- | --- |
| Tax Bracket | Single | Married Filing Jointly | Head of Household |
| 15% Bracket | $0 – $35,500 | $0 – $59,300 | $0 – $47,600 |
| 28% Bracket | $35,500 – $86,00 | $59,300 – $143,350 | $47,600 – $122,860 |
| 31% Bracket | $86,000 – $179,400 | $143,350 – $218,450 | $122,840 – $198,900 |
| 36% Bracket | $179,400 – $390,050 | $218,450 – $390,050 | $198,900 – $390,050 |
| 39.6% Bracket | $390,050+ | $390,050+ | $390,050+ |

And the brackets under the Obama FY2013 Budget:

| | | | |
| --- | --- | --- | --- |
| Tax Bracket | Single | Married Filing Jointly | Head of Household |
| 10% Bracket | $0 – $8,750 | $0 – $17,500 | $0 – $12,500 |
| 15% Bracket | $8,750 – $35,500 | $17,500 – $71,000 | $12,500 – $47,600 |
| 25% Bracket | $35,500 – $86,000 | $71,000 – $143,350 | $47,600 – $122,850 |
| 28% Bracket | $86,000 – $179,400 | $143,350 – $218,450 | $122,850 – $198,900 |
| 33% Bracket | $179,400 – $199,350 | $218,450 – $241,900 | $198,900 – $222,750 |
| 36% Bracket | $199,350 – $390,050 | $241,900 – $390,050 | $222,750 – $390,050 |
| 39.6% Bracket | $390,050+ | $390,050+ | $390,050+ |

Finally, here's what they'd look like if the Bush Era cuts are extended as is:

| | | | |
| --- | --- | --- | --- |
| Tax Bracket | Single | Married Filing Jointly | Head of Household |
| 10% Bracket | $0 – $8,750 | $0 – $17,500 | $0 – $12,500 |
| 15% Bracket | $8,750 – $35,500 | $17,500 – $71,000 | $12,500 – $47,600 |
| 25% Bracket | $35,500 – $86,000 | $71,000 – $143,350 | $47,600 – $122,850 |
| 28% Bracket | $86,000 – $179,400 | $143,350 – $218,450 | $122,850 – $198,900 |
| 33% Bracket | $179,400 – $390,050 | $218,450 – $390,050 | $198,900 – $390,050 |
| 35% Bracket | $390,050+ | $390,050+ | $390,050+ |
From the Democrats' perspective, Current Law is the ideal outcome. It raises rates back to Clinton levels, thus maximizing revenue to the Treasury, while shifting all the blame to the Republicans. But President Obama's proposal is politically shrewd: It raises the rates on the top bracket but retains the Bush tax cuts for everyone else. Finally, there's the ideal Republican outcome, which keeps the Bush rates intact for all income levels.
Looking at the tables, several things jump out at me that have escaped the public debate.
First, all of the discussion has surrounded some mythical $250,000 level that appears nowhere on any of the three scenarios.
Second, note that the Current Law scenario has only five brackets, compared to six under the Bush Tax Cuts scenario and seven under the Obama scenario. If nothing happens and the Bush tax cuts expire completely, there will be a rather staggering increase on the tax rates for the lowest income groups, not only because the rates go up but because the bracket thresholds go down tremendously. For Married Filing Jointly, we'd go from a 10% rate on the first $17,500 to a 15% rate on the first $59,300!
Third, the debate has entirely elided the fact that, in addition to rates, there are three filing categories: Single, Married Filing Jointly, and Head of Household. The rates vary widely between those groups.The Current Law scenario is brutal on Heads of Household, i.e., single parents.  (With the death of my wife last November, I'm now in that category, although I get to file in the Married Filing Jointly category for one more tax year.)
It strikes me that there's a deal here that's smarter than the one Klein's sources are betting on. One that's simultaneously better for the country, better for both sides politically, and more compatible with the purported governing philosophy of both parties to boot.
First, the Republicans have argued that, rather than raising rates, we should close loopholes that benefit the rich. But they never seem to tell us which loopholes. So, let me throw some out there:
Carried interest: Essentially, hedge fund managers and other bigwigs in the financial services industry get to treat their income as capital gains, which are taxed at 15%, rather than ordinary income. For those on the high end of the earnings spectrum, that's a massive windfall. It's the reason Mitt Romney and Warren Buffet pay such low rates. And there's no rationale for this that makes any sense: They're taking no risk with their money to justify a lower rate; they're investing other people's money. Some estimates have this bringing in an additional $17.7 billion over ten years; not a ton by federal government standards but real money.
State and local taxes: We're allowed to deduct from our gross earnings monies paid to state and local governments: income taxes, property taxes, and the like. While this makes sense on the macro level–you'd otherwise be taxed on income that you didn't actually see–it's a huge boon to those living in high tax states and localities. Seth Hanlon at the liberal Center for American Progress notes that this cost the Treasury $70.2 billion in FY 2011 alone and that the savings is negligible for most Americans; only those making over $100,000 a year net any significant savings while those making over $200,000 a year average a whopping $5166. So, either cap this deduction severely or get rid of it entirely.
Mortgage interest: While it's never made any sense to me to subsidize homewners building equity in the property while poor people get nothing for rent that's just lost money, the deduction is too entrenched and popular to go away. But, surely, we can eliminate it on second homes. For that matter, we should be able to phase in a cap on very high dollar homes.
Second, Democrats insist that rates go up for the highest earners while Republicans say this is a non-starter. Given that rates go up automatically in three weeks, the Democrats are going to score a win on this one. Republicans should counter with a deal that's a win for both sides:
More brackets: Current Law has us going to brackets, the Bush extension favored by Republicans has six brackets, and Obama proposes seven. Let's give him his seven brackets. Or eight. This gives the Democrats a big win over the automatic cuts that they'd get anyway, introducing substantial progressivity over the five bracket scenario, and thus giving the Republicans leverage they otherwise lack.
Extend Bush rates to more people: Currently, the 33% rate extends to $390,050 for all filing categories. Obama ends it at $241,900 for Married Filing Jointly and it goes away entirely under the automatic resumption of the Clinton rates. Republicans should propose to keep the 33% rate and make up whatever difference isn't already made up with the loophole closures with a higher rate at the very top levels. At the very least, they should be able to wrangle a number in between $241,900 and $390,050; $315,975 splits the difference. This gives the Republicans a substantial win both philosophically and negotiation-wise–but the president comes out ahead, too, in that this would raise the threshold for hikes beyond a level that anyone could plausibly claim was "middle class."
A millionaires tax: Pursuant to both of the above, there would be an additional rate on incomes over $1,000,000. While artificial, it's a number that still screams "rich" to, well, anybody. I haven't done the math here to know what rate we'd need to reach the required revenue thresholds. The 39.6% bracket that comes back automatically might be enough; it might not. But, surely, it wouldn't have to go higher than the 50% rate that was acceptable to Ronald Reagan throughout most of his presidency. For that matter, we could have a bracket in between the 33% rate and the millionaires rate, kicking in at, say, $500,000.
In terms of entitlement reform, there have to be smarter ways to save money on Medicare—which all agree is simply a must, given the trendlines—than raising the eligibility age. Some combination of cost inefficiencies on things like drug purchases and means testing would be a good start, although likely not enough. There are some other sensible reforms along those lines in the Simpson-Bowles plan, which seems to be drawing renewed interest, although quite a few of the suggestions have already been implemented. There's money to be had, for example, in means testing Social Security and/or taxing it for those above a high income threshold.
Let me reiterate that I haven't done the math on any of the above; indeed, I'm not even sure how I'd begin. Some tweaks might be necessary to make the numbers add up. But my outline puts real money on the table in terms of loophole closures and does rate hikes in a way that gives both Republicans and Democrats real wins. It's better than the three scenarios currently on the table in terms of revenue, politics, and basic fairness. And it would get the ball moving in terms of real negotiations.