History of American Income Tax Rates
The top marginal rate was radically higher in recent memory.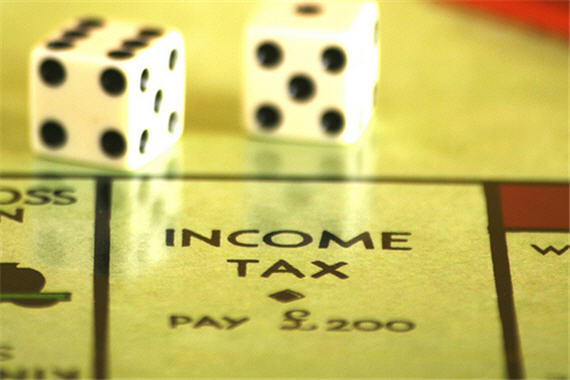 With so much discussion about soaking the rich, class warfare, and the like spawned by President Obama's millionaires tax, it's useful to remind readers of the history of US tax rates. Here's a summary table from the Tax Policy Center of the Urban Institute and Brookings Institution: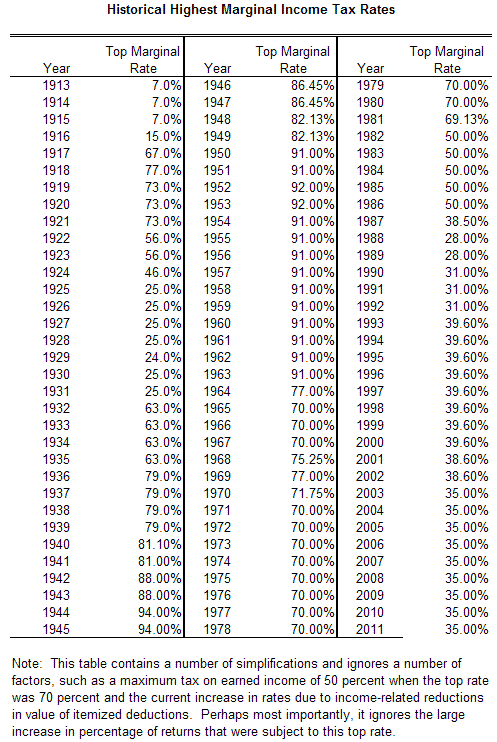 Recall that the income tax only goes back to 1913 and the passage of the 16th Amendment. It was originally quite small and levied only on the very highest earners. It skyrocketed for both world wars and has been as high as 92 percent. John Kennedy's tax cut took it down only into the 70s. Even Ronald Reagan's first set of cuts only took it down to 50 percent. Finally, late in Reagan's second term, we saw it get into the 30s and–for two glorious years–the upper twenties. It's been in the range of 31 percent to 39.6 percent for more than two decades now.
Now, the chart comes with some caveats, most notably "it ignores the large increase in percentage of returns that were subject to this top rate." In the days when the top rate were much higher, a much smaller percentage of Americans were subject to that rate.
As I explain in great detail a couple years back in a post titled "Class Warfare: Framing the Debate," it's pretty silly to argue that letting the Bush tax cuts expire and have the top marginal rate rise from 35 percent to 38.6 percent is some sort of unprecedented assault on the rich. Especially since the Republicans have seemingly won this debate: there's no serious talk of going back up to even the 50 percent rates of the early Reagan years.
My problem isn't with progressive taxation per se, which I believe is necessary for moral and practical reasons, but with rhetoric designed to pit the highest earners against the rest of society. As I noted in that post, "It's dangerous for a republic to operate on the basis of the lower classes voting themselves a larger share of the earnings of the upper classes.  It's one thing to appeal to a sense of noblesse oblige and quite another to treat others' wealth as a piggy bank to be raided at will."