Obama's Millionaire's Tax
President Obama is proposing a special tax rate for millionaires.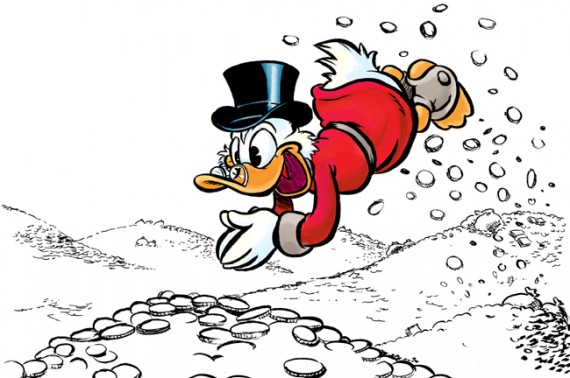 President Obama is proposing a special tax rate for millionaires.
NYT ("Obama Tax Plan Would Ask More of Millionaires"):
President Obama on Monday will call for a new minimum tax rate for individuals making more than $1 million a year to ensure that they pay at least the same percentage of their earnings as middle-income taxpayers, according to administration officials.

With a special joint Congressional committee starting work to reach a bipartisan budget deal by late November, the proposal adds a new and populist feature to Mr. Obama's effort to raise the political pressure on Republicans to agree to higher revenues from the wealthy in return for Democrats' support of future cuts from Medicare and Medicaid.

Mr. Obama, in a bit of political salesmanship, will call his proposal the "Buffett Rule," in a reference to Warren E. Buffett, the billionaire investor who has complained repeatedly that the richest Americans generally pay a smaller share of their income in federal taxes than do middle-income workers, because investment gains are taxed at a lower rate than wages.

Mr. Obama will not specify a rate or other details, and it is unclear how much revenue his plan would raise. But his idea of a millionaires' minimum tax will be prominent in the broad plan for long-term deficit reduction that he will outline at the White House on Monday.
WaPo ("Obama to call for new minimum tax rate for millionaires"):
President Obama plans to call Monday for a new minimum tax rate on millionaires as part of a comprehensive rewrite of the U.S. tax code to force the wealthiest Americans to pay the same share of income in taxes as middle-class families.

In a twist on Obama's long-standing assertion that the wealthy should do more to tame the soaring national debt, the proposal would target the top 0.3 percent of taxpayers, many of whom currently reap huge benefits from lower rates on capital gains and dividends, which form the bulk of their earnings.

While the idea has little chance of winning congressional approval, it could help shape a populist message for Obama and other Democrats heading into the 2012 presidential campaign.

According to a White House official who asked for anonymity because the proposal has not been announced publicly, Obama plans to call it the "Buffett Rule," after Warren E. Buffett, the billionaire investor who recently stepped down from the Washington Post Co. board of directors. Buffett has long complained that the current system taxes him at a far lower rate than his employees.

While wages are taxed at rates ranging from 10 percent to 35 percent, investment earnings are taxed at 15 percent.
Republicans will decry this as "class warfare." For once, they'll be right. The sole purpose of this proposal, which has zero chance of being passed into law, is to leverage resentment against the most successful for political advantage.
If the purpose were to set up a political debate on the structure of our tax system and the need to bring in more revenues, there are all manner of serious ways to do it. For example, one could simply argue that capital gains should be taxed as ordinary income regardless of a person's earning level. Or one could propose gradual but substantial ratcheting up of the payroll tax ceiling such that high earners would pay more into the Social Security system. Or one could target myriad tax deductions, ranging from corporate subsidies to write-offs for second homes, that predominantly favor wealthy business interests or mostly benefit high earners.
None of that would go over well with Grover Norquist, of course. Depending on the specifics, I might not support the changes myself. But they'd form a basis for a serious discussion about dealing with our national debt crisis.  Instead, we're getting a cheap political stunt.
The primary reason that Buffett pays a higher effective tax rate than his secretary is that we have a FICA tax cap of $106,800. Because we are ostensibly using that money to fund Social Security retirement benefits, which are themselves capped, we only tax on the first $106,800.That means most of Buffett's vast income is not subject to the FICA tax. We could certainly raise–or even eliminate–that cap. But unless we're also going to offer enormous pensions to high earners (we currently cap payouts at $2346 a month) when they hit 65, we'll destroy the illusion that Social Security is a retirement insurance program rather than a welfare system. And, frankly, if we're going to do that, why not do away with separate FICA and Medicare taxes altogether and just raise the income tax rate?
As noted, the other difference between Buffett and his secretary is that, presumably, she gets all or most of her income in the form of wages. He, on the other hand, is mostly making money off of investment dividends. We tax those at different rates for a variety of reasons, the most prominent of which is risk. If money earned on investing in stocks were taxed at the same rate as guaranteed income, it would be a foolish investment indeed. Stocks go down. And money that's made after investing  for years at a time should be deprecated ; otherwise, we could tax as "income" what amounts to breaking even–or even a loss–when inflation is factored in. Those rationales make sense for ordinary investors but are mostly irrelevant for people whose primary job is churning stocks, much less buying up companies and breaking them into little pieces.
We need more money to pay for the government that our elected representatives have given us over the past three decades and the enormous spending that we've committed to for the future. The notion that we can cut ourselves to a balanced budget–or even a sustainable one–is absurd. That means we'll have to find new revenues. Naturally, those who are doing the best are going to get hit the hardest; that's where the money is.
Instead of adding more gimmicks, like the odious Alternative Minimum Tax or this silly "Millionaires Tax," let's make smart, transparent reforms to the way we tax earnings. That's more difficult than grandstanding, especially in the current political climate. But it's what leaders are supposed to do.