The Truth About The So-Called "Buffett Rule"
On it's own, the so-called "Buffett Rule" is unlikely to do much to reduce the deficit.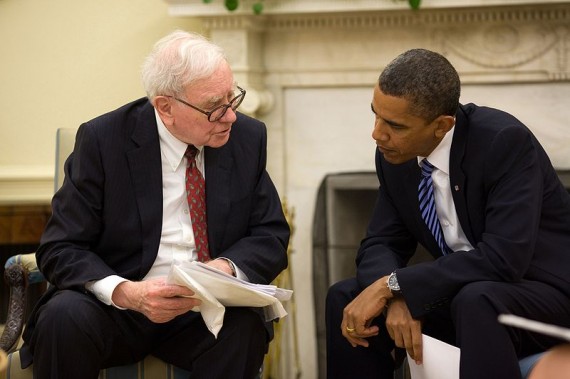 As I noted yesterday, it's been difficult over the past several months to determine exactly what President Obama means when he talks about the so-called "Buffett Rule," or how he proposes that it be implemented. His State Of The Union Address certainly didn't provide much detail, and neither did the five state barnstorming trip he completed yesterday. Senator Whitehouse of Rhode Island has one idea, but it's unclear if that would have the support of the majority of the Democratic Caucus in the Senate, not to mention the President himself.  More importantly, though, there seems to be very little discussion from the White House about what the actual impact of the so-called "Buffett Rule" would be:
President Barack Obama has left unanswered a major question about his Buffett Rule tax on millionaires: Just how much money would it raise?

Administration officials are not releasing projected revenues from the much-hyped plan named after billionaire investor Warren Buffett. During the State of the Union address, Obama tied his proposal — which would tax those earning $1 million at a minimum of 30 percent — to cutting a deficit estimated to top $1.1 trillion for the fourth straight year.

But for the moment, the White House wants to keep the attention focused on Obama's argument that it's unfair to tax Buffett's secretary at a higher rate than her boss.

"I'm not going to give you a schedule of how broad individual tax reform would break down and what impact it would have," White House press secretary Jay Carney said at the Wednesday briefing. "The president simply believes that as a matter of principle that unfairness ought to be changed."

Republican lawmakers — noting the absence of real numbers — attacked the plan as a political charade, an attempt to score points in the November election instead of a serious policy to reduce federal debt. One outside analysis by the non-partisan Tax Foundation indicates the rule would generate another $36.7 billion a year in revenue — far from enough to make a serious dent in a national debt of $15 trillion.

"It's a smokescreen," Rep. Steve Scalise (R-La.) told POLITICO. "Barack Obama just wants to pit one group against another so he can raise more money to spend on a bloated government."

Along with Sen. John Thune (R-S.D.), Scalise unveiled an alternative to the Buffett Rule in October, sponsoring a measure that would let the wealthiest Americans volunteer to pay more in taxes to specifically lower the deficit.

In the State of the Union, Obama pitted the Buffett Rule against being forced to carve up government funding for education, medical research and the military, saying it was choice between tax cuts for the wealthiest Americans and "investments in everything else.

"If we're serious about paying down our debt, we can't do both," the president said.
The President is right on this particular point, of course. I've said numerous times here that serious deficit reduction has to include spending cuts, entitlement reform, and comprehensive tax reform. That tax reform may well mean changes that lead to someone like a Warren Buffett paying a higher percentage of their income in taxes, but it shouldn't just be done by grafting yet another Alternative Minimum Tax scheme like the one that Senator Whitehouse proposes, or some change to the way Capital Gains are treated for people at differeing income levels that leads to the addition of a few hundred pages to the Tax Code. Or at least that's how things should work.
Leaving aside the "class warfare" arguments that Republicans will assuredly make, there are other unintended consequences that could result from simply grafting a new rule on top of an already overly complicated, loophole-filled Tax Code, and how much it would actually contribute to deficit reduction:
On a broad level, the Buffett Rule on its own would only contribute to the complexity of the U.S. tax code, says Roberton Williams of the Tax Policy Center, a D.C.-based think tank."The problem with the Buffett Rule is essentially [it's] saying we don't like the outcome of our basic tax system … So let's make parts of it we don't like better."

Lawmakers have long enacted fixes like this in order to level the playing field between classes, says Williams, pointing to the Alternative Minimum Tax for an example. The result is a byzantine tax code that tries to do far more than just raise revenue. A tax code overhaul, while requiring a strenuous effort on the part of lawmakers, could likely be a better use of their time than enacting another add-on.

If a larger tax reform policy were to be enacted, could the Buffett Rule then be effective? If revenue-raising is the primary goal of the Obama administration's new tax policies, it does make logical sense to aim for the rich. While the U.S. median income has fallen in recent years, the rich are making more and more money, as the CBO pointed out in an October report.

Williams says at a certain point, there are diminishing returns on levying tax increases on the wealthy. Even the rich don't have unlimited wealth, and Williams adds that, "to close the budget deficit by half, you'd have to raise top rate to about 90 percent from current 35"—a politically untenable rate, to put it mildly.

(…)

Of course, it is difficult to tell at this point exactly what effects the rule might have, or even what it might entail. It could make some headway toward "fairness" in high-income tax rates, but when it comes to deficits, the gains would be modest.

Logan adds, for example, that the tax deductions the White House has said it would eliminate for millionaires in areas like housing, healthcare, retirement, and childcare are "extremely minimal" for people making over $1 million. All told, he estimates the Buffett Rule would raise about $36.7 billion in revenue in its first year. That's roughly 3.8 percent of the estimated federal deficit for 2012.
Another estimate, by the admittedly left-leaning Center For Tax Justice estimates that the "Buffett Rule" would garner an addition $50 billion in revenue per year, slightly higher than Logan's estimate, but still just a miniscule percentage of both the Budget Deficit, not to mention the $3.6 Trillion in total outlays in the Fiscal Year 2012 Budget.  On it's own, it's perhaps a start, but hardly sufficient to address the magnitude of the fiscal problems that we face and, in the long run, unlikely to really accomplish much of anything. Does anyone really believe, for example, that the additional $50 Billion (let's go with the CTJ's estimate just for the sake of argument) that this new tax would supposedly bring into Federal coffers would go toward deficit reduction? It wouldn't, of course. The President and Congress, regardless of which party they belong to, would look at it as "new money," and would find something new to spend it on. Absent a comprehensive deficit reduction package that includes all of the elements I outlined above, the "Buffett Rule," or any other stopgap measure, isn't going to accomplish much of anything in either the short or the long term.
In fact, all we have to do is look at history to see what is likely to happen:
The Buffett Rule would not be the first time the government demanded the well-heeled pony up their fair share. Congress passed the Alternative Minimum Tax in 1969, after then Treasury Secretary Joseph Barr testified that 155 Americans earned more than $1.2 million in today's dollars and didn't owe the government a dime in income taxes.

The AMT's pull weakened with each edit of the tax code. Some have jokingly called it the "Bethesda tax," since it now hits the upper middle class living places like the D.C. suburbs instead of those with extreme wealth.

After the State of the Union, Linda M. Beale, a tax law professor at Wayne State University in Michigan, blogged about that the Buffett Rule sounded familiar.

"Funny," she wrote, "that is what the original Alternative Minimum Tax (for individuals, and one for corporations) was supposed to achieve."
Of course, it's rather apparent that the "Buffett Rule" has much more to do with 2012 election politics than it does with putting forward a responsible plan to fix our fiscal problems:
The White House, however, maintains that to focus purely on Buffett revenue is to miss the point. White House press secretary Jay Carney stressed to reporters on Wednesday that there are "millionaires and billionaires who pay taxes at a substantially lower rate" than poorer Americans. "The President simply believes that as a matter of principle, that unfairness ought to be changed."
This may be smart politics. The polls would seem to indicate that it is. However, it's not necessarily smart fiscal policy.
Photo via White House Flickr Feed