Warren Buffett: Tax Me More!
One of the super-rich says we should stop coddling the super-rich.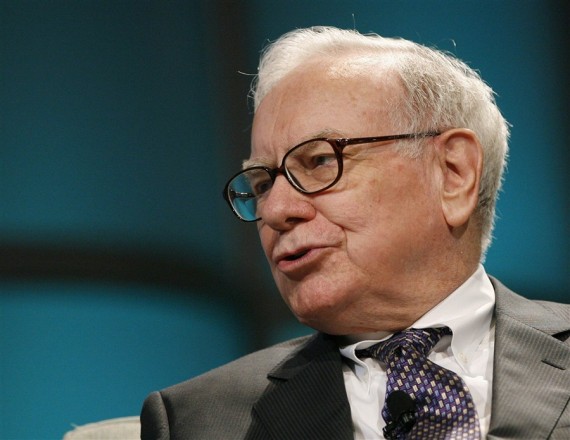 Warren Buffett has long been on a crusade to raise the taxes paid by people like himself. Usually, Buffett points out the he pays a lower rate than his secretary, on account of she pays Social Security taxes on all of her income and he only on a fraction of his. But that's always struck me as silly: so long as we pretend that Social Security and Medicare are self-funding, it makes sense to cap taxation; after all, we cap payouts.
In an op-ed in yesterday's NYT ("Stop Coddling the Super-Rich") he makes a stronger case. Along with emotional nonsense like "While the poor and middle class fight for us in Afghanistan, and while most Americans struggle to make ends meet, we mega-rich continue to get our extraordinary tax breaks" — it's just a non-sequitur–Buffett points to actual problems in the tax code:
Some of us are investment managers who earn billions from our daily labors but are allowed to classify our income as "carried interest," thereby getting a bargain 15 percent tax rate. Others own stock index futures for 10 minutes and have 60 percent of their gain taxed at 15 percent, as if they'd been long-term investors.

These and other blessings are showered upon us by legislators in Washington who feel compelled to protect us, much as if we were spotted owls or some other endangered species. It's nice to have friends in high places.

Last year my federal tax bill — the income tax I paid, as well as payroll taxes paid by me and on my behalf — was $6,938,744. That sounds like a lot of money. But what I paid was only 17.4 percent of my taxable income — and that's actually a lower percentage than was paid by any of the other 20 people in our office. Their tax burdens ranged from 33 percent to 41 percent and averaged 36 percent.

If you make money with money, as some of my super-rich friends do, your percentage may be a bit lower than mine. But if you earn money from a job, your percentage will surely exceed mine — most likely by a lot.
The rationale behind these provisions in the tax code is actually defensible. We want people to save money and  invest in stocks, since it keeps the flow of capital to the economy flowing and provides a nice retirement cushion under normal circumstances. It would be strange, indeed, to treat money earned by deferring gratification or taking risk over time in the same way as wage income; it would be better just to invest in bonds or spend the money.  But that rationale doesn't hold for people who make their primary living buying and selling stocks. For them, those earnings are essentially wages.
There's no doubt that many of the inequities Buffett rails about in the column are a result of plain old rent-seeking. The "mega-rich" are in a better position to influence government and get special treatment in the tax code. But that's an argument about the political manipulation of the tax code more than it is about the "coddling of the super-rich."
Still, as Tim Worstall notes, Buffett is engaging in some sleight-of-hand here. He's considering personal income taxes and leaving aside corporate taxes, which super-rich people like himself tend to pay.
First, corporate profits are subject to the corporate profits tax, some 35% currently as the headline rate. Then dividends are taxed again in the hands of the recipients at the rate of 15%. This means that the effective tax rate on Buffett's dividends from Berkshire Hathaway was not the 15% that he's using in his calculation above (the 2.4% to take the total to 17.4% is presumably referring to the capped social security taxes and the income tax on his salary, not dividends).

Assume there's $100 of profit which is to be paid in dividends under each of the  systems.

In the UK dividends are paid out of post tax profit, as in the US. However, that tax that had been paid on the corporate profits becomes, to the dividend recipient, a tax credit. If you are a lower rate taxpayer no further tax is due on the dividends received. Only if you are a higher rate taxpayer do you pay tax on the dividends taking your tax rate up to the same as it would be from any other income. So if corporation tax is 28%, your tax rate on your dividends is 28%, already paid at the company level. Or if you're in the higher bands, 40 or 50%, just as with any other income (and yes it does get very much more complex but this is good enough) and made up of your paying further income tax on your received dividends.

There are tax systems where there is no tax on dividends at all: a higher corporate tax rate being used instead.

So in the UK system from $100 of profits that are to be paid as dividends the tax rate is 28% (the current corporate income tax rate), or $28, if you are a lower rate taxpayer or $40 ($28 at the company level, another $12 individually, at the very top, another $22) if you are a higher rate taxpayer. Tax rates of 28% or 40% or 50%, very similar to other income sources.

In the US system from our $100 first we take $35 at the corporate level. Then we take another $15, or the dividend tax rate of 15%, from the recipient. Giving us a tax rate of 50% on dividends. We've taken $50 from the total amount that was to be used to pay dividends.
That said, it's still quite plausible that Buffett pays a lower percentage of his income in taxes than do even high earners in his employ. Taxing income is a tricky thing, indeed, and people at the top of the chain have all manner of ways in which to "hide" income by tricky accounting maneuvers. Doing so is not cheap–Buffett's tax preparation cost is probably higher than the average American's income–but the system is so complicated that it's essentially a game.
It's presumably possible to close off some of the loopholes in the system to collect more money. And it's almost certainly the case that many of them actually ought be closed out of fairness; whether doing so is possible under our current political standoff is another question entirely. But any system where taxation of income is the primary means of collecting money for the Treasury and also the primary means of incentivizing certain types of economic conduct while penalizing others is going to be ripe for manipulation. And those with the most money for lobbyists, lawyers, and accountants are likely to come out on top.