Borders Books, RIP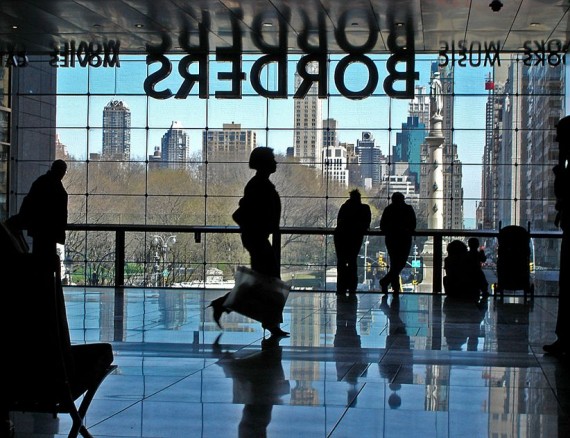 They're not technically out of business yet, but it's a matter of time. Borders has quit paying for the books got on consignment — publishers like to call this "theft" — and otherwise has no strategy for becoming relevant again. Michael Rosenwald for WaPo:
How Borders arrived at this once-unthinkable moment is, like many stories of troubled companies, a tale of strategic errors, missed opportunities and revolving-door management (the chain is now in the hands of a former tobacco executive). But the company's collapse, though perhaps hastened by missteps, seems to many industry insiders to have been inevitable, brought on by cultural changes too swift and sweeping to fend off, even for a huge player in the nation's cultural life.

Borders was a major force in redefining Americans' reading habits, selling millions of books in places where they had once been scarce and helping scores of novels to become movies and subjects of national conversation. Now, Borders faces a pool of potential customers who quickly spread culture themselves, one viral video or status update at a time.

Once, Borders was, with rival Barnes & Noble, the long tail of reading, with supermarket-size stores offering thousands of obscure titles alongside bestsellers. Now, Borders confronts the limitless, more efficient supply chain of Amazon's online emporium. Borders, which helped a generation of readers learn the pleasure of diving into a book for hours at a stretch, now competes for the attention of readers who dip into a few pages on an iPad, open Facebook, read some more, then tweet random thoughts. Printed books don't need a power outlet or a data plan, yet for some people, their utility seems to be fading.
Despite the mythology that the mass retailers killed off a massive number of mom and pops, the fact of the matter was that, outside huge cities and college towns, there really weren't bookstores in most of America until Borders.
Before Riggio and the Borders brothers, Louis and Tom, started their chains in the late 1960s and early 1970s, respectively, bookselling in much of the United States was largely confined to quaint independent shops offering personally selected, mostly highbrow books. Chains such as B. Dalton and Waldenbooks, offering mostly bestsellers, emerged in the shopping malls that opened as middle-class families moved to the suburbs.

[…]

"They elevated book-buying to the same status as any core retail experience," said John B. Thompson, a University of Cambridge professor and author of "Merchants of Culture," a history of the publishing industry. "They were reaching parts of America that had simply never been reached before with books – not just New York and Los Angeles, but small towns, other urban centers, a whole untapped market of people who wanted to buy lots of books."
Alas, the business they built through innovation and technology was beaten out the same way:
It started with Amazon. Launched in 1995 by Jeffrey Bezos, the company aimed to be the biggest bookstore on the planet, and it shipped books anywhere at prices so cheap that it lost money on many sales. The jokes came fast: Amazon dot bomb, some people called it. Amazon dot gone, others said.

But it turned out that Amazon knew what it was doing, building an infrastructure that eventually displaced Borders – then known as the more bookish of the chains – as the preferred way to get the right book into the hands of the right customer. Amazon built software that suggested other books to customers, based on their orders. As Amazon got better at such tactics, "Borders lost that patina they had, that special place of a bookstore, and they became just another discount retailer," said Albert Greco, senior researcher at the Institute for Publishing Research.
Increasingly, they're a retailer selling a product with few customers.  While an "e-book" is just as hard to write, it's a very different product.  And, presumably, not one that will be experienced communally.