Boston Bomber Trial Set For November 3rd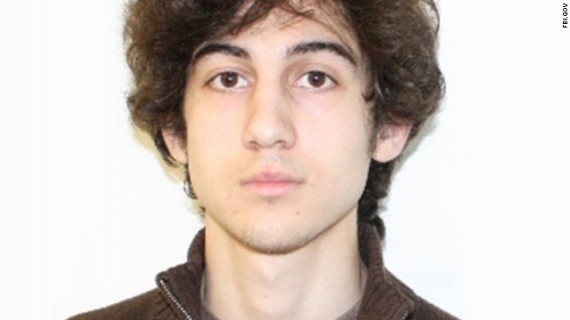 The date for the trial of Boston Marathon bombing suspect Dzhokar Tsarnaev has been set:
BOSTON — A federal judge here on Wednesday set Nov. 3 as the start of the trial for Dzhokhar Tsarnaev, who is accused of the deadly bombing of the Boston Marathon last year.

Prosecutors say Mr. Tsarnaev, 20, worked with his older brother, Tamerlan, to place two pressure-cooker bombs near the finish line of the marathon on April 15, 2013. The explosions killed three people and wounded more than 260.

Tamerlan Tsarnaev was killed following a shootout with the police later that week; Dzhokar was captured and charged last summer in a 30-count terrorism indictment, to which he pleaded not guilty. He is being held at a federal medical prison center at Fort Devens, Mass., and did not attend the hearing.

Last month, Attorney General Eric H. Holder Jr. authorized prosecutors to seek the death penalty.

The trial date, which was set by District Judge George A. O'Toole during a hearing on Wednesday morning, is far earlier than the fall 2015 trial date that was requested by Mr. Tsarnaev's defense team.

During the hearing, Mr. Tsarnaev's lawyers argued that they were struggling to obtain all the evidence they need to prepare for trial — including 2,000 pieces of evidence at an F.B.I. lab in Quantico, Va.

"It's not the defense dragging their feet," said Judy Clark, a member of Mr. Tsarnaev's defense team with expertise in death penalty cases. "It's that we're really struggling getting access and information."

The prosecution team said they were making relevant evidence — including 67 terabytes of digital evidence — available to the defense.

Mr. O'Toole also set a June deadline for the defense to file a change-of-venue motion.
Given that this is a death penalty case, there is a possibility that the trial date may end up being continued at some point of the defense can convince the Judge that they need additional time to prepare, but such continuances are rare in criminal defense trials. The other possibility is that we may see a plea bargain in this case, although the only thing on the table would be removing the death penalty in exchange for Tsarnaev pleading guilty, agreeing to a life sentence without the possibility of parole, and telling prosecutors and investigators everything he knows about the plot to bomb the marathon. Of course, it's also eminently clear that the only realistic goal that the defense has in this case is to get past a death penalty given that there is no question that Tsarnaev is guilty of the underlying offenses and its unlikely that a jury would find him not guilty regardless of what venue the case is tried in.