Dzhokhar Tsarneav Formally Charged
Less than a week after the bomb he planted at the Boston Marathon went off, Dzhokar Tsarnaev has been formally charged in Federal Court.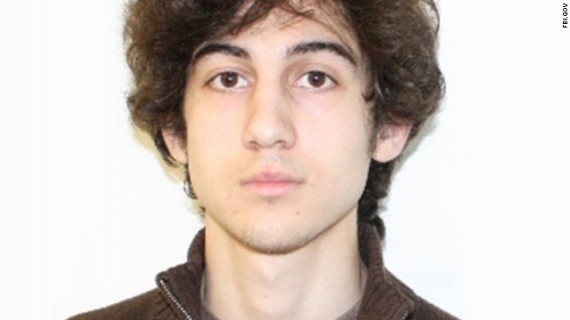 Dzhokhar Tsarnaev, the accused Boston Marathon bomber, has been formally charged with violating two Federal statutes that could lead to the death penalty during a short proceeding today in his hospital room:
Federal authorities on Monday charged the surviving suspect in the Boston Marathon bombings with using a "weapon of mass destruction" against people and property, and the White House rejected demands by some congressional Republicans that he be tried before a military tribunal as an "enemy combatant."

The Justice Department said Dzhokhar A. Tsarnaev, 19, was charged in a criminal complaint unsealed Monday in U.S. District Court for the District of Massachusetts. It said he is "specifically charged with one count of using and conspiring to use a weapon of mass destruction (namely, an improvised explosive device or IED) against persons and property within the United States resulting in death, and one count of malicious destruction of property by means of an explosive device resulting in death." The department said in a news release that the bombings resulted in the deaths of three people and injuries to more than 200 others.

If convicted, Tsarnaev could face the death penalty, the statement said. It said he had his initial court appearance Monday from his hospital room, where he is being treated for injuries sustained before his capture Friday evening.

White House spokesman Jay Carney said that under U.S. law, American citizens such as Tsarnaev cannot be tried by military commissions.

Carney made the comments after the first victim's funeral was held in a quiet Boston suburb, and as investigators weighed how and when to file criminal charges against Tsarnaev. The funeral came a week after the bombings reintroduced terror into the lives of ordinary Americans, killing three spectators as they watched the renowned race.

Tsarnaev "will not be treated as an enemy combatant," Carney said at a White House news briefing. "We will prosecute this terrorist through our civilian system of justice. Under U.S. law, United States citizens cannot be tried in military commissions." He said that since the Sept. 11, 2001, terrorist attacks, "we have used the federal court system to convict and incarcerate hundreds of terrorists."
Reading through the affidavit supporting the Criminal Complaint, which I've embedded below, it's clear that the authorities have a virtually complete video record of Tsarnaev and his brother coming on the scene of the Finish Line on Boyleston Street last Monday afternoon just about ten minutes before the bombs went off. They have them walking together, in the photo that we've all seen from those that were released on Thursday.  Then, they have them separating, arriving in the areas where the two bombs went off, depositing their knapsacks on the ground, and walking away mere minutes before each explosive went off. The affidavit also reveals that a hat and clothing resembling that which Tsarnaev is seen wearing in the video was found in his college dorm room when authorities executed a search warrant at that location. With regard to Friday's events they have the brothers carjacking a car, at which point one of them tells the victim that he was the bomber, and setting forth the fact that something resembling one of their crock pot bombs was found in the cars trunk after it was abandoned. Finally, the affidavit recounts Tsarnaev's capture and the fact that his identification was found on his person.
Tsarnaev is current charged with violating two Federal law. First, he's charged under 18 USC 2332(a) with Use Of A Weapon Of Mass Destruction, which under Federal law is basically any weapon capable of causing mass casualties. Second, he's charged under 18 USC 841(i) with Malicious Destruction Of Property Resulting In Death. Both statutes carry the possibility of the death penalty.
Based solely on the affidavit, this seems to be a fairly air-tight case and it almost seems as thought prosecutors will be able to establish nearly all of the elements of the crime from the video evidence alone. We will likely get more detail, and perhaps additional charges, when the U.S. Attorney takes this case to the Grand Jury and Tsarnaev is formally indicted. Additionally, these charges do not preclude the possibility that Tsarnaev will eventually face murder and attempted murder charges in Massachusetts state court as well, much like Timothy McVeigh and Terry Nichols were both tried in both the Federal and State systems for their role in the Oklahoma City Bombing For now, the next Court date in this matter is set for May 31st and Tsarnaev will remain in the hospital in the custody of federal authorities.
Here's the Criminal Complaint:
United States v. Dzhokar Tsarnaev Criminal Complaint by dmataconis
Update: Here is a transcript of the hearing that took place in Tsarnaev's hospital room, part of which establishes that he has received his Miranda warning:
United States v. Tsarnaev – Transcript of initial hearing by dmataconis