Brian Williams and the Pressures of War Correspondents
There's no excuse for the former NBC anchor's lies. But there are reasons.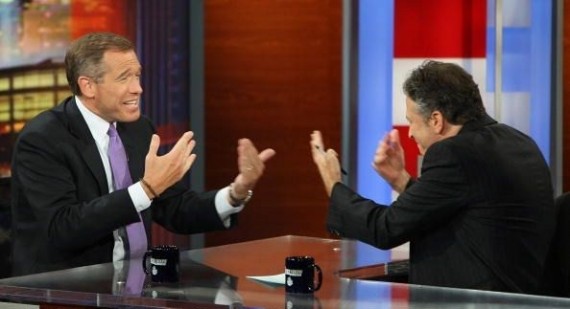 Reflecting on the saga of Brian Williams' decade-plus of lies about getting shot at while reporting in Iraq, WaPo's Charles Lane observes,
[N]ever trust an "I got shot at" tale that doesn't dwell on how really, really scared the tale-teller felt at the time. Even if the incident in question is due to bad luck (as seems to have been the case for Williams), as opposed to bad decision-making, getting shot at, or the equivalent, can be so scary it's humiliating.

[…]

It's all legitimate subject matter for gallows humor over beers back at the hotel, but definitely nothing to write home about, much less banter about with Letterman.

Alas, the notion that nearly getting killed confers some sort of extra reportorial credibility is a deeply ingrained cultural norm, among both producers and consumers of news. I don't know who's to blame for this; maybe it all goes back to Ernest Hemingway, Martha Gellhorn and the civil war in Spain.

Certainly, Williams was encouraged to put himself at the center of a March 26, 2003, "Dateline NBC" report about his trip aboard a U.S. Army Chinook helicopter ferrying construction material to troops in southern Iraq.

"My colleague Brian Williams is back in Kuwait City tonight after a close call in the skies over Iraq," then-NBC anchorman Tom Brokaw intoned, introducing Williams's report. "Brian, tell us about what you got yourself into." Not: Tell us what happened to the U.S. troops you are covering.

Blame Williams for whatever combination of insecurity, dishonesty and narcissism led him to embellish — misbehavior for which he is appropriately being held accountable now.

The mitigating factor is that he was, to some extent, just meeting the demand, both in NBC's executive suite and in its audience, for infotainment, starring our intrepid man on the ground.
Stanford psychiatry professor Keith Humphreys offers  some additional insights:
The Williams scandal is an instance of a more general challenge of war journalism in that by its nature, it offers less opportunity for editors to monitor and fact-check journalists' work. A lot of the reporting relies on one person's subjectivity, and if that person is dishonest, they can distort the story far more than they could ever get away with in a different setting. But in my observation, self-promoting embellishment is not the main found of subjectivity that can color how wars are covered by journalists.

I got to know a number of war correspondents through my Iraq work, and some of them I would rank among the most impressive people I have ever met. But I was also struck how many of them were depressed, were fleeing disastrous marital/family situations, drank too much and/or were terminal adrenaline junkies. Some had full-blown PTSD, a larger group had less serious but still significant problems of that sort (perhaps masking it as world-weary cynicism/bitterness).

Like our soldiers, a number of them had mental health problems when they came back. I tried to help those who asked for support as best as could, and at least some of them have pulled things together and are doing well stateside. But some continue to struggle, permanently altered for the worse by the events to which they were exposed in war zones.

These experiences changed the way I consume war-related news coverage. As I read, I weigh in my mind that the person writing it may well have some emotional scars that lead them to report events in a different way, most commonly tilted toward a bleaker take than objective events warrant. I don't say this in criticism because I appreciate that, unlike Williams, they have an excuse when their personal psychology begins to dominate their reporting. But it does lead me to be unusually cautious in taking their reports at face value.
It's a hell of a brew: chasing the ghosts of legendary war correspondents; a personal sense of inadequacy in comparison to both said legends and the soldiers and marines on whom one is both reporting and dependent for one's safety; pressure from one's bosses for reporting something sufficiently attention-grabbing as to justify the enormous expense of the trip; a limited of ability by said bosses to verify the veracity of your work; and mental health issues brought on by those stresses and the real threat of getting killed, embarrassed, or both.
In terms of Williams himself, I don't see how he can ever return to the anchor chair. His reputation as a trusted reporter is forever tarnished. Still, I have to sympathize. Slate culture critic John Swansburg gets to the heart of it in a piece about William's frequent forays into the late-night comedy circuit:
I think in Williams' appearances on [Jon] Stewart['s Daily Show] you see pressures that might have played a part. Williams recognized early on a shift in the media landscape and, to his credit, didn't look down his nose at it. He praised the role Stewart played in keeping the real journalists honest. "They hold people to account, for errors and sloppiness," he told NPR in 2010. "It helps us that he's out there." But he also saw that the anchor chair he was inheriting was diminished, in no small part due to the incursions of Stewart and later Colbert, whose comedy became a news source for a younger, more skeptical, not-home-at-6:30pm generation. In the 2004 Daily Show interview, Williams talks a bit wistfully about his belated ascension to the anchor chair, after a decade as Brokaw's heir apparent. "I feel cheated," he tells Stewart, when asked about Dan Rather, who had just announced his resignation after flaws in his report on George W. Bush's National Guard service had been exposed. "I wanted to go head-to-head with those guys."
In recent days, some commenters have dismissed Williams's comic moonlighting as the work of a guy who couldn't stand not to have a camera trained on him, or of a newsman who actually just wanted to be an entertainer. A more charitable view would be that he was an anchor trying to remain relevant in a news environment that, thanks in part to Stewart, was turning him into a dinosaur in a bespoke suit. That's not to forgive his journalistic sins—far from it. It's to appreciate the degree to which Stewart, however unwittingly, hastened the demise of the man he shares the media pages with today.
While I grew up watching Walter Cronkite every night and kept at it as we switched over the Peter Jennings and company when Rather took over at CBS, it's been a long time since I've been a regular consumer of the nightly newscasts. Indeed, aside from recording and watching the roundtable segments on Brit Hume's telecasts, I had made that shift by the time Williams took over. Those younger than me never got into the habit in the first place and, yes, the Stewarts and Colberts had essentially taken over the role anchors had once played.
So, in addition to all the pressures that Lane and Humphreys lay out, Williams was also dealing with the fact that he'd achieved his life-long dream at precisely the moment when the anchor desk was becoming an irrelevancy. In trying to adjust to the new realities, he used his not inconsiderable talents as a humorist and storyteller to  make himself relevant. In the end, though, he succeeded only in becoming a punch line.