California Vaccine Bill Stalls in the Face of Determined Opposition
The Disneyland measles outbreak wasn't enough to overcome anti-vaccine forces.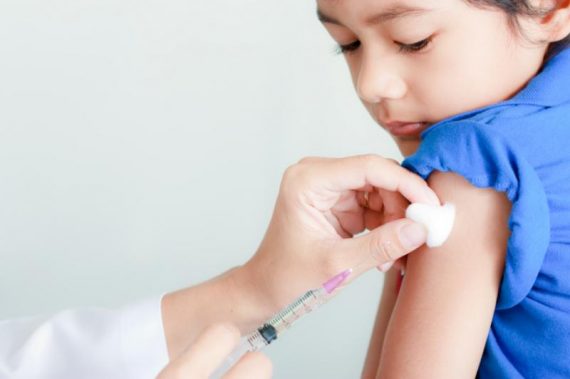 I just returned from two days in the state capitol of Sacramento as part of an advocacy team on behalf of the California Medical Association. One of the biggest issues we focused our efforts on is the vaccine bill, SB277, which removes the personal belief exemption that currently exists. If it passes, children would need to be vaccinated to be able to attend public schools. Unfortunately, due to significant opposition, final voting on this bill has been delayed.
LA Times ("Vote delayed on California bill seeking to toughen vaccine mandate"):
A proposal that would require more children to be vaccinated in California ran into trouble Wednesday amid objections that it would force thousands of non-immunized students out of public schools.

The measure's author, Sen. Richard Pan (D-Sacramento), agreed to delay a vote on it after being warned by the Senate Education Committee chairwoman that it would not win the panel's approval in its current form.

[…]

The senators say the bill, which would remove the "personal belief" exemption from the state's vaccination requirement, would mean that students whose parents refuse to immunize them would be barred from public schools.

"The penalty for not immunizing their kids is you either have to home-school or take your kids out of public schools, and I don't think that's a solution to the problem," [Carol] Liu said during the hearing, which lasted more than two hours as hundreds of parents and children testified.
The concern that many kids would be relegated to home-schooling is real, but only became a problem recently with the rise of the anti-vaccination movement. The reemergence of vaccine-preventable infectious diseases is a matter of concern to all medical practitioners everywhere, and the outbreak of measles in Disneyland was the impetus for the development of a bill to strengthen vaccination requirements in California.
Unfortunately, the bloc opposed to vaccines is a very vocal minority. Even during my short time in the capitol, the phones in the legislators' offices were ringing off the hook with constituents calling to register their opposition to the bill. Lawmakers also told me of people energetically protesting and yelling in the streets outside their offices.
The arguments the protestors use range from expressions of personal freedom ("I'll decide what to do to my kid"), concerns regarding side effects ("My friend's child had a bad reaction"), to doubts about the effectiveness of vaccines in general ("I've gone unvaccinated myself without any issues"). So far, due to their outspoken nature, they've managed to cobble together a coalition of Republicans staunchly opposed to state overreach in private matters and swing district Democrats fearful of a public backlash. Interestingly, the lawmakers most opposed to the bill represent wealthy districts such as Orange County (the epicenter of the measles outbreak) and Marin County (where there is a new-age fascination with alternative medicine). Those familiar with California politics may recognize these two counties as being on polar opposites of the political spectrum. Apparently, wealthy people of all persuasions want to opt out of vaccines.
From my perspective, the mere fact that we are discussing this issue reflects how much vaccines have become victims of their own success. Elderly patients that I see are the most supportive of vaccines in general, in part because they recall how debilitating and prevalent diseases such as polio and measles were when they were growing up. Even a 1 in 10,000 risk of a reaction to the vaccine was acceptable to avoid a life of disability. In contrast, young moms today are largely unexposed to the consequences (and fear) of vaccine-preventable diseases. Instead, they are surrounded by vocal opposition in the form of celebrities, websites, message boards, and certain friends. Many become skeptical of vaccines just from hearing the same message so many times. My observation is that this trend came into vogue at the same time that alternative medicines, herbal supplements, and naturopathic medicines became popular.
The pro-vaccine bloc has unfortunately been weak in countering the movement. That is partly because there is no main proponent of vaccines. Pharmaceutical companies don't make significant profits from vaccines, so they have no incentive to promote the product. Public health organizations are notoriously understaffed and have been preoccupied with more pressing issues recently (e.g. Ebola). Physician opinion is only heard in the medical office, and many are hesitant to challenge their patients who are staunchly opposed to vaccines.
As for the concern with personal freedom, there is a track record of governments restricting freedom when it is in the public good. Eminent domain is the best example of this. For vaccines, some people cannot receive them for medical reasons (e.g. immunosuppression) and rely on herd immunity to avoid being infected. Public health agencies estimate that the benefit of herd immunity starts to wane when community vaccine rates dip below 80-90%. That was the impetus for the original requirement of vaccines for public school enrollment. The current problem emerged only recently, when enough people started claiming personal belief exemptions to threaten the threshold of herd immunity effectiveness.