The Anti-Vaccination Thing
The debate over whether kids need to be vaccinated against communicable diseases baffles me.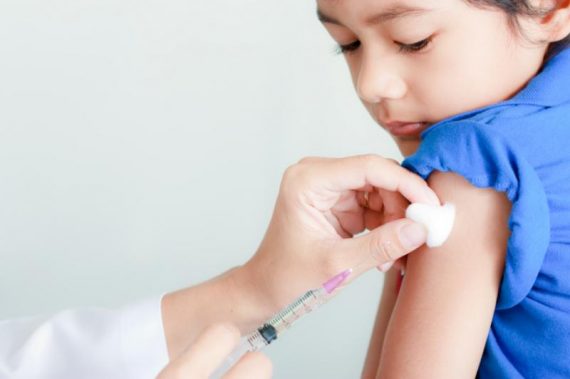 The debate over whether kids need to be vaccinated against communicable diseases baffles me.
The modest outbreak of measles traced to Disney Land has refocused attention on the issue, which I had thought mostly relegated to the fever swamps of those who take their medical advice from Jenny McCarthy. Two major Republican politicians, both considered potential 2016 presidential contenders, made controversial statements on the subject.
New Jersey Governor Chris Christie was asked about the issue while touring a research facility in England and was quite blunt:  "All I can say is that we vaccinated ours. That's the best expression I can give you of my opinion. It's much more important, I think, what you think as a parent than what you think as a public official." He got some pushback, though, from his caveat: "But I also understand that parents need to have some measure of choice in things as well so that's the balance that the government has to decide." Similarly, Senator Rand Paul's statement that most vaccinations should be "voluntary" and are "an issue of freedom" isn't particularly novel or shocking. Most Americans probably agree with his assessment that vaccines are "a good thing" but that parents "should have some input" into whether or not their children get them.
But Paul proceeded to give comfort to the lunatic fringe with his nonsensical declaration that, "I have heard of many tragic cases of walking, talking normal children who wound up with profound mental disorders after vaccines." I'm sure that many kids have come down with tragic illnesses after taking vaccines. But there's zero evidence that the vaccines caused the diseases.
Christie was pretty unequivocal on that point, stating forthrightly that, "the challenge you have is if you have a certain group of kids who don't get vaccinated, and if it grows large enough that a percentage of the population doesn't get vaccinated and they're the folks who can't get vaccinated, small infants, for example, or people with certain vulnerabilities that can't vaccinated, they suddenly become much more vulnerable." He added that the science behind vaccines is "pretty indisputable." Still, he qualified, "There has to be a balance and it depends on what the vaccine is, what the disease type is, and all the rest." He continued, "Not every vaccine is created equal and not every disease type is as great a public health threat as others."
While Rand Paul and Michele Bachman have voiced support for the "vaccines lead to mental illness" nonsense, this isn't a partisan issue. As WaPo's Chris Mooney points out, Democrats and Republicans almost universally immunize their children and there are no meaningful differences in their views on the risks of doing so. Nor, incidentally, is there meaningful variation along gender, educational, or income lines; roughly 70 percent of Americans think immunizations should be required and 30 percent think it ought to be up to the parents. (Interestingly, the main variation is age, with younger respondents more "freedom" oriented than older ones. Perhaps Josh Marshall is right that "society seems to have lost the historical memory of various horrific endemic childhood diseases.")
All 50 states require a series of immunizations for children attending public schools and all but two—Mississippi and West Virginia, two of the "red-est" states—allow opt-outs on some immunizations of religious grounds.  And, of course, the outbreak that sparked the latest round of debates took place in California, which allows religious exemptions. As WonkBlog's Christopher Abraham points out, the patterns of actual immunization of children are much different from what most would expect:
[T]here is one health metric on which Mississippi does surprisingly well: vaccination rates. That's right: 74.6 percent of Mississippi toddlers have received the full complement of CDC-recommended vaccinations, putting it at number 12 among the states and well above the national average of 70.4 percent (for the curious, the full vaccine regimen consists of ≥4 doses of DTaP, ≥3 doses of poliovirus vaccine, ≥1 dose of measles-containing vaccine, full series of Hib vaccine (≥3 or ≥4 doses, depending on product type), ≥3 doses of HepB, ≥1 dose of varicella vaccine, and ≥4 doses of PCV).

Alabama usually accompanies Mississippi at the bottom of health rankings, but it does even better when it comes to vaccines — 77 percent of toddlers there are completely covered. Overall, state-level vaccine rates buck the familiar trend of "south= bad, northeast and west = good" that we see on countless other health measures. New Hampshire kids are well-vaccinated, but Vermont and Maine kids less so. Mississippi comes in at #12 in the rankings, while just across the river Arkansas is dead-last. California, currently in the news for a large measles outbreak at Disneyland, is squarely middle-of-the-pack at number 30.
This isn't a Republican-Democrat, Red-Blue, Left-Right, rich-poor, or educated-uneducated issue.
While I don't think Christie is "courting the anti-vax vote" so much as siding with a deep American sentiment for parental rights, I otherwise agree with the Atlantic's David Graham that the appearance of a partisan divide, even an illusory one, is problematic.
A world in which support or opposition to vaccination could become a partisan litmus test would be a dangerous one. It's not that hard to imagine—just look at climate change, once a relatively uncontroversial issue that has shifted to the point that Republican officeholders widely reject it. (A poll over the weekend suggested that rank-and-file Republican voters are far more open to admitting the reality of warming.)

So far, the partisan valence of vaccinations hasn't been especially clear. Anti-vaccination proponents are sometimes portrayed as oddball hippie types; worries about vaccines and genetically modified foods are portrayed as the left's answer to climate-change denialism. But a January 2014 paper by Harvard and Yale researchers found little correlation between left-right politics and vaccine skepticism.

Yet as my colleague Cari Romm reported in December, trying to bust the myths about vaccines causing autism or other cures can actually backfire. Research from Brendan Nyhan and Jason Reifler shows that beliefs about questions like vaccines are often not derived from empirical evidence. And trying to convince people out of their beliefs can actually encourage them to hold those views more staunchly, since they flow out of identity with a community rather than facts.

That means Obama's unequivocal statements Sunday might backfire, encouraging the anti-vaccine movement and more deeply entrenching beliefs. Maybe Christie will be an anomaly, or perhaps other Republicans will line up to agree. Phrasing it not as a question of scientific effects but as a matter of whether the government is overreaching is a somewhat innovative approach, and just the sort that could help to make vaccines a partisan issue for limited-government advocates. Unfortunately, following Nyhan and Reifler's research, Christie's "clarification" is likely to make much less public splash than his original statement.

It's a catch-22 for public-health officials: They can't sit idly by while vaccination numbers plunge and mostly vanquished diseases make a comeback, but anything they do to encourage vaccinations may instead encourage the opposite. One thing health officials could do without is politicians making their work harder.
As to the politics of the matter, I'm pretty much exactly with Christie here. And we may both be in agreement with President Obama; I agree with everything I've seen him say on the issue but haven't heard him comment on the exemption issue.
My parents had me immunized when I was a kid and I had all my boosters along the way. I don't recall it ever being an issue. Similarly, when it came time to get my own kids immunized, I of course did so. Virginia has opt-outs and our pediatrician presented the vaccinations as optional but recommended; I told him I'd side with medical science.
My late father was almost an absolutist on parental rights. He fully backed the right of Christian Scientists to refuse life-saving surgery for their children, seeing no role for the government at all on the matter. That struck me as an extreme position even as a kid. But, while I don't have a deeply entrenched position on the issue, I'm not so dogmatic on the other side that I think the state ought forcibly inject children with vaccines over parental objection or deny children an education because their parents are religious nuts. Like Christie, I think the risk associated with a particular disease has to be factored in.
While they're being lumped together, Paul and Christie are in very different categories here. Christie is vehemently urging people to get their kids immunized, dismissing the fears of getting sick from the vaccines as unscientific nonsense, but recognizing that we grant parents rights in certain cases. That's not only a decidedly mainstream position, it's in accord with the longstanding law of the land. Paul, by contrast, is on the side of the nuts. That he's a medical doctor compounds the problem.
UPDATE: Kevin Drum makes an important point.  He notes that the 1998 "study" by  Andrew Wakefield that linked the measles, mumps, and rubella (MMR) shot to autism was debunked as fraudulent; recanted by The Lancet, the journal which published it; and that Wakefield's medical license was revoked over the scandal. Beyond that:
It's one thing to be skeptical of the scientific community and its debunking of the Wakefield study. But it's now 2015. MMR vaccines that contain thimerosal—the supposed cause of autism—have been off the market for well over a decade. Not one single child has gotten a dose of thimerosal since about 2002. And yet, autism rates haven't gone down. They've gone up. You don't need to trust scientists to see that, very plainly, thimerosal simply never played any role in autism. And there's never been any reason to think that any other vaccine does either.
That's pretty remarkable, really.