New Study Finds No Link Between Autism And Childhood Vaccination
Yet another study has found no link between autism and childhood vaccines. However, that's unlikely to mean the end of the anti-vaccination movement.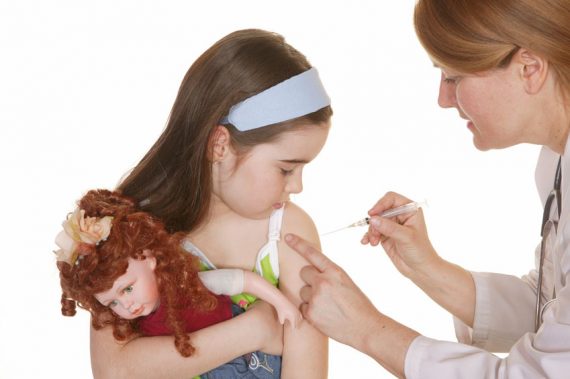 A new study published today by the Journal Of The American Medical Association would seem to debunk once and for all the allegations made popular in the first decade of the 21st Century regarding a link between autism and childhood vaccines:
On the heels of a measles outbreak in California fueled by vaccination fears that scientists call unfounded, another large study has shown no link between the measles-mumps-rubella vaccine and autism.

The study examined insurance claims for 96,000 U.S. children born between 2001 and 2007, and found that those who received MMR vaccine didn't develop autism at a higher rate than unvaccinated children, according to results published Tuesday by the Journal of the American Medical Association, or JAMA. Even children who had older siblings with autism—a group considered at high risk for the disorder—didn't have increased odds of developing autism after receiving the vaccine, compared with unvaccinated children with autistic older siblings.

"These findings indicate no harmful association between MMR vaccine receipt and ASD even among children already at higher risk for ASD," the researchers wrote, using the acronym for autism spectrum disorders. The study was funded by the National Institutes of Health and the Department of Health and Human Services.

A string of large studies have now debunked the theory that MMR might be linked to autism, including a 2004 review of epidemiological studies by the U.S. Institute of Medicine. Yet some parents still decline to immunize their children, a trend that has sparked scattered measles outbreaks across the U.S. and Europe in recent years.

Parents who have one child with autism are particularly reluctant to vaccinate any additional children, Anjali Jain, lead researcher on the new study, said in an interview. So the researchers decided that younger siblings of children with autism would be particularly important to focus on, she said.

"Hopefully this study is reassuring that there isn't any additional risk from the vaccine" for such children, said Dr. Jain, a pediatrician and vice president at The Lewin Group, a health-care consulting firm in Falls Church, Va., that conducts research for clients including the U.S. government.

The study's authors analyzed insurance claims from the Optum Research Database, which is run by a unit of insurance giant UnitedHealth Group Inc. They identified 96,000 children in the database with older siblings, and determined how many of those children and older siblings had received autism diagnoses on claims forms. They also used the claim forms to determine whether the children had received MMR vaccine, and compared autism rates in the vaccinated and unvaccinated groups as a whole, and in children with older siblings with and without autism.

Fred Volkmar, an autism expert at the Child Study Center at Yale University School of Medicine, said the study benefited from a large sample size and "well done analyses." In an email, he said he hoped the study would "contribute to putting to rest the myth that immunizations cause autism!"
Much of the popular hysteria linking autism and vaccinations, of course, can be linked to a paper that was published in 1998 in the prestigious British medical journal Lancet. That report's principal author, Andrew Wakefield, claimed to have found a link between autism in children and the MMR vaccine commonly given as part of the regular childhood vaccination schedule. While drug companies and many epidemiologists pushed back on that report, for the better part of a decade it stood relatively strong as definitive word on the issue, and quite obviously helped to feed parent's fears regarding autism, a condition that medical science still doesn't fully understand. Wakefield's study led to anti-vaccination movements that were made popular by celebrities in the United States and elsewhere, as well as by medical cranks eager to hitch their starts to anything halfway credible. Slowly but surely, though, Wakefield's study came to be questioned by the medical community as a whole and, in 2010, Lancet eventually formally withdrew the report. Roughly a year later, it was revealed that the original study that formed the basis for the report was fraudulent. Most importantly, in the entire 17 year period since Wakefield's study, no other researcher has ever been able to duplicate his purported results or to find any statistically significant correlation between autism and childhood vaccinations. This new JAMA study would seem to be the final nail in the coffin of the movement that started with Wakefield's study.
Sadly, this study is as unlikely to have an impact on the anti-vaccination movement as the revelations about Wakefield's report did several years ago. If anything, statistics have seemed to indicate that the number of unvaccinated children has increased in recent years rather than declined, largely because the myths that were created from Wakefield's report and other sources have embedded themselves into a sub-culture of sorts that lets this information be traded freely on the Internet without anyone thinking to verify its accuracy. We have even seen this anti-vaccine hysteria embed itself in our politics, with political figures such as Michele Bachmann and Donald Trump, and even a medical doctor like Rand Paul, making claims about links between vaccination and autism that quite simply do not exist. As a result, we have seen increased rates of disease like Whopping Cough, and a 20 year high in reported Measles cases despite the fact that MVeasles had been largely eradicated in the United States by the beginning of the 21st Century. So, while I'd like to think that this new study will be the final nail in the coffin of the anti-vaccination movement, the extent to which the popular delusions that fuel it have continued to live despite past evidence debunking the claims of a link do not make me optimistic.