Another Study Rebuts The Claim That Vaccinations Cause Autism
A decade-long study once again establishes that there is no link between childhood vaccination and autism.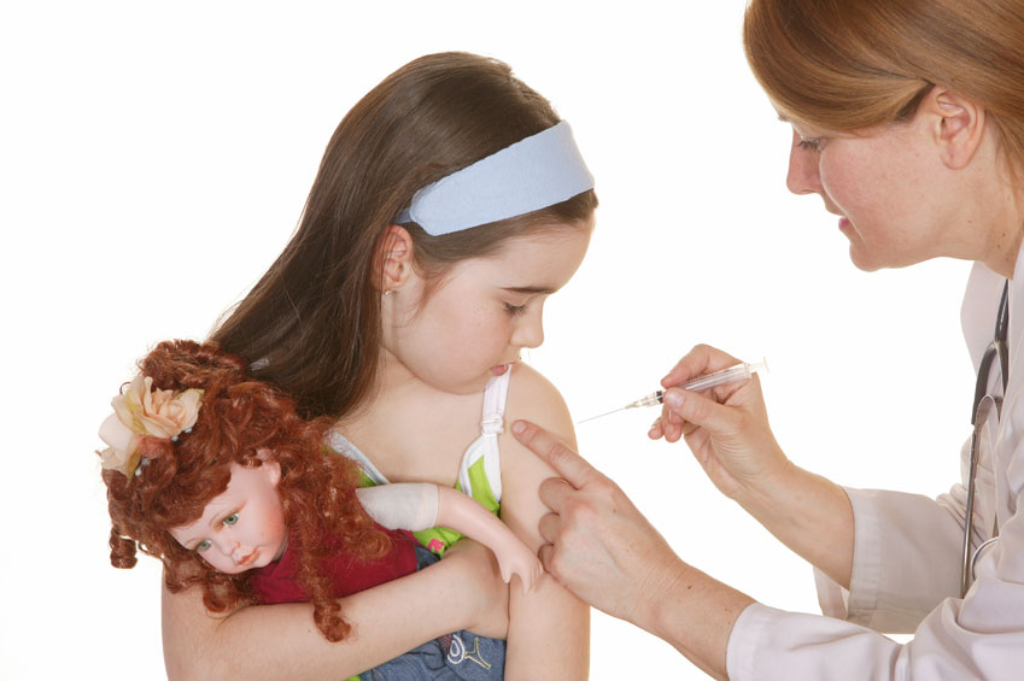 A new study that researched the issue for over a decade has found no evidence can be found linking the measles vaccine to autism:
The notion that vaccines might cause autism was refuted nine years ago, when a British medical panel concluded in 2010 that Andrew Wakefield, the doctor with undisclosed financial interests in making such claims, had acted with "callous disregard" in conducting his research.

But in 2019, professional epidemiologists are still devoting time and resources to discrediting Wakefield's work, which set off a steep decline in vaccinations, including in the United States, where Wakefield moved in 2004. An increasing number of parents are exempting their children from immunization, in a trend that public health experts warn is threatening to reverse the progress that allowed officials to declare measles eliminated in the United States in 2000. In January and February of this year, 206 individual cases were confirmed in 11 states — more than the number of cases in all of 2017.

The latest evidence unequivocally denying any link between autism and the vaccine for measles, mumps and rubella — a two-dose course that the Centers for Disease Control and Prevention says is 97 percent effective — came Monday in a paper published in the Annals of Internal Medicine.

Researchers at Copenhagen's Statens Serum Institut examined data for Danish children born from 1999 through the end of 2010, more than half a million people. The epidemiologists and statisticians then used population registries to link information on vaccination status to autism diagnoses, as well as to sibling history of autism and other risk factors.

The findings show the vaccine does not increase the risk of autism, lending new statistical certainty to what was already medical consensus. The researchers further concluded vaccination is not likely to trigger the developmental disorder in susceptible populations and is not associated with a clustering of cases appearing after immunization.

"The appropriate interpretation is that there's no association whatsoever," Saad Omer, a professor of global health, epidemiology and pediatrics at Emory University, said in an interview with The Washington Post.

In an editorial accompanying the study, however, Omer and a colleague asked whether vaccine research was best conducted as a "response to the conspiracy du jour." Limited resources, they suggested, might be better spent on promising leads in autism research than on continuing to engage with "vaccine skeptics."

Omer nevertheless hailed the Danish paper as "the largest, or one of the largest, studies on the subject." Its only limitation, he said, was one basic to all observation studies, that "you can't intentionally vaccinate people or prevent them from vaccinating to study the effects, which would be unethical."

He offered that assessment on the eve of a U.S. Senate hearing on vaccines and the outbreak of preventable diseases, where he is scheduled to give expert testimony Tuesday alongside public health officials and other researchers, as well as a teenager, Ethan Lindenberger, who got vaccinated against the wishes of his parents.

Though the study was not intended to coincide with the congressional inquiry, the results did come at a critical juncture. Measles cases are multiplying, causing experts to warn that a nationwide outbreak is possible.

(…)

It is precisely the success of the measles vaccine — rendering these conditions rare, at least in the United States — that has enabled a small but fervent opposition movement to take root, Omer said.

"It is in some sense a victim of its own success," the Emory professor said of the vaccine, which became available in the United States in 1963. "It's hard to see the benefit if you don't see the disease."

Suzinne Pak-Gorstein, a pediatrician in Seattle and a professor at the University of Washington, said public awareness had grown since Washington Gov. Jay Inslee, a Democrat who recently launched a bid for the presidency, declared a state of emergency in January. Still, she lamented that a crisis was necessary to jar residents into protecting themselves.

"People forget that they should be worried, and then, here we go again," she said. "I do blame our non-vaccinated population, which has been scared by unfounded links to autism, which have been shown to be false."
This news is consistent with the history of the claims of the anti-vaccination movement, all of which have been largely discredited. As I've noted before, this all started with a paper that was published in 1998 in the prestigious British medical journal Lancet. That report's principal author, Andrew Wakefield, claimed to have found a link between autism in children and the MMR vaccine which is commonly given as part of the regular childhood vaccination schedule and is intended to vaccinate against Measles, Mumps, and Rubella. While public health officials and experts, drug companies, and many epidemiologists pushed back on that report, for the better part of a decade it stood relatively unchallenged as the definitive word on the issue and quite obviously helped to feed parent's fears. Wakefield's study led to anti-vaccination movements that were made popular by celebrities in the United States and elsewhere, as well as by medical cranks eager to hitch their stars to anything halfway credible. Slowly but surely, though, Wakefield's study came to be questioned by the medical community as a whole and, in 2010, Lancet eventually formally withdrew the report. Roughly a year later, it was revealed that the original study that formed the basis for the report was fraudulent. Most importantly, in the entire 17 year period since Wakefield's study, no other researcher has ever been able to duplicate his purported results or to find any statistically significant correlation between autism and childhood vaccinations. In 2015, a study published in the Journal Of The American Medical Association definitively found no evidence of a link between autism and childhood vaccination. This latest study, then, simply confirms what we've known for nearly a decade now, that there is no link between autism and childhood vaccination, and anyone claiming otherwise is lying.
This news coincided with a report that measles cases hit a high in 2017 and on the same day that a Senate Committee held a hearing dealing with how to push back against the disinformation being spread by the anti-vaccine movement. The New York Times, meanwhile, takes a look at the ways that anti-vaccination propaganda can be responded to:
Social media companies face increasing scrutiny for amplifying fringe anti-vaccine sentiment amid measles outbreaks in several states like Washington. In response, Facebook, YouTube and Pinterest recently made headlines by announcing initiatives to reduce vaccine misinformation on their platforms.

But the focus on anti-vaccine content on social media can obscure the most important factor in whether children get vaccinated: the rules in their home states, which are being revisited in legislative debatesacross the country that have received far less attention.

A teenager testified before Congress on Tuesday that he got vaccinated in defiance of his mother, who he said got her anti-vaccination views from social media. Although this kind of misinformation can endanger public health, it's not obvious that social media is substantially increasing overall vaccine hesitancy. Despite rapid growth in the proportion of Americans using social media sites, flu vaccination rates and infant immunization levels have largely remained stable in recent years. Moreover, fears about and resistance to vaccination are not new; they date to the late 18th century, when the first vaccine was developed.

Social media may simply provide a new pretext for hesitant parents who would otherwise cite a different reason for their decision. In other words, we may be mistakenly treating what is largely a symptom of vaccine hesitancy as its cause — an example of a recurring pattern in which we fault social media for causing problems that it is merely making more visible. (For instance, the internet and social media are often blamed for fueling political polarization, but the trend toward greater polarization long predates social media and is sharpest among older people, the group least likely to use new technology.)

It seems reasonable to ask that social media companies avoid worsening the global problem of vaccine hesitancy. But a more immediate threat in the United States are the state policies that make it easy to avoid immunization requirements for children entering kindergarten. Emory University's Saad B. Omer and his colleagues have found that broad philosophical and religious exemptions to vaccine requirements — a set of policies that expanded before the advent of social media — are associated with substantially higher rates of unvaccinated children. They found this was particularly true during the 2005-2006 to 2010-2011 period, when exemptions grew fastest in these states.

Reversing such policies can increase vaccination rates. After a measles outbreak originating in Disneyland, for instance, California eliminated nonmedical exemptions from vaccination requirements for kindergarten entry and tightened compliance requirements. Although the process provoked controversy and required a bill to be passed along partisan lines (a risky approach), vaccination levels increased afterward — a public health success. For this reason, the American Academy of Pediatrics supports eliminating all nonmedical exemptions.
Stopping the spread of baseless anti-vaccination propaganda on social media is certainly one of the best ways to address the current problem, but it seems obvious that something more is required. What I'm speaking of is some sort of public education program directly addressing the false claims of the anti-vaccination movement is essential to combat the spread of these false ideas and encouraging parents to follow the recommendations of their child's doctor regarding vaccination and related issues. This is something that public health officials at the state, local, and Federal levels ought to be undertaking. Additionally, there should be some focus on vaccination as part of health classes in public schools both to teach children how to differentiate how to differentiate between valid medical advice and nonsense like the ideas that the anti-vaccination crowd spreads. If nothing else, this would arm them with information that they can use when they become parents and, just maybe, cause some of those kids whose parents have not vaccinated them to ask their parents why they made that choice.
I'm sure there are other ideas about combatting this propaganda that can be considered. At the very least, though, we shouldn't just accept the idea that allowing this nonsense to spread unquestioned is acceptable in a supposedly advanced nation such as ours.