Changing CDC Guidance, Communication, and Conspiracy
Science and insanity don't mix.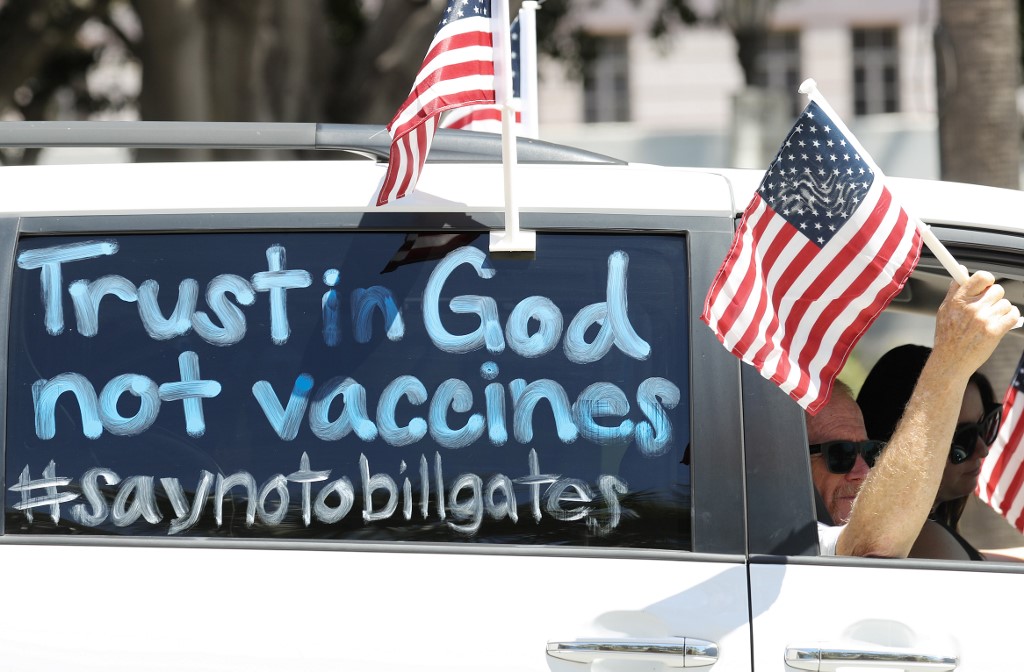 The evolving scientific understanding of a novel virus would be a major challenge in public health policy in normal times. We are not living in normal times.
LAT ("CDC shifts pandemic goals away from reaching herd immunity"):
Since the earliest days of the pandemic, there has been one collective goal for bringing it to an end: achieving herd immunity. That's when so many people are immune to a virus that it runs out of potential hosts to infect, causing an outbreak to sputter out.

Many Americans embraced the novel farmyard phrase, and with it, the projection that once 70% to 80% or 85% of the population was vaccinated against COVID-19, the virus would go away and the pandemic would be over.

Now the herd is restless. And experts at the Centers for Disease Control and Prevention have set aside herd immunity as a national goal.

The prospects for meeting a clear herd-immunity target are "very complicated," said Dr. Jefferson Jones, a medical officer on the CDC's COVID-19 Epidemiology Task Force.

"Thinking that we'll be able to achieve some kind of threshold where there'll be no more transmission of infections may not be possible," Jones acknowledged last week to members of a panel that advises the CDC on vaccines.

Vaccines have been quite effective at preventing cases of COVID-19 that lead to severe illness and death, but none has proved reliable at blocking transmission of the virus, Jones noted. Recent evidence has also made clear that the immunity provided by vaccines can wane in a matter of months.

The result is that even if vaccination were universal, the coronavirus would probably continue to spread.

"We would discourage" thinking in terms of "a strict goal," he said.
Especially since, to actually be "universal," we'd have to get the whole planet, not just the United States, to herd immunity. And that's likely not going to happen anytime soon.
To Dr. Oliver Brooks, a member of the CDC's Advisory Committee on Immunization Practices, it was a sobering new message, with potentially worrisome effects.

With just 58.5% of all Americans fully vaccinated, "we do need to increase" the uptake of COVID-19 shots, said Brooks, chief medical officer of Watts Healthcare in Los Angeles. Unfortunately, he said, Jones' unexpected admission "almost makes you less motivated to get more people vaccinated."

Brooks said he worries that as the CDC backs off a specific target for herd immunity, it will take the air out of efforts to run up vaccination levels.

And if public health officials stop talking about the "herd," people may lose sight of the fact that vaccination is not just an act of personal protection but a way to protect the community.
This remains the problem with "the science" as it relates to public health. The lay public is likely to get very confused by the evolving understanding of what has always been a novel disease. And the messaging public health officials send is geared toward desired actions, not necessarily to convey the full, complex picture.
It seems perfectly reasonable to me to continue getting boosters (I got my first Wednesday) even though it may well not be the last. But I can understand why people would simply throw up their hands and say "What's the use?!"
A public tack away from the promise of herd immunity may also further undermine the CDC's credibility when it comes to fighting the coronavirus.

On issues ranging from the use of masks to how the virus spreads, the agency has made some dramatic about-faces over the course of the pandemic. Those reversals were prompted by new scientific discoveries about how the novel virus behaves, but they've also provided ample fuel for COVID-19 skeptics, especially those in conservative media.

"It's a science-communications problem," said Dr. John Brooks, chief medical officer for the CDC's COVID-19 response.
It didn't help—to say the least!—that the former President was actively downplaying the virus and pressuring the CDC to go along.
"We said, based on our experience with other diseases, that when you get up to 70% to 80%, you often get herd immunity," he said.

But the SARS-CoV-2 virus didn't get the memo.

"It has a lot of tricks up its sleeve, and it's repeatedly challenged us," he said. "It's impossible to predict what herd immunity will be in a new pathogen until you reach herd immunity."
Which, of course, is perfectly understandable. Making educated guesses based on known evidence and adjusting as more information comes in is what scientists do. But it's frustrating to people looking to experts for advice and to constantly get changing, and seemingly contradictory, advice. And, again, the fact that Trump and the conservative media machine politicized all of this has exacerbated the problem geometrically.
The CDC's new approach will reflect this uncertainty. Instead of specifying a vaccination target that promises an end to the pandemic, public health officials hope to redefine success in terms of new infections and deaths — and they'll surmise that herd immunity has been achieved when both remain low for a sustained period.

"We want clean, easy answers, and sometimes they exist," John Brooks said. "But on this one, we're still learning."
While it seems like it's been a lot longer than that, we're less than two years into this thing. (Technically, the first cases appear to have emerged in October 2019 but the infection cluster was not reported to the WHO, so that scientists could start working the problem, until December 31.) That we're already at the point where we've vaccinated so many people is remarkable. That we haven't fully figured out an evolving disease is not.
Beyond that, communicating complex concepts to non-experts is a challenge.
Herd immunity was never as simple as many Americans made it out to be, said Kathleen Hall Jamieson, director of the Annenberg Public Policy Center at the University of Pennsylvania and an expert on the challenges of communicating science to increasingly skeptical — and often conspiracy-minded — citizens.

It's an idea that emerged about a century ago from the field of livestock medicine. Epidemiologists now calculate it with a standard equation. But like many tools that model a complex process with math, it makes some simplifying assumptions.

For instance, it assumes an unrealistic uniformity in the behavior of individuals and groups, and in the virus' ability to spread from person to person.

So it doesn't reflect the diversity of population density, living arrangements, transportation patterns and social interactions that makes Los Angeles County, for instance, so different from Boise County, Idaho. Nor does it account for the fact that Boise County, where less than 35% of adults are fully vaccinated, gets no protection from L.A. County's 73% vaccination rate among adults.

"Humans are not a herd," Jamieson said.

Public health leaders would have been better served by framing their vaccination campaigns around the need for "community immunity," she said. That would have gotten people to think in more local terms — the ones that really matter when it comes to a person's risk of infection, she added.
But, again, this assumes that the CDC and other public health officials were working in a normal world, where the only obstacles are evolving expert understanding and the difficulty of communicating with the general public. That Trump and company worked so hard to undermine the messaging simply can't be overemphasized.
Interestingly, Jamieson recently published a report in Nature Human Behavior titled "How conspiracists exploited COVID-19 science." Some representative excerpts:
Instead of envisioning an untidy world filled with randomness, unintended consequences, innocent action gone awry and new evidence, conspiracists envision one that is inhabited by powerful individuals who conceal malign activities and intent. The fluid nature of emergent science provides fuel for conspiracy theorists who offer certainty in place of the provisional, sometimes-updated statements of health experts. At the same time, conspiracy proponents question the trustworthiness and motives of those in the federal agencies, philanthropic institutions and pharmaceutical companies who fund basic research and develop, deliver and, in the case of some of the federal agencies, regulate public access to medical treatments, including vaccines.

[…]

Statements and updates by Dr Fauci about mask wearing and hydroxychloroquine were among those used by conspiracy theorists during the pandemic. As indications accumulated that individuals without symptoms can transmit SARS-CoV-2, the Centers for Disease Control and Prevention (CDC), the Surgeon General and Dr Fauci did an about-face on the advisability of routine mask wearing in public settings. When randomized, placebo-controlled clinical trials found that hydroxychloroquine was ineffective as a COVID-19 treatment, Dr Fauci's agnosticism about its value shifted to opposition. He was not alone. The US Food and Drug Administration (FDA) also withdrew its Emergency Use Authorization of it. "Much of what Fauci said about this virus, the drugs that could treat it, and the measures that could be taken to slow the spread was untrue", said Fox News's Laura Ingraham on the 2 June 2021, "He knew it was untrue". After listing "cruise ships, masks, lockdowns, the origins of COVID-19, [and] the models and projections" as topics on which Dr Fauci had been "wrong", on 2 June 2021, Fox News's Sean Hannity asked "What did Dr Fauci know and [w]hen did Dr Fauci know it, and was he engaged in some kind of scientific cover-up?".

For conspiracists of an ideologically conservative bent, some of conclusions of the science community did not reflect science but instead a desire to undercut Trump's re-election prospects. "The partisan Democrats, the conjugal media, and the scientists, the deep state scientists want America sick through November", alleged Michael Caputo, who was appointed by Trump as assistant health and human services secretary for public affairs. Among the decisions at issue were whether the whole population other than essential workers needed to be 'locked down' to 'bend the curve', the speed with which the economy should be re-opened after the 'lockdown' and when a vaccine would be available for distribution. The insistence of experts such as Dr Fauci that decisions about the use of proposed treatments such as hydroxychloroquine and convalescent plasma, and the authorization of a COVID-19 vaccine, should await high-quality clinical trial data was also interpreted as being anti-Trump in intent. "The deep state, or whoever, over at the FDA is making it very difficult for drug companies to get people in order to test the vaccines and therapeutics. Obviously, they are hoping to delay the answer until after November 3rd", tweeted President Trump on 22 August 2020.

[…]

Into this brew, conspiracists add conjecture ("maybe [the COVID-19 vaccine] doesn't work and they're simply not telling you that"5) and insinuations that are intended to identify a conspirator's motive (for example, that Dr Fauci is a registered Democrat6, a past CEO of Moderna7 and a vaccine shareholder8). Such factors are interlaced to warrant context-specific conspiracy theories (for example, that the FDA is covering up the fact that the mRNA vaccines cause serious side effects and death9; or that, in league with 'Big Pharma', Dr Fauci mandates vaccines from which he, Big Pharma, the Gates Foundation, Chan-Zuckerberg, WHO, CDC and the Chinese Communist Party benefit10).

Personal greed is one ascribed motive, and sociopathy or lust for power, glory and knowledge are others. Accordingly, one theory accuses Dr Fauci of opposing the approval of hydroxychloroquine — a drug that Trump cast as a possible "game changer"11 — because Dr Fauci wanted the virus to spread until a vaccine could be developed and named after him12. On another front, by terming the nation's leading infectious disease specialist the 'father of the virus', conspiracists assumed the motive explored in Mary Shelley's Frankenstein — an arrogant search for knowledge unmindful of the risks or consequences. The meme 'Fauci Lied. Millions Died'13 capsulizes the conspiracy assertion that by denying that a US$600,000 National Institutes of Health (NIH) subaward from EcoHealth Alliance to the Wuhan Institute of Virology14 involved gain-of-function research, Dr Fauci and compatriots such as NIH director Dr Francis Collins are covering up (that is, 'Fauci Lied') the supposed reality that the resulting explorations created SARS-CoV-2 and with it the pandemic (that is, 'Millions Died').
And those aren't even the craziest bits.