Can Government Get out of the Marriage Business?
Government is inextricably linked to the marriage business.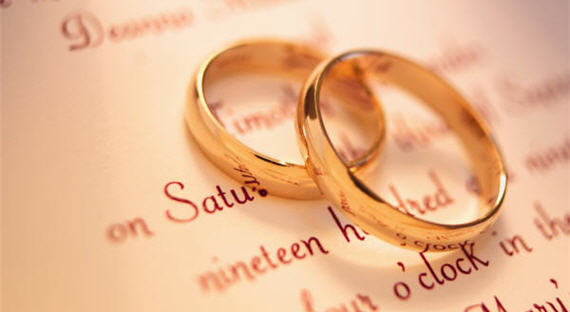 In the debate last night, Ron Paul noted his position on marriage as follows:
get the government out of it. Why doesn't it go to the church? And why doesn't it to go to the individuals? I don't think government should give us a license to get married. It should be in the church.
This is something Paul has said before (for example) and is something I have read and heard in other places as well (and from persons other than Paul).
Now, the basic context here was a question of same-sex marriage, but I want to set aside that for the moment and simply ask: can government actually get out of the marriage business?
I don't think it can, and here's why (and, btw, if they can't, then such statements about getting out of the marriage business when asked about same-sex marriage is a utter dodge).
Here's the deal:  much of the significance of marriage is very much linked to civil-legal matters in a way that makes it impossible for government to extricate itself from its definition.  Marriage is many things that have nothing to do with government such as romance, love, friendship, lifelong companionship, and even sacred bonds.  There is  little doubt that those things can all be achieved without the government being involved (as is the case with friendship, for example).  However, marriage is also about certain mutual legal obligations regarding property, finances, children and whatnot, about which governmental intervention is sometimes necessary to resolve disputes (as is the case with any contractual relationship).  Further, marriage diminishes legal complexity in a variety issues (children, death [i.e., funeral arrangements], hospital visitations, medical decisions, etc.).  Now, we could utterly remove marriage as a legal institution, but then we would have to replace it with something else, and that something else would almost certainly be more cumbersome in terms of government entanglements that the current system.
To put it as simply as possible:  for government to truly get out of the marriage business it would have to stop recognizing the spousal relationship as having special legal standing.  This is because to recognize that relationship as having specific legal significances it would need a definition of "marriage" that could be held up to legal scrutiny (to, for example, stop people from arbitrarily claiming whatever privileges might exist for married couples).  Such a stand would have to exist whether the government issued the licenses or not.  Once the law has to define "marriage" then government is, by definition, in the "marriage business."
To summarize the summary:  the only way to truly get government out of the marriage business would be to reduce marriage to the same status of friendship, i.e., a social relationship utterly defined by private interactions and that lacks legal significance.
As such, I just don't see how government can get out of the marriage business, and this is why the same sex marriage issue has to be addressed.
Indeed, fundamentally, legal marriage can be seen as a means of safeguarding the property rights of both parties to the marriage, and therefore strikes me as something that a libertarian would see as a legitimate role for government to play.
There is also a sidebar to Paul's response that raises other questions.  Stating that marriage should be "in the church" rather ignores the fact that there are people who want to get married, but who are not religious,  and given that a lot of libertarians are not religious, it seems odd for Paul to direct marriage to the church.  Granted, there is room in his answer for other private entities to operate, I suppose, but that might also create licensing issues, which could bring the government back into it (unless you want to say anybody can marry anyone at any time, but here we get back to that legal definition problem above).
Also from a libertarian perspective, having the government manage the legal aspects of marriage strikes me as more likely to increase net liberty, as religious orders of various stripes tend to favor the rights of men over women.  So again, I am not so sure the Paul position makes sense, even from a libertarian perspective.
I will note that of all the things I have done in my life that have involved the government, getting a marriage license was one of the easiest.
To conclude:  isn't one* of the reasons that people get married is to create a legal bond?  As such, it is a government process plain and simple.
UPDATE (James Joyner): See also my post "Should Government Get Out Of Marriage Business?" from last August. The bottom line is that, if marriage didn't exist, we'd have to invent it. Maybe calling the government version of it something different–whether "civil union" or something else — would solve some psychological issues vis-a-vis letting gays do it. But we need a legal institution that does the things that marriage currently does in terms of survivability, inheritance, child custody, medical care, and the like.
—–
*Please note that I said "one of the reasons"–I hardly think it is the only one by a longshot.  And, just to perhaps preempt some responses:  I am big fan of marriage, and will celebrate 21 years of wedded bliss at the end of this month.