Candidate Obama vs. President Obama On Presidential Signing Statements
Once again, President Obama has ignored Candidate Obama's promises to reign in the Presidential powers assumed by George W. Bush.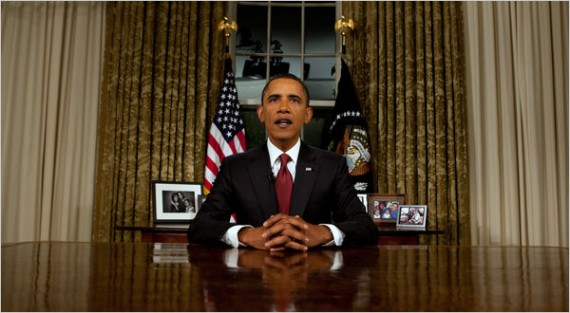 As Steven Taylor noted this morning, President Obama issued a Presidential Signing Statement when he signed the FY2011 budget bill stating that he intended to ignore Congresses explicit instruction that no Federal funds be used to fund so-called Presidential "czars." This isn't the first signing statement that President Obama has issued. In fact, counting the one issued yesterday, he's issued 17 such statements since he became President in January 2009. While this is far fewer than President George W. Bush, who had issued 60 signing statements by this point in his Presidency, it is a marked departure from the promises that Senator Barack Obama made as a Presidential candidate.
For example, in  October 2007 he said this to the Boston Globe:
4. Under what circumstances, if any, would you sign a bill into law but also issue a signing statement reserving a constitutional right to bypass the law?

Signing statements have been used by presidents of both parties, dating back to Andrew Jackson. While it is legitimate for a president to issue a signing statement to clarify his understanding of ambiguous provisions of statutes and to explain his view of how he intends to faithfully execute the law, it is a clear abuse of power to use such statements as a license to evade laws that the president does not like or as an end-run around provisions designed to foster accountability.

I will not use signing statements to nullify or undermine congressional instructions as enacted into law. The problem with this administration is that it has attached signing statements to legislation in an effort to change the meaning of the legislation, to avoid enforcing certain provisions of the legislation that the President does not like, and to raise implausible or dubious constitutional objections to the legislation. The fact that President Bush has issued signing statements to challenge over 1100 laws – more than any president in history – is a clear abuse of this prerogative. No one doubts that it is appropriate to use signing statements to protect a president's constitutional prerogatives; unfortunately, the Bush Administration has gone much further than that.
Then, in May 2008, he said this at campaign rally:
Both those statements seem rather emphatic to me and, of course, it isn't the first time that Barack Obama has essentially ignored a "I won't be like George Bush" promise he made during the campaign. He did the same thing just a few weeks ago when he authorized the use of force in Libya without seeking Congressional approval. So, this is really nothing new when it comes to this President.
Nor should we really be all that surprised. It's the natural order of things that once an institution accumulates power, it seldom gives it up. When Barack Obama succeeded George W. Bush, he inherited the enhanced powers that the Bush Administration had assumed for itself, largely in the wake of the September 11th attacks. In virtually every case, Candidate Obama criticized that assumption of power. In virtually every case, President Obama has retained that power, used it, and defended its use in Court. In fact, this President took the Bush Administration one step further by claiming for himself the right to issue an assassination order against an American citizen without any form of judicial review or Congressional inquiry. The power of the Presidency, which was enhanced under George W. Bush, has been enhanced even further under Barack Obama, and separation of powers has suffered as a result.
Update: In a separate post, I talk about the Constitutional issues raised by this signing statement.