Republicans For Waterboarding
The most disturbing part of Saturday's debate came when most of the GOP candidates endorsed torture.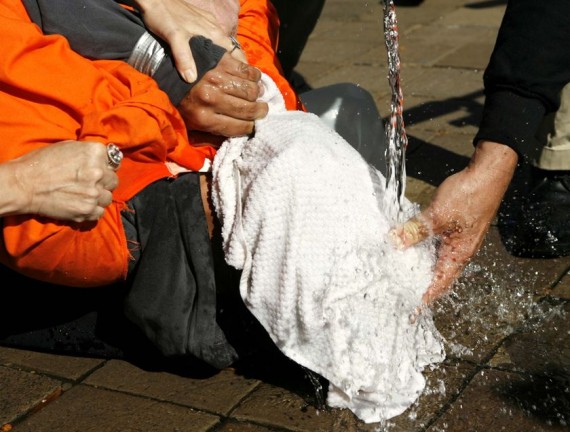 One of the most notable exchanges during Saturday night's debate came when National Journal's Major Garrett asked Herman Cain about the use of torture, and then the other candidates started chiming in:
We have an email question I'm happy to say, emailed into the National Journal. And it comes from Stephen Schafroth (PH) of Odell's (PH), Oregon. And I'd like to address this question to Mr. Cain. Stephen writes, "I served on an aircraft carrier during the Vietnam War. I believe that torture is always wrong in all cases. What is your stance on torture?"

HERMAN CAIN:

I believe that following the procedures that have been established by our military, I do not agree with torture, period. However, I will trust the judgment of our military leaders to determine what is torture and what is not torture. That is the critical consideration.

MAJOR GARRETT:

Mr. Cain, of course you're familiar with the long-running debate we've had about whether waterboarding constitutes torture or is an enhanced interrogation tech– technique. In the last campaign, Republican nominee John McCain and Barack Obama agreed that it was torture and should not be allowed legally and that the Army Field Manual should be the methodology used to interrogate enemy combatants. Do you agree with that or do you disagree, sir?

HERMAN CAIN:

I agree that it was an enhanced interrogation technique.

MAJOR GARRETT:

And then you would support it at present. You would return to that policy.

HERMAN CAIN:

Yes, I would return to that policy. I don't see it as torture. I see it as an enhanced interrogation technique.
Michele Bachmann agreed with Cain:
If I were president, I would be willing to use waterboarding. I think it was very effective. It gained information (CHEERING) for our country. And I– and I also would like to say that today, under Barack Obama, he is allowing the A.C.L.U. to run the C.I.A. You need to understand that today– today we– it– when we– when we interdict a terrorist on the battlefield, we have no jail for them.

We have nowhere to take them. We have no C.I.A. interrogations anymore. It is as though we have decided we want to lose in the War on Terror under President Obama. That's not my strategy. My strategy will be that the United States will be victorious in the War on Terror.
Rick Perry was similarly supportive of the idea of returning to the use of waterboarding and other "enhanced interrogation techniques," and one suspects that Rick Santorum and Mitt Romney would agree with them if the question had got to them. In fact, of all the candidates on the stage, the only ones who spoke out against the use of such techniques were Ron Paul, obviously, and Jon Huntsman, who put it this way:
We diminish our standing in the world and the values that we project which include liberty, democracy, human rights, and open markets when we torture. We should not torture. Waterboarding is torture. We dilute ourselves down like a whole lot of other countries. And we lose that ability to project values that a lot of people in corners of this world are still relying on the United States to stand up for them.
The exchange has generated much attention since Saturday night including, most unusually, the President himself who addressed the exchange during a press conference at the conclusion of the APEC Summit. John McCain also addressed the matter this morning on Twitter where he said he was disappointed by the candidates who endorsed waterboarding, which he described as torture. It's also generated no small degree of comment from the punditocracy.
Steve Benen takes note of what it says about the GOP:
In light of the Cain and Bachmann responses, it's worth keeping a couple of things in mind. First, in GOP circles, support for torture remains painfully strong, even now. Post-Cheney, it's become practically a party norm to support torture techniques that America used to consider unthinkable. Though Rick Santorum didn't comment on this last night, it was just this summer when he said John McCain "doesn't understand how enhanced interrogation works," because the former prisoner of war opposes torture.

And second, Republican debate audiences continue to be a legitimate story in their own right. Over the last few months, we've seen GOP audiences cheer the execution of 234 people, cheer letting the insured die, boo an American soldier who happens to be gay, and now applaud torture.
It's worth noting that Paul and Huntsman also drew applause for their comments against waterboarding, although it probably is far to say that the comments by Cain, Bachmann, and Perry reflected the views of the audience in the room. Unfortunately.
Andrew Sullivan makes a similar point:
The days when the GOP could be credibly seen as having more concrete and solid judgment on foreign affairs than the Democrats have long since disappeared into the memory hole. The last Republican president did more damage to American soft and hard power in eight years than any president in history, and, on top of that, besmirched this country permanently with the scar of torture as an instrument of state, something the West had decisively put behind it centuries ago, something that once helped define the United States as a civilized country. But now we have a motivational speaker who knows nothing about foreign affairs, Herman Cain, telling us that he is against torture but also in favor of torture, and then saying he would defer to the military leaders. Well, torture is barred from the military services, period, so consultation with them would be redundant. And this ignorant creep is at the head of the pack. Michele Bachmann apparently thinks that Obama has allowed the ACLU to run the CIA, which would come as some surprise to both. Her statement is so insane, so utterly removed from reality, that it would disqualify someone from a high school debating tournament. But again, this preposterous woman is a serious candidate for this farce of a party.
Even the supposedly "sane" candidates on the stage seemed to have gone off the rails, though. Though he didn't directly answer the waterboarding question, Mitt Romney made more than one comment — on Iran, China, and the assassination of Anwar al-Alwaki — that makes one wonder what happened to the realpolitik foreign policy that epitomized the GOP during the Nixon, Reagan, and Bush 41 years. With two exceptions, the men and woman on the stage Saturday night seemed to be determined to prove to the base that they were "tougher" and more willing to engage in risky, if not insane, foreign policy prescriptions. Whether they'd actually do any of these things if elected, they at least seem to think that going down this rabbit hole is the best way to win the Republican nomination. There's something deeply troubling about that.
There were moments of sanity during the debate, of course. Huntsman provided more than one, especially during an exchange about trade with China when he gently reminded Mitt Romney that he couldn't take China to the WTO over currency manipulation because the treaty doesn't allow it. Rick Santorum even provided one when he criticized the other candidates who were talking about taking a more bellicose stance towards Pakistan, reminding them that we cannot afford not to have a relationship with that country for or own good and the good of the entire region. For the most part, though, it was things like this waterboarding exchange that dominated the discussion.
There is no reasonable argument that waterboarding is not torture. We prosecuted Japanese officials at the end of World War II for using the technique on soldiers. It was a technique favored by the North Vietnamese during the Vietnam War, and was used extensively by Pol Pot's Khmer Rouge. Saying that it's "not torture" is just semantic nonsense designed to soothe us into believing that we weren't doing something wrong during the War on Terror. More importantly, as I pointed out in the wake of the death of  Osama bin Laden, the argument that torture "works" is irrelevant to whether or not it is wrong:
It may be theoretically possible that we could break a suspected terrorist by placing him a room with his child while a CIA operative put a loaded gun to the child's head, threatening to kill them unless the suspect revealed what they knew. We could revive the medieval torture processes of the Inquisition. Those methods might even prove highly effective in getting a particularly difficult person to crack. That doesn't mean we should do those things, however, and the fact that the debate has suddenly moved into "ends justify the means" territory should concern anyone who believes in the rule of law.

Even if we accept the argument that enhanced interrogation techniques  "worked"  in this case, that says nothing about whether they should be done, and the extent to which people are willing to throw morality out the window when it's convenient is profoundly disturbing.
Moreover, to the extent that the utilitarian argument matters, there's plenty of evidence that it doesn't work at all. The person who was waterboarded the most, Khalid Shiekh Mohammad, laughed at his interrogators when they used the practice on him. Moreover, we learned through traditional intelligence techniques that Mohammed and other al Qaeda detainees were lying to interrogators even after being subjected to waterboarding and other "enhanced interrogation techniques." These supposedly fool proof techniques didn't break them and may have actually caused them to take a harder line.

Of all the exchanges during Saturday's debate, I've got to agree with Sullivan that it's the waterboarding discussion that was perhaps the most troublesome.  It was Ronald Reagan himself who, in the midst of signing the 1984 Convention Against Torture provided the reason why it is something that we just don't do:
"The United States participated actively and effectively in the negotiation of the Convention . It marks a significant step in the development during this century of international measures against torture and other inhuman treatment or punishment. Ratification of the Convention by the United States will clearly express United States opposition to torture, an abhorrent practice unfortunately still prevalent in the world today.

The core provisions of the Convention establish a regime for international cooperation in the criminal prosecution of torturers relying on so-called 'universal jurisdiction.' Each State Party is required either to prosecute torturers who are found in its territory or to extradite them to other countries for prosecution."
As Sullivan notes, Reagan wasn't trying to use weasel words to define what is and wasn't torture, he was talking about anything that could be considering inhuman treatment, which certainly includes something like waterboarding. As with so many other things, though, the "Party of Reagan" has left their namesake behind and gone off in a very disturbing direction.
Update: A friend on Twitter passes along an interesting story about the Reagan Administration prosecuting a Texas Sheriff who waterboarded prisoners:
George W. Bush's Justice Department said subjecting a person to the near drowning of waterboarding was not a crime and didn't even cause pain, but Ronald Reagan's Justice Department thought otherwise, prosecuting a Texas sheriff and three deputies for using the practice to get confessions.

Federal prosecutors secured a 10-year sentence against the sheriff and four years in prison for the deputies. But that 1983 case — which would seem to be directly on point for a legal analysis on waterboarding two decades later — was never mentioned in the four Bush administration opinions released last week.
The legal standards for actions by Federal officers may be different, obviously, but given that it occurred a year before the 1984 convention was signed it puts Reagan's comments at that time into an interesting context.