Missing The Point: It Doesn't Matter If Torture "Works"
The debate over "enhanced interrogations" has been renewed by the bin Laden mission, but whether it "worked" or not isn't the question.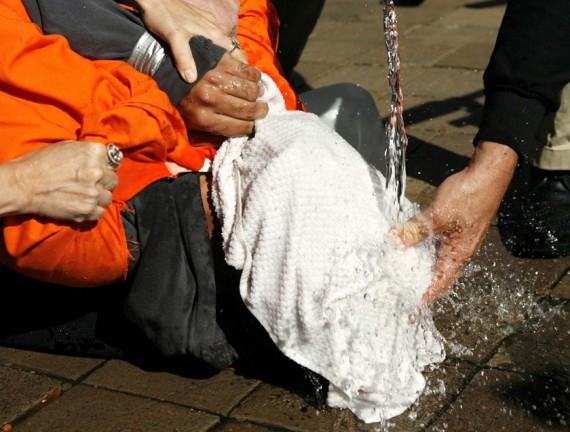 The first political battle resulting from the successful mission to track down and eventually kill Osama bin Laden involves the return of the now nearly decade-0ld debate over the effectiveness and propriety of what the Bush Administration called "enhanced interrogation," and what others have called torture:
WASHINGTON — Did brutal interrogations produce the crucial intelligence that led to the killing of Osama bin Laden?

As intelligence officials disclosed the trail of evidence that led to the compound in Pakistan where Bin Laden was hiding, a chorus of Bush administration officials claimed vindication for their policy of "enhanced interrogation techniques" like waterboarding.

Among them was John Yoo, a former Justice Department official who wrote secret legal memorandums justifying brutal interrogations. "President Obama can take credit, rightfully, for the success today," Mr. Yoo wrote Monday in National Review, "but he owes it to the tough decisions taken by the Bush administration."

But a closer look at prisoner interrogations suggests that the harsh techniques played a small role at most in identifying Bin Laden's trusted courier and exposing his hide-out. One detainee who apparently was subjected to some tough treatment provided a crucial description of the courier, according to current and former officials briefed on the interrogations. But two prisoners who underwent some of the harshest treatment — including Khalid Shaikh Mohammed, who was waterboarded 183 times — repeatedly misled their interrogators about the courier's identity.

The discussion of what led to Bin Laden's demise has revived a national debate about torture that raged during the Bush years. The former president and many conservatives argued for years that force was necessary to persuade Qaeda operatives to talk. Human rights advocates, and Mr. Obama as he campaigned for office, said the tactics were torture, betraying American principles for little or nothing of value.
Considering that we're barely 72 hours away from the point at which SEAL Team Six departed Afghanistan for Abbottabad, it seems rather foolish to try to draw conclusions so quickly but, we live in political culture that demands instant gratification so that means both sides have already started gearing up their arguments for and against the proposition that torture was the key element in getting the information that helped us find bin Laden. Former Bush Administration official John Yoo, for example, argues in the Wall Street Journal that the successful mission completely vindicates the Bush Administration's enhanced interrogation techniques, (hereinafter EITs) and his argument has been picked up and repeated by several conservative bloggers who have essentially accepted his facts as true and adopted an "ends justify the means" position.
It seems to me, though, that Yoo and those who are repeating his argument completely miss the point.
First of all, the actual role that waterboarding and other "enhanced interrogation techniques" played in the years long process of piecing together the information that led to that walled compound at the end of a road in Abbottabad is, to say the least, not clear at all. Initial reports seemed to suggest that it played a crucial role:
A crucial break appears to have come on May 2, 2005, when Pakistani special forces arrested a senior al-Qaeda operative known as Abu Faraj al-Libbi, who had been designated bin Laden's "official messenger" to others within the organization. Libbi was later turned over to the CIA and held at a "black site" prison where he was subjected to the harsh methods that the George W. Bush administration termed "enhanced interrogation techniques." Libbi and other detainees pointed CIA interrogators to another messenger with close ties to the al-Qaeda leader. U.S. officials said they started only with the mystery courier's nom de guerre, and that it took four years to uncover his actual identity, his approximate location in Pakistan and ultimately the compound where bin Laden was found.
However, it now appears that "harsh treatment," which may include interrogation methods that fall short of the Bush era EITs, played a minimal role at best in uncovering the information that made it possible to find bin Laden:
In 2002 and 2003, interrogators first heard about a Qaeda courier who used the nom de guerre Abu Ahmed al-Kuwaiti, but his name was just one tidbit in heaps of uncorroborated claims.

After the capture in March 2003 of Mr. Mohammed, the chief planner of the Sept. 11, 2001, attacks, he was subjected to the most harrowing set of the so-called enhanced measures, which included slamming prisoners into walls, shackling them in stress positions and keeping them awake for as long as 180 hours. Like two other prisoners, he was subjected to waterboarding.

According to an American official familiar with his interrogation, Mr. Mohammed was first asked about Mr. Kuwaiti in the fall of 2003, months after the waterboarding. He acknowledged having known him but said the courier was "retired" and of little significance.

In 2004, however, a Qaeda operative named Hassan Ghul, captured in Iraq, gave a different account of Mr. Kuwaiti, according to the American official. Mr. Ghul told interrogators that Mr. Kuwaiti was a trusted courier who was close to Bin Laden, as well as to Mr. Mohammed and to Abu Faraj al-Libi, who had become the operational chief of Al Qaeda after Mr. Mohammed's capture.

Mr. Kuwaiti, Mr. Ghul added, had not been seen in some time — which analysts thought was a possible indication that the courier was hiding out with Bin Laden.

The details of Mr. Ghul's treatment are unclear, though the C.I.A. says he was not waterboarded. The C.I.A. asked the Justice Department to authorize other harsh methods for use on him, but it is unclear which were used. One official recalled that Mr. Ghul was "quite cooperative," saying that rough treatment, if any, would have been brief.

Armed with Mr. Ghul's account of the courier's significance, interrogators asked Mr. Mohammed again about Mr. Kuwaiti. He stuck to his story, according to the official.

After Mr. Libi was captured in May 2005 and turned over to the C.I.A., he too was asked. He denied knowing Mr. Kuwaiti and gave a different name for Bin Laden's courier, whom he called Maulawi Jan. C.I.A. analysts would never find such a person and eventually concluded that the name was Mr. Libi's invention, the official recalled.

Again, the C.I.A. has said Mr. Libi was not waterboarded, and details of his treatment are not known. But anticipating his interrogation, the agency pressured the Justice Department days after his capture for a new set of legal memorandums justifying the most brutal methods.

Because Mr. Mohammed and Mr. Libi had both steered interrogators away from Mr. Kuwaiti, C.I.A. officials concluded that they must be protecting him for an important reason.
It's worth noting that, even after having been waterboarded 183 times and subjected to other brutal interrogation methods, Khalid Shiekh Mohammed still lied to investigators about what he knew about this courier. Fortunately, though, investigators had obtained information about the courier through non-EIT means that led them to think that he was someone significant because of the fact that KSM was trying to throw them of the trial. Perhaps, based on this, you could argue that EITs helped in this manner because they realized that this information was so significant that KSM was willing to lie even after having been subjected to them (although it's worth noting that he was at Gitmo at this point and that EITs were apparently never employed at that location). That's a far cry, though, from saying that but for waterboarding or other forms of EIT, we would not have found bin Laden, which is the argument that the pro-torture right seems to be making right now.
Added to this debate are the comments that Donald Rumsfeld made yesterday, which he appeared to walk back during a Fox News appearance last night, and these comments from CIA Director Leon Panetta:
BRIAN WILLIAMS: I'd like to ask you about the sourcing on the intel that ultimately led to this successful attack. Can you confirm that it was as a result of waterboarding that we learned what we needed to learn to go after bin Laden?

LEON PANETTA: You know Brian, in the intelligence business you work from a lot of sources of information, and that was true here. We had a multiple source — a multiple series of sources — that provided information with regards to this situation. Clearly, some of it came from detainees and the interrogation of detainees. But we also had information from other sources as well. So, it's a little difficult to say it was due just to one source of information that we got.

WILLIAMS: Turned around the other way, are you denying that waterboarding was in part among the tactics used to extract the intelligence that led to this successful mission?

PANETTA: No, I think some of the detainees clearly were, you know, they used these enhanced interrogation techniques against some of these detainees. But I'm also saying that, you know, the debate about whether we would have gotten the same information through other approaches I think is always going to be an open question.

WILLIAMS: So, finer point, one final time, enhanced interrogation techniques — which has always been kind of a handy euphemism in these post-9/11 years — that includes waterboarding?

PANETTA: That's correct.
Some have taken Panetta's words as confirmation that waterboarding was indeed used to obtain information that led to bin Laden, but it seems to me that the words "open question" make Panetta's response ambiguous at best about the role that EITs played here.
More importantly, though, it seems to me that the question about whether or not torture played a role in uncovering information here completely misses the point. It may be relevant from an historical point of view, and it is perhaps worth finding a definitive answer to this question at some point, but, as Professor Stephen Bainbridge notes, the fact that waterboarding may "work" in some sense doesn't mean that it is either legally or morally acceptable:
I don't care whether torture works or not. As a lawyer, I find it significant that the Anglo-American tradition, according to the great English jurist William Blackstone, includes a "prohibition not only of killing and maiming, but also of torturing (to which our laws are strangers)." As a Catholic, I find it significant that Vatican II's Pastoral Constitution on the Church in the Modern World explicitly disapproved of mutilation and torture as offensive to human dignity. In my view, even if torture works, we ought to abstain from torture because a prohibition of torture is part of the moral and legal heritage we are fighting to defend.
Glenn Greenwald makes much the same point:
Even if it were the case that valuable information were obtained during or after the use of torture, what would it prove? Nobody has ever argued that brutality will never produce truthful answers. It is sometimes the case that if you torture someone long and mercilessly enough, they will tell you something you want to know. Nobody has ever denied that. In terms of the tactical aspect of the torture debate, the point has always been — as a consensus of interrogations professionals has repeatedly said — that there are far more effective ways to extract the truth from someone than by torturing it out of them. The fact that one can point to an instance where torture produced the desired answer proves nothing about whether there were more effective ways of obtaining it.

This highlights what has long been a glaring fallacy in many debates over War on Terror policies: that Information X was obtained after using Policy A does not prove that Policy A was necessary or effective. That's just basic logic.

(…)

And those causal issues are, of course, entirely independent of the legal and moral questions shunted to the side by this reignited "debate." There are many actions that the U.S. could take that would advance its interests that are nonetheless obviously wrong on moral and legal grounds.
That last part seems rather obvious. For example, it may be theoretically possible that we could break a suspected terrorist by placing him a room with his child while a CIA operative put a loaded gun to the child's head, threatening to kill them unless the suspect revealed what they knew. We could revive the medieval torture processes of the Inquisition. Those methods might even prove highly effective in getting a particularly difficult person to crack. That doesn't mean we should do those things, however, and the fact that the debate has suddenly moved into "ends justify the means" territory should concern anyone who believes in the rule of law.
Even if we accept the argument that enhanced interrogation techniques  "worked"  in this case, that says nothing about whether they should be done, and the extent to which people are willing to throw morality out the window when it's convenient is profoundly disturbing.