Waterboarding and 'Torture' in the American Media
Did the American media cover up torture by the Bush Administration?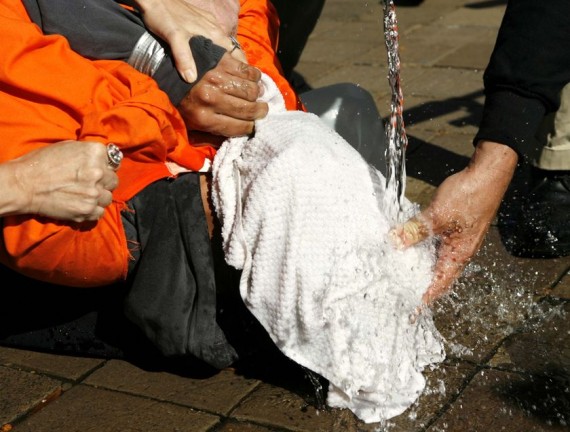 An April paper by a large team at Harvard's Joan Shorenstein Center on the Press, Politics, and Public Policy notes an interesting shift in the use of the word "torture" to describe the practice of waterboarding.  The Abstract:
[W]aterboarding has been the subject of press attention for over a century. Examining the four newspapers with the highest daily circulation in the country, we found a significant and sudden shift in how newspapers characterized waterboarding.

From the early 1930s until the modern story broke in 2004, the newspapers that covered waterboarding almost uniformly called the practice torture or implied it was torture: The New York Times characterized it thus in 81.5% (44 of 54) of articles on the subject and The Los Angeles Times did so in 96.3% of articles (26 of 27).

By contrast, from 2002-2008, the studied newspapers almost never referred to waterboarding as torture. The New York Times called waterboarding torture or implied it was torture in just 2 of 143 articles (1.4%). The Los Angeles Times did so in 4.8% of articles (3 of 63). The Wall Street Journal characterized the practice as torture in just 1 of 63 articles (1.6%). USA Today never called waterboarding torture or implied it was torture.

In addition, the newspapers are much more likely to call waterboarding torture if a country other than the United States is the perpetrator. In The New York Times, 85.8% of articles (28 of 33) that dealt with a country other than the United States using waterboarding called it torture or implied it was torture while only 7.69% (16 of 208) did so when the United States was responsible. The Los Angeles Times characterized the practice as torture in 91.3% of articles (21 of 23) when another country was the violator, but in only 11.4% of articles (9 of 79) when the United States was the perpetrator.
For the sake of discussion, let's take the finding at face value rather than quibbling over the methodology.   It's conceivable that there are different degrees of waterboarding and that foreign countries use more extreme forms than that employed by our own government.  It's also conceivable that pre-2002 use of the word "torture" was mostly in the form of official propaganda being quoted rather than a matter of pure editorial judgment.    But, in the main, the findings strike me entirely plausible.
Further, let me stipulate that I've been on the record repeatedly stating that waterboarding is torture.
What to make of all this?
Glenn Greenwald makes a  passionate case that it proves the "media's servitude to the government."
As always, the American establishment media is simply following in the path of the U.S. Government (which is why it's the "establishment media"): the U.S. itself long condemned waterboarding as "torture" and even prosecuted it as such, only to suddenly turn around and declare it not to be so once it began using the tactic.  That's exactly when there occurred, as the study puts it, "a significant and sudden shift in how newspapers characterized waterboading."  As the U.S. Government goes, so goes our establishment media.

None of this is a surprise, of course.  I and others many times have anecdotally documented that the U.S. media completely changes how it talks about something (or how often) based on who is doing it ("torture" when the Bad Countries do it but some soothing euphemism when the U.S. does it; continuous focus when something bad is done to Americans but a virtual news blackout when done by the U.S., etc.).  Nor is this an accident, but is quite deliberate:  media outlets such as the NYT, The Washington Post and NPR explicitly adopted policies to ban the use of the word "torture" for techniques the U.S. Government had authorized once government officials announced it should not be called "torture."

We don't need a state-run media because our media outlets volunteer for the task:  once the U.S. Government decrees that a technique is no longer torture, U.S. media outlets dutifully cease using the term.  That compliant behavior makes overtly state-controlled media unnecessary.  In his proposed Preface to Animal Farm, George Orwell noted how completely the British Government during World War II was able to control media content without formal or official censorship
Andrew Sullivan is more succinct:
The editors who insisted on these changes remain liars and cowards and a disgrace to journalism and a free society. They should quit for this kind of open deception and craven cowardice in putting power before truth. They remind you that if you really want to understand what is going on in the world, the New York Times will only publish what the government deems is fit to print – even in its choice of words.
While there's much truth in all of that, there's actually a much simpler answer, which Adam Serwer summarizes beautifully:
I think it's actually the conventions of journalism that are at fault here. As soon as Republicans started quibbling over the definition of torture, traditional media outlets felt compelled to treat the issue as a "controversial" matter, and in order to appear as though they weren't taking a side, media outlets treated the issue as unsettled, rather than confronting a blatant falsehood. To borrow John Holbo's formulation, the media, confronted with the group think of two sides of an argument, decided to eliminate the "think" part of the equation so they could be "fair" to both groups.

Of course, this attempt at "neutrality" was, in and of itself, taking a side, if inadvertently. It was taking the side of people who supported torture, opposed investigating it as a crime, and wanted to protect those who implemented the policy from any kind of legal accountability. Most important, it reinforced the moral relativism of torture apologists, who argued that even if from an objective point of view, waterboarding was torture, it wasn't torture when being done by the United States to a villain like Khalid Sheik Mohammed, but rather only when done by say, a dictator like Kim Jong Il to a captured American soldier.
Furthermore, Kevin Drum gets at something he perhaps didn't intend when he snarks, "As always, where you stand depends on where you sit."
The fact of the matter is that the United States Government was engaged in this policy against Very Bad People for reasons the American people enthusiastically supported.   Most Americans were nonplussed when news broke that Khalid Sheikh Mohammed was waterboarded 183 times because, after all, KSM was a Very Bad Man who did Unspeakably Horrible Things.
This puts the decisionmakers of the American press, whether they agreed or not, in a very difficult situation.  To have insisted that the U.S. Government was engaged in torture when the leaders of said Government adamantly denied that what they were doing constituted torture and most citizens supported the "enhanced interrogation techniques" and dismissed as buffoons those worried about poor widdle Khalid Sheikh Mohammed would have not only been taking sides in an ongoing debate but taking a very unpopular stand.
Additionally, the use of the word "torture" has legal and propaganda implications.  To have matter-of-factly stated that the U.S. Government was engaged in torture was to say that those carrying it out are criminals.  The press doesn't do that with accused criminals, even when there's incontrovertible video evidence.  And, of course, saying that the U.S. Government is engaged in "torture" is a propaganda victory for the enemy.  That's a tough thing to do in wartime.
Further, while the press doubtless came to despise some members of the Bush Administration, they naturally had close relationships with the team and saw most of its members as good people trying earnestly to protect the country from another 9/11 type attack.  It's  psychologically and professionally difficult to dismiss their insistence that they're not committing torture as simply untrue.  Simultaneously, it's easy to believe that waterboarding done under the auspices of a despotic regime for the sole purpose of maintaining tyranny is something inherently different and thus worthy of a different name.
Does this amount to "servitude" to the government and "cowardice"?   Maybe.  But I think it's more complicated than that.