Khalid Sheikh Mohammed Laughed Off Waterboarding
Marc Thiessen claims Khalid Sheikh Mohammad mocked the CIA interrogators who waterboarded him.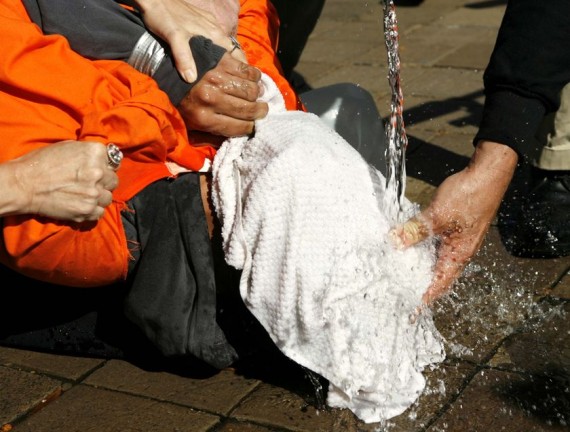 A former Bush Administration speech writer reveals that Khalid Sheikh Mohammad mocked the CIA interrogators who waterboarded him:
A former speech writer for President George W. Bush said Monday that confessed 9/11 mastermind Khalid Sheik Mohammed mocked his CIA interrogators during his March 2003 waterboarding sessions by using his fingers to tick off the number of seconds he would be subjected to near drowning.

"He was communicating to his interrogators that he was on to them," Marc Thiessen said during a panel discussion on what role harsh interrogation tactics might have played in developing the intelligence that led to Osama bin Laden's hideout in Abbottabad, Pakistan.

A CIA spokesman declined to comment on the record about the report, and there was no independent verification of Thiessen's account. Mohammed's lawyer also declined to comment.

Thiessen said Monday that Mohammed knew that agents had to relent after 40 seconds, something he may have divined after undergoing the procedure repeatedly.

(…)

A different 2005 Justice Department memo noted in a footnote that "after multiple applications of the waterboard, it may become apparent to the detainee that, however frightening the experience may be, it will not result in death." In another footnote, the memo quoted the CIA's Office of Medical Services as saying that "some subjects unquestionably can withstand a large number" of waterboard applications.
Self-proclaimed Sept. 11 mastermind Khalid Shaikh Mohammed told U.S. military officials that he had lied to the CIA after being abused, according to documents made public Monday. The claim is likely to intensify the debate over whether harsh interrogation techniques generated accurate information.

Mohammed made the assertion during hearings at Guantanamo Bay, Cuba, where he was transferred in 2006 after being held at secret CIA sites since his capture in 2003.

(…)

"I make up stories," Mohammed said, describing in broken English an interrogation probably administered by the CIA concerning the whereabouts of Al Qaeda leader Osama bin Laden. "Where is he? I don't know. Then, he torture me," Mohammed said of his interrogator. "Then I said, 'Yes, he is in this area.' "

Mohammed also appeared to say that he had fingered people he did not know as being Al Qaeda members in order to avoid abusive treatment. Although there is no way to corroborate his statements, Mohammed is one of the militants whom the CIA repeatedly subjected to the simulated-drowning technique known as waterboarding
And, of course, there's the fact that none of the actual intelligence that led to Osama bin Laden came from suspects who had been waterboarded:
In a letter disclosed Monday, CIA Director Leon Panetta told McCain that detainees subjected to "enhanced interrogation techniques" did provide information that helped lead to bin Laden, but solely by lying.

"Some detainees who were subjected to enhanced interrogation techniques attempted to provide false or misleading information about the facilitator/courier" with whom bin Laden was found, Panetta wrote. "These attempts to falsify the facilitator/courier's role were alerting," the CIA director added.
In other words, the people we had tortured lied despite that fact, and it was only because of information we obtained by other means that we knew they were lying about something significant.