Central American Migrant Caravan Headed This Way
More than 1200 refugees, mostly from Honduras, are trying to come to the United States. What should we do about it?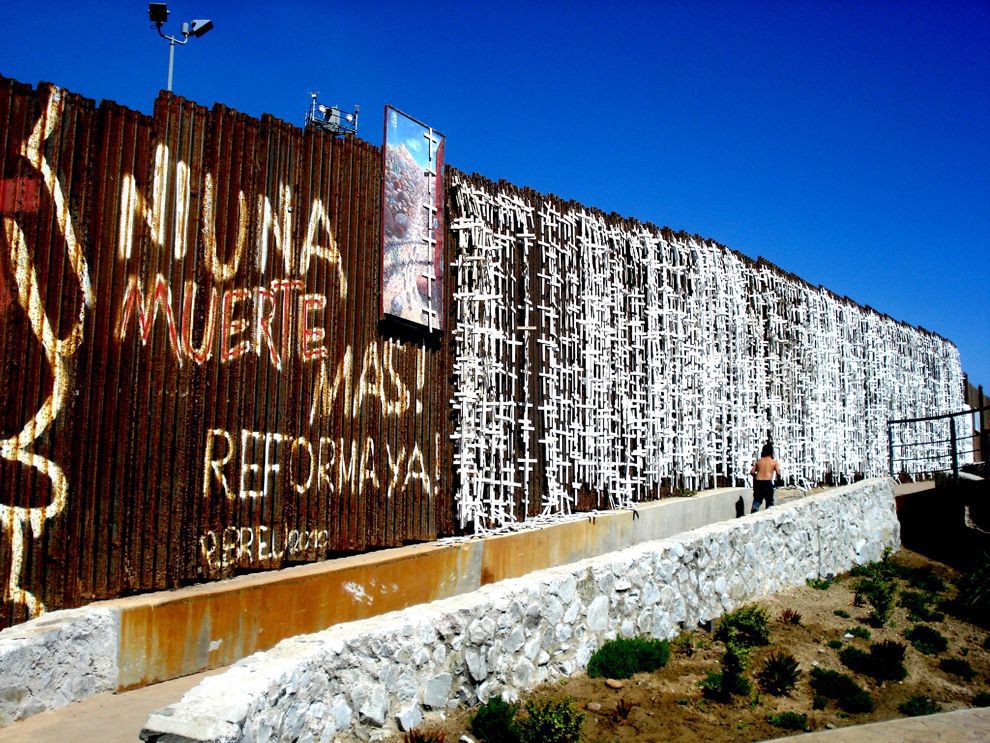 A group of 1200 migrants, mostly from Honduras, is working its way through Mexico with the United States as its destination.
Reuters ("Migrant caravan heading to U.S. border puts Mexico in tough spot with Trump"):
In some of the Mexican towns playing host to a "caravan" of more than 1,200 Central American migrants heading to the U.S. border, the welcome mat has been rolled out despite President Donald Trump's call for Mexican authorities to stop them.

Local officials have offered lodging in town squares and empty warehouses or arranged transport for the migrants, participants in a journey organized by the immigrant advocacy group Pueblo Sin Fronteras. The officials have conscripted buses, cars, ambulances and police trucks. But the help may not be entirely altruistic.

"The authorities want us to leave their cities," said Rodrigo Abeja, an organizer from Pueblo Sin Fronteras. "They've been helping us, in part to speed the massive group out of their jurisdictions."

At some point this spring, the caravan's 2,000-mile (3,200-km) journey that began at Tapachula near the Guatemalan border on March 25 will end at the U.S. border, where some of its members will apply for asylum, while others will attempt to sneak into the United States.

So far the Mexican federal government has provided little guidance on how to handle the migrants but Abeja worries that local reactions will change.

"There's a lot of pressure from authorities to stop the caravan because of Donald Trump's reaction," he said.

Trump railed on Twitter against the caravan on Monday, accusing Mexico of "doing very little, if not NOTHING" to stop the flow of immigrants crossing the U.S. border illegally. "They must stop the big drug and people flows, or I will stop their cash cow, NAFTA," he concluded.

Mexico's interior minister Alfonso Navarrete did not directly address the caravan, but he wrote on Twitter that he spoke to the U.S. Homeland Security Secretary Kirstjen Nielsen on Monday, and that the two had "agreed to analyze the best ways to attend to the flows of migrants in accordance with the laws of each country."

Mexico must walk a delicate line with the United States as the countries are in the midst of renegotiating the North American Free Trade Agreement (NAFTA) along with Canada. At the same time, Mexican left-wing presidential candidate Andres Manuel Lopez Obrador has an 18-point lead ahead of the July 1 election, according to a poll published on Monday. A Lopez Obrador victory could usher in a Mexican government less accommodating toward the United States on both trade and immigration issues.

Mexican Senator Angelica de la Pena, who presides over the Senate's human rights commission, told Reuters that Mexico should protect migrants' rights despite the pressure from Trump.

Former President Vicente Fox called for Mexican officials to take a stand against Trump's attacks. Trump keeps "blackmailing, offending and denigrating Mexico and Mexicans," he wrote on Twitter on Monday.

Under Mexican law, Central Americans who enter Mexico legally are generally allowed to move freely through the country, even if their goal is to cross illegally into the United States.
That's mighty convenient: Mexico has open borders because they understand few will migrants want to make that country their home. They're willfully aiding and abetting people intent on violating US immigration law. The childishness of President Trump's actual policy responses notwithstanding, the underlying grievance is legitimate.
That said, these aren't simply people looking for better opportunities; many are legitimate refugees:
Migrants in the caravan cite a variety of reasons for joining it. Its members are disproportionately from Honduras, which has high levels of violence and has been rocked by political upheaval in recent months following the re-election of U.S.-backed president, Juan Orlando Hernández in an intensely disputed election.

Maria Elena Colindres Ortega, a member of caravan and, until January, a member of Congress in Honduras, said she is fleeing the political upheaval at home. "We've had to live through fraudulent electoral process," she said. "We're suffering a progressive militarization and lack of institutions, and … they're criminalizing those who protested."
But, of course, being a refugee doesn't entitle one to simply select the country on the planet where one would most like to live:
Typically, Central Americans have not fared well with U.S. asylum claims, particularly those from Honduras. A Reuters analysis of immigration court data found that Hondurans who come before the court receive deportation orders in more than 83 percent of cases, the highest rate of any nationality. Hondurans also face deportation in Mexico, where immigration data shows that 5,000 Hondurans were deported from Mexico in February alone, the highest number since May 2016.

Maunel Padilla, chief of the border patrol's Rio Grande Valley sector, one of the busiest crossing points on the U.S. Mexico border, said in an interview with Reuters that he worries the caravan could "generate interest for other groups to do the same thing," but he was not terribly nervous about coping with the group currently traveling.

"Not to be flippant," Padilla said, "but it's similar numbers to what we are seeing every day pretty much."
The price of being a rich country, I suppose.
Whether prompted by this specific crisis or the broader debate spawned by Trump's tweets, Dave Schuler asks a not-so-simple question: "What Should Our Immigration Policy Be?" His answer:
I think that we should greatly increase the number of work visas available to Mexicans, impose workplace-based enforcement of immigration law with serious penalties for failure to enforce, abandon family reunification and diversity as criteria for granting visas, enforce educational and tourist visas, tighten up greatly on the L-1 visa, and return the H1-B program to what it was supposed to be—a way of admitting more people who had skills unavailable in the domestic market. Over the years it has transmogrified into a way of bringing in relatively low level clerical and technical workers. Basically, it's a fraud.

With respect to the beneficiaries of DACA, the Congress should establish some set of criteria and those criteria should be enforced rigorously. The parents of the "DREAMers" should not be included.
I haven't studied our visa programs enough to have a strong opinion on reforming L-1 or H1-B. Otherwise, I'm generally on board with Dave's preferred policies, especially much more liberal legal immigration from Mexico and a shift to much more stringent employer-based enforcement vice having swarms of ICE and Border Patrol agents out harassing brown people.
The problem, of course, is that it's incredibly difficult to enforce our immigration laws given our continental size, the immenseness of our border with Mexico, and the push-pull factors created by the relative lifestyle differences available on the two sides. Workplace enforcement would be more humane than our current approach but it will still be viewed as harassment of people who look Hispanic.
For security, economic, and cultural reasons, I don't support open borders. We have a right to choose who comes to live here. That we're "a nation of immigrants" who had virtually open borders over a century ago when we were trying to settle a continent doesn't obligate us to continue that policy in perpetuity now that we're a more mature polity.
It's perfectly reasonable to prefer immigrants who speak the language and bring education and skills. At the same time, the sort of grit that drives one to walk to the United States all the way from Honduras is awfully attractive. But where does one draw the line?
UPDATE (April 5): It's clear from the discussion below that several assertions and implications in the Reuters report that formed the basis for this post were simply incorrect. Regardless, it appears the caravan, such as it was, has in fact been stopped by the Mexican authorities. See Doug Mataconis' follow-up post, "'Caravan' Of Immigrants To Largely End Its Journey Through Mexico."