Charlie Crist Officially a Democrat
Charlie Crist, run out of the Republican Party, is now a Democrat.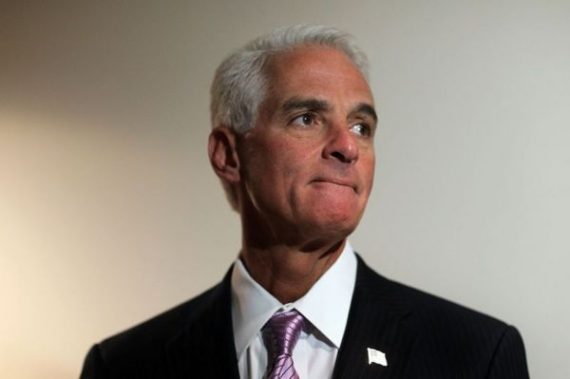 Charlie Crist, run out of the Republican Party, is now a Democrat.
Tampa Bay Times ("Charlie Crist signs papers to become a Democrat"):
It was just a matter of time. Charlie Crist is becoming a Democrat.

Crist — Florida's former Republican governor who relished the tough-on-crime nickname "Chain Gang Charlie" and used to describe himself variously as a "Ronald Reagan Republican" and a "Jeb Bush Republican" — on Friday evening signed papers changing his party from independent to Democrat.

He did so during a Christmas reception at the White House, where President Barack Obama greeted the news with a fist bump for the man who had a higher profile campaigning for Obama's re-election this year than any Florida Democrat.

The widely expected move positions Crist, 56, for another highly anticipated step: announcing his candidacy for governor, taking on Republican incumbent Gov. Rick Scott and an untold number of Democrats who would challenge him for the Democratic gubernatorial nomination.

"I've had friends for years tell me, 'You know Charlie, you're a Democrat and you don't know it,' " Crist, a career-long populist, recounted Friday night from Washington, D.C.

Crist has been registered with no party affiliation since the spring of 2010, when his Republican candidacy for U.S. Senate was fizzling against Republican upstart Marco Rubio. Since losing that race, he has been steadily inching toward the Democratic Party, first when his wife, Carole, switched her affiliation to Democrat and later when he threw himself into Obama's re-election campaign, earning a prominent speaking slot during the Democratic National Convention in Charlotte, N.C.

Critics from both parties sniff that Crist is merely looking for an avenue back into public office and is willing to throw out his principles to achieve the goal.
That criticism is doubtless true. He was, after all, content to run as a Republican for the Senate just two years ago and would, presumably, be a happy Republican–and have happily campaigned for Mitt Romney, not Barack Obama—had he beaten Marco Rubio in the primary and gone on the win.
On the other hand, Crist has long held views that clashed with the Republican orthodoxy and that became problematic in an era where purity and loyalty tests have been demanded.
Crist has been consistently opposed to taxes and gun control laws, but in many respects his record is appealing to Democratic activists and donors alike.

He has been a strong supporter of higher pay for teachers. He works for a leading trial lawyer. He was a leading advocate for civil rights as governor and attorney general. And though he describes himself as "pro-life," his voting record in the Legislature was mostly in favor of abortion rights. He has long been more of a populist than a pro-big business Republican.

"What changed is the leadership of the Republican Party," Crist said in a phone interview Friday night. "As I said at the convention, I didn't leave the Republican Party, it left me. Whether the issue was immigration, or education, or you name it — the environment. I feel at home now."
Of course, he's by no means at home in the Democratic Party and will likely find himself in much the same boat. The difference is that it's possible to get elected in Florida as a conservative Democrat whereas it's become increasingly difficult to even get nominated as a liberal Republican. He's right that the leadership of the Republican Party has changed and that there's less tolerance for diversity of views. But the notion that there's been some radical shift since the 2010 primaries is a hard sell.