Gulf Oil Spill Gives Charlie Crist A Major Boost In Florida Senate Race
The Florida Senate race has taken a turn that few people expected thanks to the political impact of the Gulf of Mexico oil spill.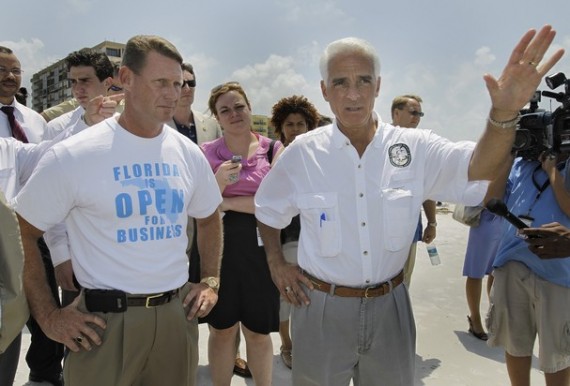 A new poll in the Florida Senate race shows Governor Charlie Crist widening his lead in the Florida Senate race:
A new Florida Chamber of Commerce poll suggests Charlie Crist may be widening his lead over Republican Marco Rubio and Democrat Kendrick Meek in the U.S. Senate race.

Where other recent polls showed Crist barely edging out Rubio, the June 9-13 survey of 607 likely voters by the Florida Chamber of Commerce Political Institute and Cherry Communications found 42 percent backing Crist, 31 percent Rubio and 14 percent Meek. The margin of error was plus or minus 4 percentage points.
Perhaps most tellingly, the poll shows Governor Crist enjoying high approval ratings:
Question: Do you approve or disapprove of the job Governor Charlie Crist is doing?

• Approve: 60%
• Disapprove: 30%
As I speculated might be the case last week, it does appear that Crist is benefiting from the coverage of the Gulf Oil Spill crisis and the lead he has taken in responding to the oil that is threatening the Gulf Coast of Florida. As Chris Good at The Atlantic notes, he also seems to have a fundraising advantage:
The governor also enjoyed a significant cash advantage as of his last quarterly FEC filing in April: $7.6 million to Rubio's $3.9 million and Meek's $3.7 million. Jeff Greene, the Democratic primary candidate who could threaten Meek, is self funding with billions in personal wealth.
And, as Samuel Jacobs notes, it's fairly clear that the oil spill has provided Crist with an opportunity to do something that neither Rubio nor Meek can do, govern:
The Gulf oil leak has yet to reach Florida's shores in a major way, but it has already caused a sea change in the Sunshine State's most prominent campaign. While Crist appears cool, composed, and in control—calling for tougher legislation to shut down offshore drilling—GOP wunderkind Rubio seems out of step with Florida's populace, supporting a policy of continued offshore drilling that polling shows voters reject.

Standing among the suits, Crist is getting to play action hero. On Tuesday, he surveyed the shoreline in Pensacola Beach with President Obama. On Wednesday, he worked the phones, talking to fellow Gulf Coast governors and federal officials who are managing the Deepwater Horizon spill. Suddenly a whirl of activity, Crist has watched his popularity crest. Last week, a Quinnipiac poll had Crist, who trailed Rubio by 8 points in May, ahead anywhere from 4 to 7 points, depending on which Democrat eventually joins the pair in the race.

"Over the last few weeks, the oil spill has been bad for Florida and the environment but good for Charlie Crist's poll numbers," says University of Central Florida Professor Aubrey Jewett. "He's been able to be seen as a strong leader, as someone who is on the frontline, touring different counties and cities on the coast, seeking federal aid, and seeking more help from BP. He's held completely blameless for the spill itself because he has nothing to do with it."
How long this will last is unclear. It's entirely possible that BP will be able to stop the undersea oil gusher by August as promised and that oil will stop heading toward the shoreline of Florida at some point after that, but it's also possible that this is a crisis that will affect the Sunshine State until well after the campaign starts in earnest on Labor Day. In either case, it will be interesting to watch this play out, because for the moment it looks like Charlie Crist is positioned very well to pull of a victory in November.