Clinton Tried To Convince Democrat To Drop Out Of Florida Senate Race
Former President Clinton tried to convince Kendrick Meek to drop out of the Florida Senate race, because Democrats know that Charlie Crist had chance to win and Meek did not.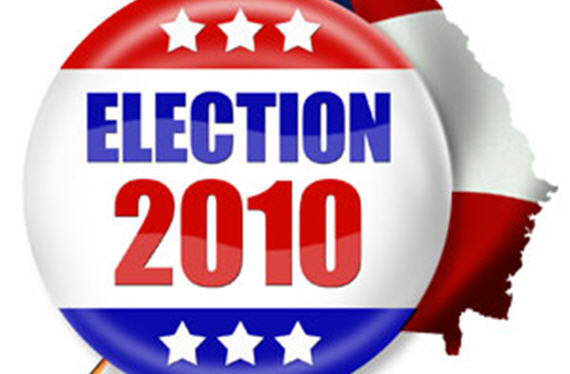 Bill Clinton has been down in Florida campaigning with Democratic Senate nominee Kendrick Meek twice this election season, but it appears that he was also secretly trying to convince Meek to step aside to clear the way for former Republican Charlie Crist to take on Marco Rubio one-on-one:
Former President Bill Clinton last week almost succeeded in persuading Kendrick B. Meek, the Democratic nominee for the Senate in Florida, to drop out of the three-way race — but Mr. Meek changed his mind at the last minute, a spokesman for Mr. Clinton said Thursday evening.

Matt McKenna, Mr. Clinton's spokesman, said the former president had concluded that Mr. Meek's candidacy was struggling and was urging him to drop out and endorse Charlie Crist, the state's Republican governor, who is running for the Senate as an independent.

The back-channel efforts by Mr. Clinton, which were first reported by Politico, were apparently an effort to prevent the state's Senate seat from falling into the hands of Marco Rubio, the Republican who is leading both of his rivals in the polls.

In a statement late Thursday, Mr. Meek's campaign denied the reports of a near-deal with Mr. Clinton and insisted that Mr. Meek was not going anywhere.

"The article is not true," said Abe Dyk, Mr. Meek's campaign manager. "Kendrick Meek was never dropping out of this race, is never dropping out of this race, and will never drop out of this race."

At a hastily called news conference in Miami on Thursday night, Mr. Meek said, "The press report from Politico that is out there is inaccurate — at best," adding, "Any rumor or statement by anyone that says that I made a decision to get out of the race is inaccurate."

In recent days, Mr. Crist has been gaining on Mr. Rubio even as Mr. Meek's numbers have faltered. A recent poll put Mr. Crist just 7 percentage points behind his Republican rival. There had been reports for several weeks that Mr. Meek was being urged privately to consider dropping out of the contest, but the Democrat said repeatedly that he was staying in until the end.

A Crist campaign spokesman, Danny Kanner, said in a statement, "While this story is accurate, the governor's focus is on uniting common-sense Democrats, independents, and Republicans behind his campaign because he is the one candidate who can defeat Tea Party extremist Marco Rubio and deliver bipartisan results for Florida in Washington."

Todd Harris, a senior strategist for Mr. Rubio, said, "Charlie Crist truly will say and do anything to get elected and hold on to power." He added, "Secret deals to trade away principles for power is already the problem in Washington, it's not the solution."
It isn't surprising that the Democrats would adopt this strategy. Even before the Florida Democratic Primary decided the race between Meek and businessman Jeff Greene, it was fairly apparent that the Democratic nominee was going to finish in third place, and that hasn't changed at all over the past two months: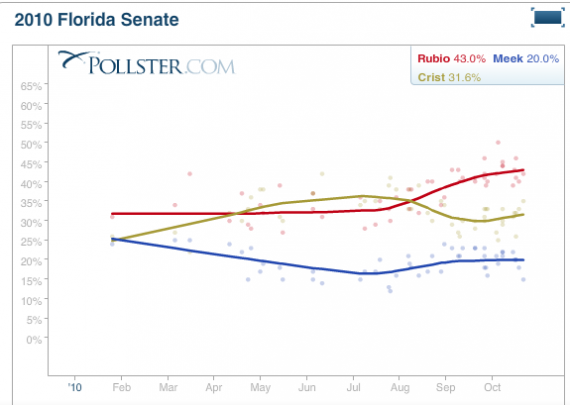 Clearly, Meek never had any realistic chance of winning this race. Crist, on the other hand, appears to be drawing enough support from independents and Democrats that he could've made a two-person race with Rubio a close fight. Given the fact that Crist has hinted quite openly that he would caucus with the Democrats if he did win the election, many Democrats obviously see a Crist victory as something they could have lived with, especially since it would have meant that Rubio would not be in the Senate.
Meek's victory in the primary, however, presented Democrats with a dilemma. Because Meek is African-American, a wholesale abandonment by the state and national party would likely have gone over very badly in the African-American community in Florida and elsewhere. So, even though, he clearly has no chance of winning, Democrats have come to Meek's defense for the most part, and any support for Crist has been under the table, such as Clinton's apparent overture to Meek. Things likely would have been different had Greene won the primary. The overtures to Crist would have been more public, and perhaps a good portion of the 20% of the vote that Meek is getting in the polls would be in Crist's column now. It may not have been enough for victory, but it likely would've made the race closer.
At this point, though, it's fairly apparent that Marco Rubio is going to be the next Senator from the State of Florida.