Chinese Dissident Dedicates Nobel Peace Prize To Tianamen Square Victims
Nobel Laureate Liu Xiaobo has dedicated his Nobel Peace Prize to the victims of the June 1989 massacre in Tianamen Square. Proving again that the events of that day still live on in the memory of many Chinese people.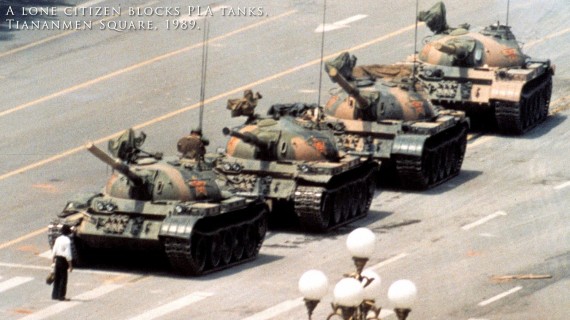 The Chinese government was already upset over the fact that jailed dissident Liu Xiaobo had been awarded the Nobel Peace Prize, and Liu's response to the award is unlikely to please them at all:
Chinese Nobel Peace laureate Liu Xiaobo has tearfully dedicated his award to victims of the 1989 Tiananmen Square crackdown, activists said, as his wife was held under house arrest on Monday.

"This award is for the lost souls of June Fourth," the US-based group Human Rights in China quoted Liu Xiaobo as telling his wife Liu Xia, referring to the bloody June 4, 1989 crackdown on democracy protests at the vast Beijing square.
Meanwhile, news of the award has led to the Chinese government cracking down on Liu's wife:
Via her Twitter account, Liu Xia said she had been placed under house arrest at her Beijing home both before and after travelling to the prison in northeastern China where her husband is being held to inform him of his prize.

"Brothers, I have returned home. On the eighth (of October) they placed me under house arrest. I don't know when I will be able to see anyone," said the Sunday night Twitter posting.

"My mobile phone has been broken and I cannot call or receive calls. I saw Xiaobo and told him on the ninth at the prison that he won the prize. I will let you know more later. Everyone, please help me (re)tweet. Thanks," she said.

Liu Xiaobo's wife was taken to the prison under police guard, his lawyers said at the weekend.

At least two dozen police, plain-clothes officers and other security personnel were seen deployed Monday at the compound where Liu Xia lives, interrogating returning residents and preventing journalists from entering.

Calls to her mobile phone were met with a recording saying it was out of service.
As I noted on Friday, it's unlikely that Liu will be allowed to leave China to receive his award, at least not under circumstances that would allow him to return there after the Nobel ceremonies were over. Nonetheless, it's fairly clear from the reaction in Beijing, and Liu's reference to events that took place 29 years ago, that there still remains a strong desire for freedom in some parts of China. Let's hope that this prize will bring them closer to achieving their dreams.