Christine O'Donnell Buys Ads on OTB
Christine O'Donnell is buying ads on posts arguing that the party screwed itself by voting for her in yesterday's Republican primary.
A welcome but unintended consequence of so many postings on Christine O'Donnell's ouster of Republican stalwart Mike Castle is that we're drawing advertising from the O'Donnell campaign to posts arguing that the party screwed itself.    This screenshot was taken from Steven Taylor's "What the GOP Just Won in Delaware: a Likely Loss in November":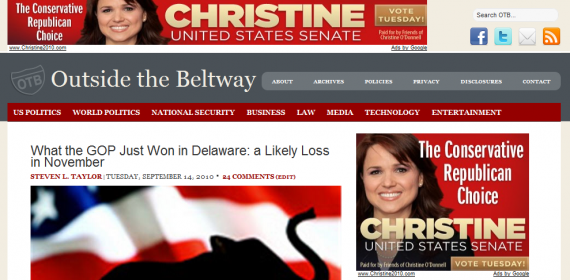 As noted on our Disclosures statement, no endorsement is implied by our running these ads:
[W]hile we're indirectly getting paid by the political candidates, companies, causes, or whathaveyou whose ads appear in these spots, we have no relationship with those people and, more importantly, our editorial choices are not influenced by the fact they're placing ads on our site via a third party network.

This is particularly noteworthy in the case of Google's Adsense network, which uses keywords and other contextual indicators to assign ads.  So, a post about a particular politician, product, or issue may quite well have an ad or ads from that politician or company or their rivals.   While not coincidental — indeed, it's quite intentional on the part of the ad purchaser — it's independent of our editorial choices.  And, indeed, any number of different ads will be served in these spots even on the same blog post page, over the course of time.
You'd have probably figured that out, anyway.