Clinton Email Scandal: What Should Be Done?
A commenter asks what the consequences ought be for Clinton's transgressions.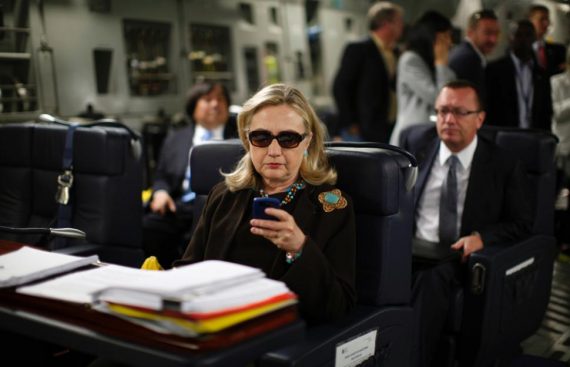 Commenter An Interested Party asks in response to an earlier posting on State Department Inspector General's findings that Hillary Clinton violated both Federal law and Department policy,
So what do you think her consequences, if any, should be…
I'll wait for the FBI investigation before rendering final judgment. Based on what I know and think I know at the moment, I'd say that it's really up to the voters to decide.  Indeed, my rationale for posting on this issue isn't to argue for Clinton to go to jail but rather to comment on her fitness to lead the free world.
An ordinary—even Senior Executive Level—employee might well face criminal consequences for such blatant violation of the law. They would certainly lose their job and their security clearances, severely limiting their future employment potential within the Government. But we're not going to put a policymaker in jail for what Clinton did here, assuming what's currently in the public record is the extent of the malfeasance.
Presuming she didn't commit violations for which she'd be indicated—and I don't have any evidence thus far that she did—it's up to the voters to weigh this transgression and her response to it against both the totality of her long life in the public eye and the alternatives on the ballot. Hell, even if she were indicted, President Obama might well pardon her; if he did, I wouldn't judge him too harshly. Which, again, would leave it up to the voters.