Clinton Supporters Scold Younger Women For Supporting Bernie Sanders
Hillary Clinton's campaign and its supporters seem to be getting frustrated by the fact that younger women are seemingly more interested in her opponent than in her.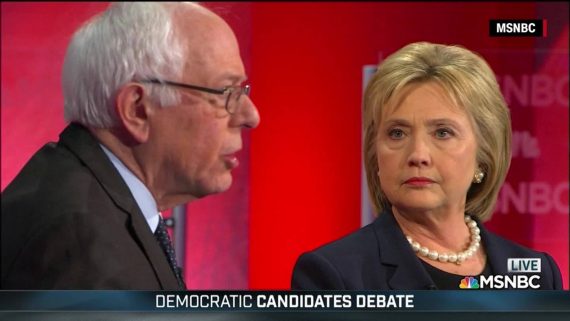 Two prominent supporters of Hillary Clinton are essentially scolding younger women who are backing Vermont Senator Bernie Sanders over Hillary Clinton for essentially being disloyal to their gender:
Hillary Clinton's older feminist supporters have a message for young women who are not backing her candidacy: Shame on you.

Women were expected to help power Mrs. Clinton to the Democratic nomination, but as she struggles to overcome a tough challenge from Senator Bernie Sanders, her support among them has been surprisingly shaky. Young women, in particular, have been drawn to the septuagenarian socialist from Vermont, and the dynamic has disappointed feminists who dreamed of Mrs. Clinton's election as a capstone to the movement.

Two feminist icons of Mrs. Clinton's generation made their frustration known over the weekend, calling on young women who view Mr. Sanders as their candidate to essentially grow up and get with the program.

While introducing Mrs. Clinton at a rally in New Hampshire on Saturday,Madeleine Albright, the first female secretary of state, talked about the importance of electing the first female president. In a dig at the "revolution" that Mr. Sanders often speaks of, she said that the first female commander in chief would be a true revolution. And she scolded any woman who felt otherwise.

"We can tell our story of how we climbed the ladder, and a lot of you younger women think it's done. It's not done," Ms. Albright said of the broader fight for women's equality. "There's a special place in hell for women who don't help each other!"

Mrs. Clinton laughed, slowly clapped her hands and took a large sip of her beverage.

In an attempt to explain Mrs. Clinton's struggles with female voters in New Hampshire, Ms. Albright said during an NBC interview on Saturday that women could be judgmental toward one another and that they occasionally forgot how hard someone like Mrs. Clinton had to work to get where she is.

Ms. Albright's remarks were not the only instance of an older generation of feminist frowning on younger women who do not consider the potential election of Mrs. Clinton a special moment.

Gloria Steinem, one of the most famous spokeswomen of the feminist movement, took the sentiment a step further on Friday in an interview with the talk show host Bill Maher. Explaining how women tend to become more active in politics as they become older, she suggested younger women were just backing Mr. Sanders so that they could meet young men.

"When you're young, you're thinking, 'Where are the boys? The boys are with Bernie,' " Ms. Steinem said.

Realizing that this was potentially offensive, Mr. Maher recoiled. "Oh. Now if I said that, 'They're for Bernie because that's where the boys are,' you'd swat me."

But Ms. Steinem laughed it off, replying, "How well do you know me?"

Many female supporters of Mr. Sanders took issue with the remarks on social media, and her comments, along with those of Ms. Albright, could set off an intense debate within the feminist movement. For many older women, Mrs. Clinton represents the final and best chance to send one of their own to the White House, while young women think that should not be a decisive factor.

"Albright and Steinem trying to undo Feminism with a vengeance today," Guen Page of Republic, Mo., who described herself as a "feminist for Bernie," said on Twitter.
While neither Albright nor Stieinam are officially part of thse Clinton campaign, they are prominent surrogates for Hillary Clinton in the media and it's worth noting that Clinton seemed to react to the comments Albright made introducing her. Additionally, Clinton's 2016 campaign seems to have one notable difference from her 2008 campaign in that she is going further out of her way to note that electing her would mean the electing the first female President in American history. During her 2008 campaign, Clinton didn't emphasize her gender, perhaps to some extent due to the fact that her primary opponent in that race could also make the claim that his election would also represent an historic moment in American history, and arguably a more significant one given the role race has played in the United States since before its independence. This time around, it seems as though mentioning her gender and the fact that she would be the first female President has become a standard part of her stump speech and something that she emphasizes on a regular basis. During the most recent Democratic debate, for example, she attempted to blunt Bernie Sanders' argument that she has been too close to banking interests and Wall Street by saying that she can't be considered part of the "establishment" because she is a woman, and answer that was largely universally panned as being utterly silly. These latest comments by two of Clinton's most prominent surrogates, therefore, are consistent with one of Clinton's most common themes in this election, but it seems as though they are more likely to backfire than to actually bring younger women to Clinton's side.
It's easy, I suppose, to see why Clinton's campaign and her supporters might be frustrated with the fact that younger women are not flocking to Clinton's banner. The former Secretary of State nearly lost the Iowa Caucuses, which produced a result so close that it has given new wind to Sanders sailed and started to raise new questions about Clinton's campaign. On the national level, the one post- Iowa poll that we've seen has shown Sanders significantly closing the gap with Clinton, and in New Hampshire Sanders has maintained such a strong lead over Clinton that it is difficult to see how she can close the gap significantly in just the next 72 hours, never mind actually have a realistic chance of winning the state. The fact that younger women are backing Sanders is a significant part of the problems that Clinton is having right now, and if she could somehow win them back then it would go a long way toward getting the campaign back on track.
Arguments like those that Steinam and Albright are making, though, seem more likely to backfire against Clinton as they are to help the campaign. As a general rule, Clinton's "vote for me because I'm a woman" theme during this election cycle has always struck me as an incredibly weak argument because it assumes that female voters think only in terms of gender and that they should simply get in line and support Clinton already. It's an argument that is both patronizing and seemingly insulting to a group of voters who likely want to believe, and should believe, that they can think for themselves. Adding remarks like those from Albright, which suggests that women who support Sanders are traitors to their gender, and Steinam, who is basically saying that younger women are only supporting Bernie Sanders because they want to meet men, just makes it worse. The fact that the Clinton campaign is not disavowing or distancing itself from either set of comments is actually quite surprising since it seems as though these are the kind of comments that could turn off a voter enough that, while they may not end up voting Republican, they may end up being less enthusiastic for a Clinton candidacy than they might have been otherwise. As I've said before, Clinton still seems likely to be the Democratic nominee for President. In that case, she's going to need every vote she can get to win the General Election. Primary campaign rhetoric that ends up turning off even a small portion of an important part of the Democratic electorate would thus seem to be counterproductive.