Columnist Calls for Taking John Wayne's Name Off Orange County Airport
It turns out, The Duke wasn't all that woke.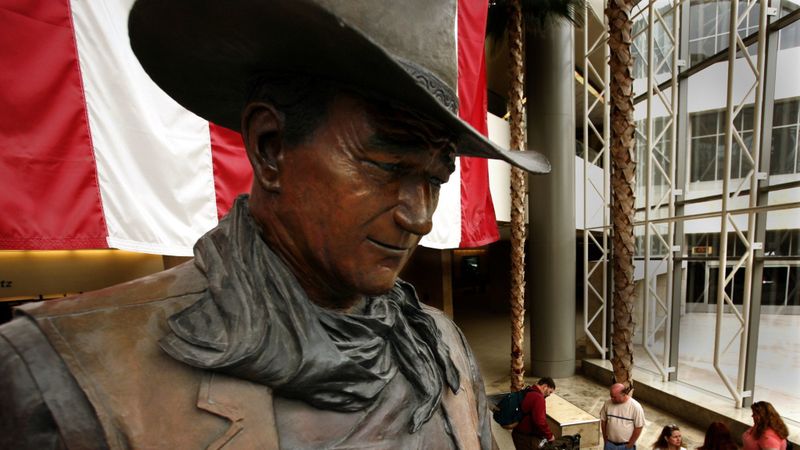 Michael Hiltzik, a Pulitzer Prize-winning columnist for the LA Times, argues "It's time to take John Wayne's name off the Orange County airport." Why? Because the Duke said some rather retrograde things in a 1971 interview with Playboy.
Most people familiar with the life story of John Wayne are aware that the late movie star was a dyed-in-the-wool right-winger — after all, he was still making a movie glorifying America's conduct of the Vietnam War ("The Green Berets," 1968) well after the country had begun to get sick of the conflict.

But the resurrection of a 1971 interview Wayne gave to Playboy magazine has underscored the sheer crudeness of the actor's feelings about gay people, black people, Native Americans, young people and liberals.

This doesn't necessarily mean that it's impossible or immoral to enjoy Westerns and war movies starring John Wayne; that's a personal choice. But it certainly undermines any justification for his name and image to adorn a civic facility.
The quotations are indeed cringe-worthy:
Gay people:

Wayne: Movies were once made for the whole family. Now, with the kind of junk the studios are cranking out. … I'm quite sure that within two or three years, Americans will be completely fed up with these perverted films.

PLAYBOY: What kind of films do you consider perverted?

WAYNE: Oh, Easy Rider, Midnight Cowboy — that kind of thing. Wouldn't you say that the wonderful love of those two men in Midnight Cowboy, a story about two fags, qualifies?

Black people:

WAYNE: With a lot of blacks, there's quite a bit of resentment along with their dissent, and possibly rightfully so. But we can't all of a sudden get down on our knees and turn everything over to the leadership of the blacks. I believe in white supremacy until the blacks are educated to a point of responsibility. I don't believe in giving authority and positions of leadership and judgment to irresponsible people.

PLAYBOY: Are you equipped to judge which blacks are irresponsible and which of their leaders inexperienced?

WAYNE: It's not my judgment. The academic community has developed certain tests that determine whether the blacks are sufficiently equipped scholastically. But some blacks have tried to force the issue and enter college when they haven't passed the tests and don't have the requisite background. … But if they aren't academically ready for that step, I don't think they should be allowed in. Otherwise, the academic society is brought down to the lowest common denominator. … What good would it do to register anybody in a class of higher algebra or calculus if they haven't learned to count? There has to be a standard. …

I think the Hollywood studios are carrying their tokenism a little too far. There's no doubt that 10 percent of the population is black, or colored, or whatever they want to call themselves; they certainly aren't Caucasian. Anyway, I suppose there should be the same percentage of the colored race in films as in society. But it can't always be that way. There isn't necessarily going to be 10 percent of the grips or sound men who are black, because more than likely, 10 percent haven't trained themselves for that type of work.

Native Americans:

PLAYBOY: For years American Indians have played an important — if subordinate — role in your Westerns. Do you feel any empathy with them?

WAYNE: I don't feel we did wrong in taking this great country away from them, if that's what you're asking. Our so-called stealing of this country from them was just a matter of survival. There were great numbers of people who needed new land, and the Indians were selfishly trying to keep it for themselves.

[…]

PLAYBOY: How do you feel about the government grant for a university and cultural center that these Indians [then encamped on Alcatraz Island] have demanded as "reparations"?

WAYNE: What happened between their forefathers and our forefathers is so far back — right, wrong or indifferent — that I don't see why we owe them anything. I don't know why the government should give them something that it wouldn't give me.

PLAYBOY: Do you think they've had the same advantages and opportunities that you've had?

WAYNE: I'm not gonna give you one of those I-was-a-poor-boy-and-I-pulled-myself-upby-my-bootstraps stories, but I've gone without a meal or two in my life, and I still don't expect the government to turn over any of its territory to me. Hard times aren't something I can blame my fellow citizens for. Years ago, I didn't have all the opportunities, either. But you can't whine and bellyache 'cause somebody else got a good break and you didn't, like these Indians are. We'll all be on a reservation soon if the socialists keep subsidizing groups like them with our tax money.
There's more but one gets the point. Hiltzik responds to the most obvious defense:
Some of Wayne's defenders have stepped forward to say it's unfair to condemn an elderly man's memory for a 48-year-old interview conducted during a very different era. In a statement issued Wednesday to Fox News, Wayne's family says, "It's unfair to judge someone on something that was written that he said nearly 50 years ago when the person is no longer here to respond."

But that won't wash. Wayne was a few weeks shy of his 64th birthday when the interview appeared in print. It was 1971, so the civil rights revolution had been going on for years; Martin Luther King Jr. had been assassinated three years before.

Wayne wasn't expressing the tenor of the times — he was reacting to the advances being won by African Americans through demonstrations and legislation. His words already were retrograde when they were uttered. Wayne wasn't an old conservative who hadn't yet been "woke"; he had seen the future, and it put him into a racist rage.
Now, I think Hiltzik overstates how "retrograde" these views were in 1971. They surely weren't unusual for an almost-64-year-old Republican—although perhaps they were for one who'd spent his adult life in Hollywood.
"Easy Rider" and "Midnight Cowboy" were highly controversial; hell, the latter was given an "X" rating (and won the Oscar for Best Motion Picture). Homosexual themes, especially gay sex, was still sufficiently taboo that "Brokeback Mountain" faced a considerable backlash with its 2005 release—more than three decades after Wayne's remarks. It's also worth noting that, as loathesome as those views are now, 1971 was two years before the American Psychological Association ruled that "homosexuality by itself does not necessarily constitute a psychiatric disorder" and removed it from the Diagnostic and Statistical Manual of Mental Disorders.
The use of the term "white supremacy" was especially unfortunate but the basic policy prescription Wayne was advocating—treating blacks equally but without making any sort of provisions for the consequences of centuries of past discrimination—was fairly mainstream well after 1971.
Wayne's assessment of our treatment of Native Americans is literally laughable—and sadly at odds with a much more sensitive treatment in the films he was making at the time. One presumes it comes down to his sense that he earned everything he got the hard way.
Do I think these utterances, made almost half a century ago by a man who's been dead nearly 40 years, were sufficiently heinous that he ought be stripped of honors earned in his lifetime? No.
At the same time, it's not obvious why a public airport is named after him to begin with. He was an incredibly popular entertainer for a very long time. While he made a lot of bad movies, he made a lot that remain quite enjoyable to this day. But he wasn't an especially generous contributor to the public weal. While he played the hero in a lot of war movies, he famously sat out World War II—refusing to sidetrack a film career that had just gotten in high gear—at a time when actors of his age and stature were making great sacrifices for the war effort. I don't know that he was a great philanthropist or otherwise contributed aside from the entertainment value of the films, for which he was handsomely compensated. And, as Hiltzik notes, while a great deal of money for cancer research has been raised in his name, that was started by his heirs after his own death from the Big C.
I don't think it's necessary to continually re-assess the dead based on our current social mores. But it may be that we ought to regularly review the names of public facilities for contemporary relevance. Lots of bridges, roads, courthouses, airports, and the like are named after long-dead people whose achievements no longer seem particularly interesting. The value in keeping those names likely dies off with their immediate families.
UPDATE: I've amended the original text by 1) including the second part of Wayne's quotes on blacks, which I had originally clipped for the sake of brevity, to provide further context and 2) noting the fact that homosexuality was still listed as a mental disorder by mental health professionals at the time of Wayne's remarks.