Compact Discs Still Rule The Japanese Music Business
A nation known for adopting new technology is behind the rest of the world in one interesting way.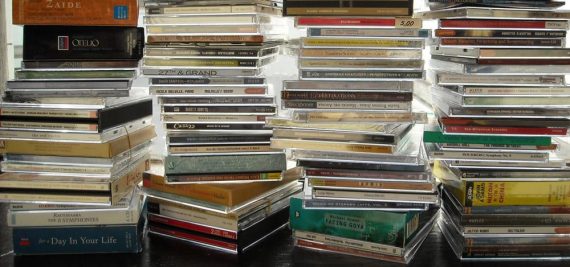 While the rest of the world has happily adapted to new technology that allows them to store their music collections on the computers and in the cloud, and to listen to it on it iPods, phones, tablets, and other devices, the Japanese are still in love with the compact disc:
TOKYO — Around the world, the music business has shifted toward downloads and streaming. But in Japan, the compact disc is still king.

On a drizzly Sunday afternoon recently, Tower Records' nine-level flagship store here was packed with customers like Kimiaki Koinuma. A 23-year-old engineer in a Dee Dee Ramone T-shirt, Mr. Koinuma said that, unlike most men his age around the world, he spends little time with digital services and prefers his music on disc.

"I buy around three CDs a month," he said, showing off a haul of six new albums, including the Rolling Stones' classic "Exile on Main St." and an assortment of the latest Japanese pop hits.

Japan may be one of the world's perennial early adopters of new technologies, but its continuing attachment to the CD puts it sharply at odds with the rest of the global music industry. While CD sales are falling worldwide, including in Japan, they still account for about 85 percent of sales here, compared with as little as 20 percent in some countries, like Sweden, where online streaming is dominant.

"Japan is utterly, totally unique," said Lucian Grainge, the chairman of the Universal Music Group, the world's largest music conglomerate.

That uniqueness has the rest of the music business worried. Despite its robust CD market, sales in Japan — the world's second-largest music market, after the United States — have been sliding for a decade, and last year they dropped 17 percent, dragging worldwide results down 3.9 percent.

Digital sales — rising in every other top market — are quickly eroding in Japan, going from almost $1 billion in 2009 to just $400 million last year, according to the Recording Industry Association of Japan.

Turning Japan around has become a priority for the global music business, which has struggled to regain its footing after losing about half its value since 2000, when digital technology began to disrupt the album-based business model.

But accomplishing change has been difficult, according to analysts and music executives in Japan and the West, in part because of a protectionist business climate in Japan that still views the digital business with suspicion.
As the article notes, it's odd at first glance that Japan is so seemingly behind the times when it comes to how they purchase and consume music. After all, this is the nation that arguably started the entire "portable music" trend with the Sony Walkman, which first entered the consumer market in 1979 and became so ubiquitous in the 1980's that it seemed as though everyone had at least one "walkman" even it if wasn't from Sony itself. Several year later, it was also Sony that pioneered the portable compact disc player, and there were a few digital music players out of Japan in the 1990s as well, although they, like their American competitors, were largely pushed out of the market by the introduction of the iPod. More broadly, Japanese consumers have long had a reputation of being at the cutting edge of consumer technology of all types. It's somewhat surprising then that they'd be so wedded to a music format that is largely dying out in the West.
By contrast, in the United States and Europe, the transformation to digital music is nearly complete. Sales of "physical" music — meaning CDs, cassettes, and LPs, continue to decline precipitously and now account for a small part of overall annual music sales. In these parts of the world, we are already seeing the next wave as digital music sales are starting to decline while online streaming is quickly becoming a larger share of the way in which Americans and Europeans consume music. This seems to be especially true given the fact that a growing segment of the population in these countries, especially younger people, tend to listen to music almost exclusively on their mobile devices. One would think the Japanese would be happily following along with this trend, downloading their music from iTunes and similar services, listening to it on their mobile devices, and slowly shifting over to Spotify and other streaming services.
As it turns out, the reasons lie largely in the nature of the Japanese music business:
Peculiarities of Japan's business climate have shaped its attachment to the CD, but cultural factors may also be at play, like Japanese consumers' love for collectible goods. Greatest hits albums, for example, do particularly well in Japan, perhaps because of the elaborate, artist-focused packaging. The hugely popular girl group AKB48 pioneered the sale of CDs containing tickets that can be redeemed for access to live events — a strategy credited with propping up CD sales, because it can lead the biggest fans to buy multiple copies of an album.

Tower Records closed its 89 American outlets in 2006, but the Japanese branch of the chain — controlled by NTT DoCoMo, Japan's largest phone carrier — still has 85 outlets, doing $500 million in business a year.

At Tower's flagship store, in the heart of the skyscraper-lined shopping district of Shibuya, a group of preteen girls called Kokepiyo performed for fans and autographed CDs one afternoon last month, while their mother-managers watched protectively. Outside, an 18-year-old student who gave her name as Yuria had come to Tower to see her favorite band, the Lotus. She carried a bag full of merchandise she had bought at the store, and said that she frequently buys multiple collectible copies of CDs.

"Each store has its own freebies to give away to sell more CDs," Yuria said. "So it all depends on how good they are."

(…)

A distinctive business ecosystem in Japan has kept CD sales lucrative for music companies. Pricing restrictions on retailers keep the cost of most new CDs at more than $20. In the mid-2000s, a nascent download service, Recochoku, was tethered to Japan's expansive cellphone market, but that system collapsed once the country moved on to smartphones like the iPhone.

Part of the problem, executives say, is the complex array of companies that control rights to the most popular music in Japan, which have been very slow to license new services.

Sony's Music Unlimited, for example, is the largest available streaming service in Japan, but it lacks the most popular hits there. (Sony declines to say how many subscribers it has to Music Unlimited, in Japan or elsewhere.) Apple's iTunes store arrived in Japan in 2005, but only in 2012 did it begin to sell the Japanese music titles of its hardware rival Sony.

Executives in Japan and the West blame an overly cautious Japanese music industry for not adapting, and serious worries remain about Japan's ability to recover from its losses last year.

"A substantial amount of senior management is worried about what happens on their watch, but not necessarily worried about what happens after that," Shigeo Maruyama, the former president of Sony Music Entertainment Japan, said in an interview.
At some point, I suppose, the Japanese will catch up with the rest of the world. It's almost impossible to think that they wouldn't simple because even artists are starting to embrace the digital world more fully than they have in the past. For now, though, Japan seems quite happy with all those little plastic discs.