Congress Wants Exemption from ObamaCare Exchanges (Or Does It?)
There's bipartisan agreement on Capitol Hill that they don't want to participate in ObamaCare.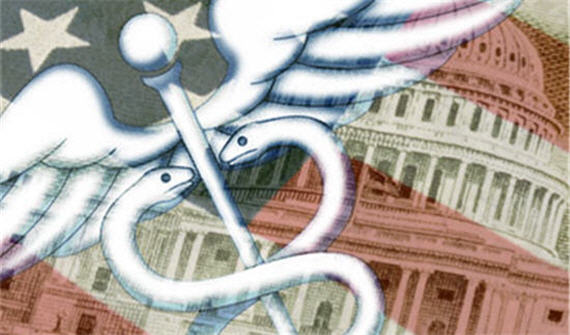 Congress wants to exempt itself from the ObamaCare exchanges.
Politico ("Lawmakers, aides may get Obamacare exemption"):
Congressional leaders in both parties are engaged in high-level, confidential talks about exempting lawmakers and Capitol Hill aides from the insurance exchanges they are mandated to join as part of President Barack Obama's health care overhaul, sources in both parties said.

The talks — which involve Senate Majority Leader Harry Reid (D-Nev.), House Speaker John Boehner (R-Ohio), the Obama administration and other top lawmakers — are extraordinarily sensitive, with both sides acutely aware of the potential for political fallout from giving carve-outs from the hugely controversial law to 535 lawmakers and thousands of their aides. Discussions have stretched out for months, sources said.

A source close to the talks says: "Everyone has to hold hands on this and jump, or nothing is going to get done."

Yet if Capitol Hill leaders move forward with the plan, they risk being dubbed hypocrites by their political rivals and the American public. By removing themselves from a key Obamacare component, lawmakers and aides would be held to a different standard than the people who put them in office.
Most people already have an incredibly low opinion of Congress, which constantly exempts itself from the law it imposes on others. What's baffling to me is that Members and their  staffers are federal employees, who should presumably already be entitled to health insurance benefits. Unless there's something I'm missing—and that could well be the case—the exchanges are a fallback position for employers who don't provide health coverage for their workers; they don't preclude them from providing benefits they already provide (although they may incentivize doing just that).  Here's what the story says:
There is concern in some quarters that the provision requiring lawmakers and staffers to join the exchanges, if it isn't revised, could lead to a "brain drain" on Capitol Hill, as several sources close to the talks put it.

The problem stems from whether members and aides set to enter the exchanges would have their health insurance premiums subsidized by their employer — in this case, the federal government. If not, aides and lawmakers in both parties fear that staffers — especially low-paid junior aides — could be hit with thousands of dollars in new health care costs, prompting them to seek jobs elsewhere. Older, more senior staffers could also retire or jump to the private sector rather than face a big financial penalty.
Some Democrats think this is all a misunderstanding:
Rep. Henry Waxman (D-Calif.), a key Obamacare architect. Waxman thinks there is confusion about the content of the law. The Affordable Care Act, he said, mandates that the federal government will still subsidize and provide health plans obtained in the exchange. There will be no additional cost to lawmakers and Hill aides, he contends.

"I think the law is pretty clear," Waxman told POLITICO. "Members and their staffs should get their health insurance through the exchange; the federal government will offer them health insurance coverage that they obtained through the exchanges because we want to get the same health care coverage everybody else has available to them."
So, it sounds like, rather than exempting themselves from the same provisions that apply to the rest of the country, what's being proposed here is undoing a provision in the law that requires Congress to participate in the exchanges rather than provide their old coverage plan. Which seems perfectly reasonable to me. Federal employees have a decent baseline health plan and have the option to pay out of pocket for much better coverage for themselves and their families. It would be odd for those who work for Congress to have some different, lesser coverage.
Regardless, this is obviously a boon for Republicans:
When asked about the high-level bipartisan talks, Michael Steel, a Boehner spokesman, said: "The speaker's objective is to spare the entire country from the ravages of the president's health care law. He is approached daily by American citizens, including members of Congress and staff, who want to be freed from its mandates. If the speaker has the opportunity to save anyone from Obamacare, he will."
That's a great talking point.
UPDATE: Ezra Klein argues that, no, Congress isn't trying to exempt itself but ObamaCare but rather trying to "fix a drafting error that prevents the federal government from paying into insurance exchanges on behalf of congressional staffers who got caught up in a political controversy."  The explanation behind this is several hundred words long, confusing as hell, and boring.  It does strike me as likely the right answer, though, for reasons outlined in my original post: Congress already provides healthcare for its employees.