Congressman Beats Supercomputer At Jeopardy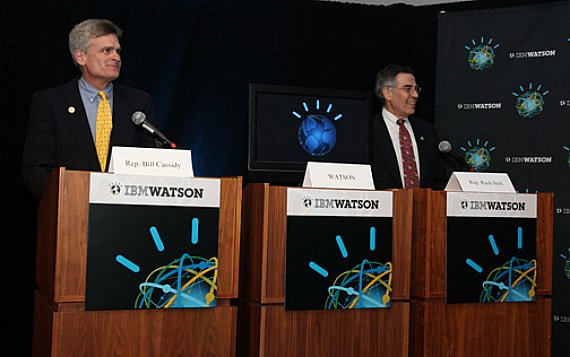 New Jersey Congressman Rush Holt was able to do something that Jeopardy champion Ken Jennings couldn't:
There are a lot of smart people on Capitol Hill. But none of them can claim quite the same brainy bragging rights as Rep. Rush Holt (D-N.J.).

On Monday, Holt beat IBM's super-computer, known as Watson, at a round of "Jeopardy!" at the Liaison Capitol Hill, part of an event organized by IBM.

For those unfamiliar with Watson, the interactive computer contains some of the the most cutting edge information processors in the world, and it recently beat all-time "Jeopardy!" champion Ken Jennings on TV.

To be fair, Holt is not your average congressman, especially not when it comes to trivia. He's a five-time "Jeopardy!" champion and a nuclear physicist, to boot. Nevertheless, Holt said the prospect of facing a computerized opponent was daunting.

"I watched a few episodes [of Watson] against Jennings a few weeks ago, and I thought I was in for trouble." Not so. At the end of his round, Holt (right) had 8,600 points to Watson's 6,200. Holt's fellow Rep. Bill Cassidy (R-La.) (left) also competed in the round and scored 1,000 points.

Cassidy and Holt were among the five members of Congress taking part in Monday's bipartisan "Watson vs. Members" tournament. They were joined by Reps. Jim Himes (D-Conn.), Jared Polis (D-Colo.) and Nan Hayworth (R-N.Y.).

Holt may be the only member to have beaten Watson, but Himes, a former Rhodes Scholar, became the crowd favorite when he bet all his points on a double jeopardy question about a chicken recipe, and won (the answer was "coq au vin"). Himes was the only lawmaker to play in two rounds, besting Polis and Hayworth, but not Watson.
Am  I the only one surprised to find intelligence on Capitol Hill?