Culture Clash at the New York Times
America's Newspaper of Record needs to figure out what it wants to be.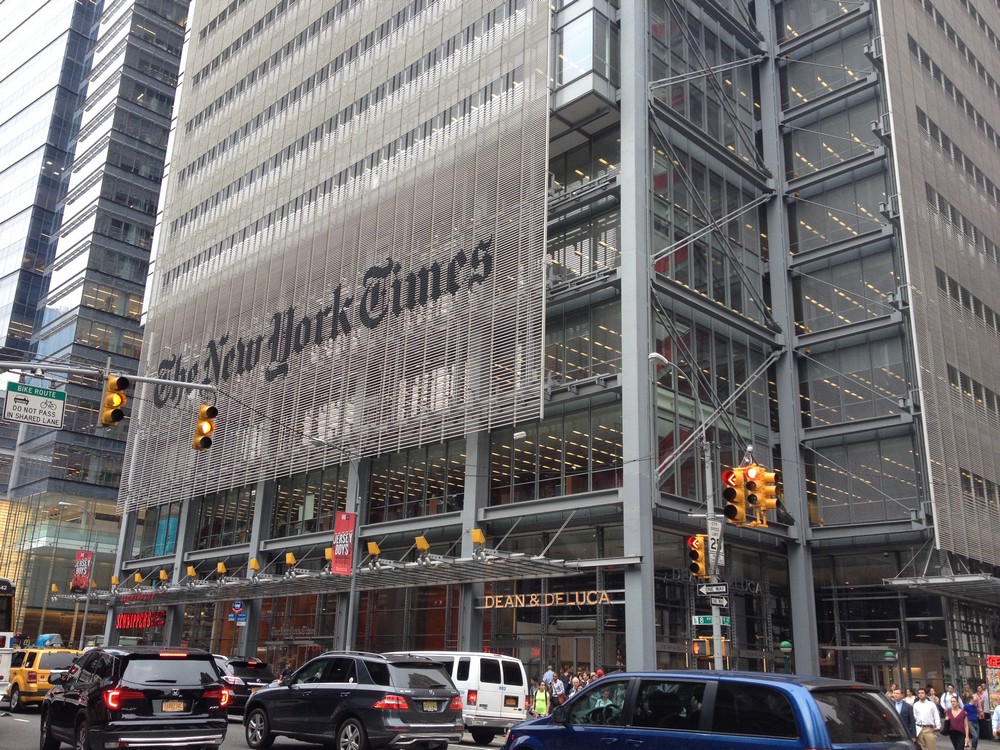 Ben Smith's latest media column, reflecting on his own paper and its culture, is well worth the read. It intertwines stories of clashing cultures, both between a publication with a mission to publish All The News That's Fit to print and an audience that wants a particular worldview and between an older generation of journalists and a younger generation of readers.
Its plot revolves around the case of recently-fired superstar health reporter Don McNeil Jr. but he's more allegory than character. It seems that the New York Times began selling trips chaperoned by star reporters to rich families looking to boost their kids' college resumes and it backfired on them.
Nor were the reporters always ready for the confident, hothouse politics of elite American high school students. One reporter was chided by counselors on a trip to Israel for his tone in an exchange about the future of the oil industry.
But, as Smith explains, that was only possible because of the paper's unique status:
The Times is an object of obsession because of its unusual, perhaps unhealthy, central place in American news, culture and politics. Its actions — and those of its internal factions — carry huge symbolic weight. That's the thing that struck me most when I got here a year ago, and wrote that "because The Times now overshadows so much of the industry, the cultural and ideological battles that used to break out between news organizations now play out inside The Times." The Times's media ambitions have also intensified its status as a cultural lightning rod. It is no longer just a source of information. It seeks to be the voice whispering in your ear in the morning, the curriculum in your child's history class and the instructions on caramelizing shallots for the pasta you're making for dinner.
Because of that, personnel squabbles there generate national attention in a way that those at other major papers don't.
This intense attention, combined with a thriving digital subscription business that makes the company more beholden to the views of left-leaning subscribers, may yet push it into a narrower and more left-wing political lane as a kind of American version of The Guardian — the opposite of its stated, broader strategy.
I've reflected here before on the strange-to-me situation where very young reporters are dictating to managers with decades of experience how to run the paper. After reading Smith's column, though, it's obvious that this is really a reflection of both of the struggles highlighted at the outset.
One modest and early sign that The Times may be focusing a bit: A spokeswoman told me that it won't restart the Journeys program next year. The Times may contain multitudes, but running a travel agency that drops ornery 65-year-old journalists into the literal jungle with a pack of sharp teens is a bridge too far.

What happened in Peru, too, was a kind of collision between the old Times and the next generation of its core audience, the educated globally minded elite. The student at the center of this story is Sophie Shepherd, who isn't among the teenagers who have spoken anonymously to other news organizations. She and two other students said she was the person who spoke the most to Mr. McNeil and spent the most time with him on their "student journey."

She was 17 at the time, and had just finished her senior year at Phillips Academy Andover, a boarding school sometimes rated America's best. She's the kind of teenager who is excited to talk to a New York Times correspondent about public health, and perhaps to put the adventure on a résumé. She had even done the optional reading Mr. McNeil suggested, Jared Diamond's 1997 book, "Guns, Germs, and Steel," a Pulitzer-winning history that argues that environmental and geographic factors produced the global domination of European civilization. The book has drawn criticism for a deterministic view that seems to absolve colonial powers of responsibility for their choices.

Ms. Shepherd said she noticed that Mr. McNeil was walking alone as they left their hostel on the first morning of the trip, so she caught up with him. She asked him, she recalled, about the criticism of the book.

"He got very defensive very quickly about it," she recalled. "It's just a book, it's just making this point, it's very simple, it's not racist."

She said she backed down, apologized and "felt terribly guilty — like I must have come off as a crazy liberal."

At lunch that day, she said she sat down the table from Mr. McNeil at a cafe overlooking the town's narrow streets, where he was talking to another student when he uttered the N-word, and used the word in the context of a discussion of racism. Some of the teenagers responded almost reflexively, she said, to object to his use of the word in any context.

"I'm very used to people — my grandparents or people's parents — saying things they don't mean that are insensitive," another student, who was then 17 and is now attending an Ivy League college, told me. "You correct them, you tell them, 'You're not supposed to talk like that,' and usually people are pretty apologetic and responsive to being corrected. And he was not."
I'm a dozen years younger than McNeil and not on as elite a perch. But we're both old enough to be bemused by the notion that we're supposed to defer to the sensibilities of 17-year-olds, much less kowtow to them.
McNeil was almost certainly older than most of those kids' parents and had been covering important beats for the most important newspaper in the country for four decades. He surely saw himself in a parental-mentoring role. He thought they were there to learn from his experience and wisdom but, apparently, they thought they were there to teach him.
And, it seems McNeil has a reputation for being cantankerous to begin with (which makes him perhaps an odd choice to chaperone field trips).
To some, he embodied the swagger of the mid-20th century Times man, whose very presence rendered a story news. He could be a generous colleague, and blunt honesty is welcome in a newsroom, but he also sometimes alienated his bosses and colleagues. He asked sharp questions of the former publisher, Arthur Sulzberger Jr., at the company's annual staff meeting, and was a union activist who attacked management during brutal contract negotiations in the dark years of 2010 and 2011. He was a devoted, effective organizer, others in the News Guild recalled, but also drove his brothers and sisters in labor crazy with his imperiousness, and voted against the union's 2016 contract, arguing that the union should have held out for more.

His impolitic views were also hardly a secret. When he published a book on the Zika virus in 2016, a puzzled reviewer in The Quarterly Review of Biology noted passages about feminists and gay sex, and wrote that "it is McNeil's seniority and journalistic experience that makes the occasional misstep, or indelicate deviation from the science, all the more surprising."
McNeil was raised in San Francisco and graduated summa cum laude from Berkeley with a degree in rhetoric. I doubt very much he was a flaming Trumper. But, again, he was 65 at the time of the trip. Views that were countercultural in the 1960s and 1970s are positively reactionary now.
Regardless, his made-man standing at the paper, his strong relationship with the union, and the fact that the public health beat wasn't exactly prominent all combined to let him off with a slap on the wrist when the complaints first surfaced in 2019.
Ironically, the thing that made him "famous" did him in.
Mr. McNeil, who was not far from retirement, returned to his role as a reporter on the relatively unglamorous public health beat. He talked openly about taking a buyout the next time The Times offered them, and his career could easily have ended that way.

But then, just over a year ago, a strange new virus began spreading around the world. Mr. McNeil suddenly became a regular guest on The Times's popular podcast, The Daily. His doomsaying was electrifying — stark, certain, sometimes alarming. He emerged as the voice of The Times's coverage of the crisis.

Mr. McNeil had one high-profile stumble last May when he appeared on CNN and called for the director of the Centers for Disease Control and Prevention to resign over the agency's handling of the coronavirus outbreak. "His editors have discussed the issue with him to reiterate that his job is to report the facts and not to offer his own opinions," a Times spokeswoman said at the time. But he remained central to the biggest story in the world. The Times included his work on the pandemic in its Pulitzer submission, two people familiar with it said.

That high profile may have led to the leak of The Times's internal response to the Peru trip to The Daily Beast. Some employees then organized a letter saying that "our community is outraged and in pain" and asking why Mr. McNeil's conduct hadn't prevented him from covering a crucial story with complex racial disparities. The letter didn't call for him to be fired, but for The Times to review its policies.

Other journalists considered the letter itself unfair, an attack on a veteran reporter's career over speech that wasn't directly connected to his journalism. Some Black journalists felt their white colleagues were rallying to Mr. McNeil's defense rather than worrying about his words' impact. "You often wonder what your white colleagues who are lovely to your face are actually thinking or saying about you — or people like you — behind your back," a national reporter, John Eligon, tweeted.

This is where a messy but, in some ways, ordinary management problem became something more. The employees' letter leaked. The News Guild's own internal divisions over the matter leaked. Critics scoured Mr. McNeil's old work, and complained on Twitter. The Times became the story.
From my perspective as a middle-aged white man on the outside, this whole thing seems absurd. A brilliant but cantankerous older dude engaged in lively debate with some spoiled rich kids whose parents were paying him to do just that. The paper's management team, headed by a Black man, concluded that it was hardly a firing offense once they examined the context. Then, two years later, the thing is relitigated in public because suddenly McNeil had become podcast-famous.
Smith concludes,
The questions about The Times's identity and political leanings are real; the differences inside the newsroom won't be easily resolved. But the paper needs to figure out how to resolve these issues more clearly: Is The Times the leading newspaper for like-minded, left-leaning Americans? Or is it trying to hold what seems to be a disappearing center in a deeply divided country? Is it Elizabeth Warren or Joe Biden? One thing that's clear is that these questions probably aren't best arbitrated through firings or resignations freighted with symbolic meaning, or hashed out inside the human resources department.

The Times will have to navigate its identity in tandem with the next generation of its audience — people like Ms. Shepherd, who said that she was most surprised by the gap between Mr. McNeil's views and what she'd read in her favorite news outlet.

"That's not what I would have expected from The Times," she said. "You have the 1619 Project. You guys do all this amazing reporting on this, and you can say something like that?"
Shepherd seems like a precocious young lady. Given her rather tremendous head start in life, natural talent, and assertive personality, she's likely to go far. But it would be a shame, indeed, if the Times became what she wants it to be.
Aside from confirming the "liberal media" trope that conservatives have been pushing for decades, our primary news outlets simply shouldn't be ideological. Great journalism, by its very nature, should promote wide-ranging discourse. (Indeed, a little more of that might have kept the 1619 Project from going off the rails.)
Even beyond the question of sanitizing the paper's reporting and opinion pages to ensure it confirms with the current orthodoxy of kids at liberal prep schools, the notion that people reading the New York Times should never encounter ideas that upset them is just dangerous.