Curiosity Rover Finds Proof That Water Once Flowed On Mars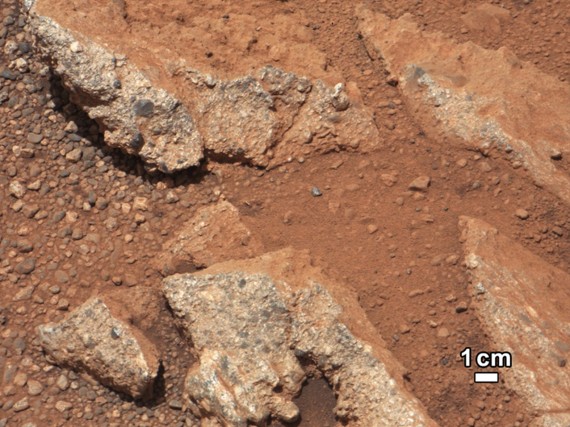 The Mars Curiosity Rover has found evidence that liquid water once flowed on the surface of Mars:
NASA's Curiosity rover has found definitive proof that water once ran across the surface of Mars, the agency announced today. NASA scientists say new photos from the rover show rocks that were smoothed and rounded by water. The rocks are in a large canyon and nearby channels that were cut by flowing water, making up an alluvial fan.

"You had water transporting these gravels to the downslope of the fan," NASA researchers say. The gravel then formed into a conglomerate rock, which was in turn likely covered before being exposed again.

The agency's scientists presented their findings of the former streambed on Mars at a news conference today.

"A River Ran Through It," Curiosity's operators tweeted Thursday. "I found evidence of an ancient streambed on Mars, similar to some on Earth."

"From the size of gravels it carried, we can interpret the water was moving about 3 feet per second," said Curiosity science co-investigator William Dietrich, "with a depth somewhere between ankle and hip deep."

The rocks have not undergone scientific analysis. But the NASA team says that taken with geographic data from Mars orbiters, the photographs tell a story all their own.

The images show rocks with round, smooth surfaces; many of them have been broken down into sizes smaller than one inch in diameter.

"The shapes tell you they were transported and the sizes tell you they couldn't be transported by wind," co-investigator Rebecca Williams said. "They were transported by water flow."

Scientists have not yet estimated the age of the rocks, which may have been buried beneath the surface. Their age could be several billion years.
The idea that there was once flowing water on Mars has intrigued scientists ever since astronomers started looking at the red planet through the more powerful telescopes that came into being in the 19th Century. At the time, it was thought that the lines seen on the surface were the signs of actual flowing rivers, a theory that no doubt led to the vast amount of Science Fiction literature that speculated about Martians visiting Earth. In all likelihood, though, the stream beds that Curiosity seems to have discovered were likely dried out hundreds of millions, if not billions of years ago. Nonetheless, where there is water, at least here on Earth, there is always some form of life. Could it be possible that we'll find the fossilized remnants of some kind of Martian lifeform in this, and other, stream beds? One can only hope, because then our entire understanding of the universe we live in will be transformed significantly.
Photo via NASA