'Daily Show' Ambushes Redskins Fans in Unfair Segment
These segments are usually unfair; they outdid themselves this time.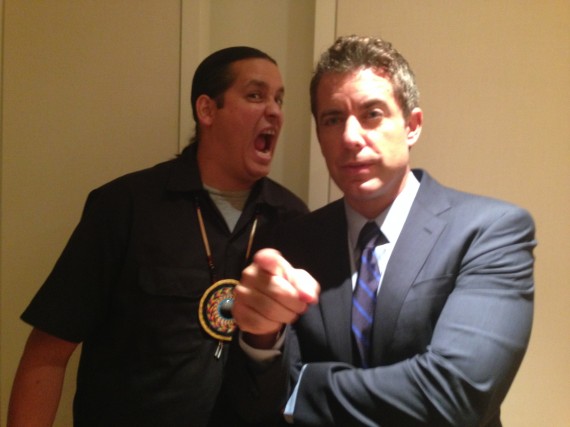 An as-of-yet-unaired segment of "The Daily Show" confronts ordinary fans of the Washington Redskins about the team's nickname. WaPo's Ian Shapira describes the segment:
The four die-hard Redskins fans thought the opportunity was as golden as the vintage helmets of their favorite football team: "The Daily Show with Jon Stewart" wanted them to appear on the Comedy Central program to defend the team's name, which has been under relentless attack.

The Redskins Nation citizens eagerly signed up, most of them knowing that they might be mocked in their interview with correspondent Jason Jones. But several hours into the Sept. 13 taping of the yet-to-air episode, the fans, all from Virginia, said they were suddenly confronted by a larger group of Native American activists — all of whom were in on the showdown prearranged by "The Daily Show."
Participants claim they were specifically told that they would not have to engage in such a confrontation. Aside from the ambush, the deck was stacked:
The Native Americans who confronted the Redskins fans — including Amanda Blackhorse, the lead plaintiff in the case that stripped the Redskins of their trademark protections this year and is being appealed — said in interviews that they marched into the room and accused the fans of backing a racist mascot.

"My heart goes out to them because they are people, too," said Tara Houska, an Ojibwe from Couchiching First Nation who lives in the District and works for the grass-roots group Eradicating Offensive Native Mascotry. "But it's a weird position for them to take, because someone is crying over the loss of their offensive mascot when I am right there, standing in front of them. I don't think they're racist. I think their mascot is racist."

[…]

On the morning of Sept. 13, the four Redskins fans arrived at the Park Hyatt hotel and began taping an interview with Jones in a small conference room. Their interview lasted about three hours, with Jones playing the role of a sarcastic reporter, accusing them of supporting a racist mascot and using props such as dictionaries, which define the Washington team name as a slur.

The fans found Jones mostly funny. "We kept telling him that we felt the name honored Native Americans," O'Dell said. "And then we just felt like, 'Are we done yet?' "

Meanwhile, the group of Native Americans — which included members of a comedy group called the 1491s — hung out in a separate room, waiting to make its surprise entrance.

"They essentially explained days in advance that the fans are going to be in there, and they're just going to be essentially justifying the use of the word Redskins and the use of racial imagery, and they're going to say a lot of things they would most likely not say in front of American Indians — and that we were going to go in there and see if they'd actually say all of that in front of us," said Bobby Wilson, 29, a 1491 member who was flown to Washington from Phoenix for the segment. "That was definitely something we could get on board with. It didn't seem strange or unfair on our end, considering that each of us has always been confronting racism on this level."

As Jones wrapped up his interview with the Redskins fans, he made an unexpected transition, according to O'Dell. "Jason says something like, 'Well, don't you think it would be great if you could just have a conversation?' " she recalled. "He turns around, and Native American people came in, just glaring at us. "

Jones pulled out some beer and chicken wings, O'Dell remembered, and sat back and watched. Both the fans and Native Americans said the room first filled with awkward silence, then vitriol.

"I said to them, 'You sound like an alcoholic, someone who's in denial and who doesn't want to believe what they're doing is not right,' " recalled Blackhorse, who said the interaction with fans left her feeling "dehumanized." "They don't see anything wrong with it. ­ . . . That's what the owner [Dan Snyder] is feeding their fans."

O'Dell said she felt trapped. "I was told that I was 'psychologically damaging Native American children,' and every time we tried to say something, we got cut off," she said.

[…]

"Going up against Amanda Blackhorse? It's like playing football and they're going to have RGIII," Hawkins said, referring to injured Redskins quarterback Robert Griffin III. "I am just an average fan. These are activists who have media training and talking points."
While I've long since come around to the argument that the Redskins name ought be changed, Hawkins is right.
These segments are a "Daily Show" staple. They take bits and pieces out of very long interviews in order to portray the interviewee, representing a political opinion they intend to skewer, in the worst possible light. They usually supplement the treatment with spliced close-ups of the interviewer rolling their eyes or otherwise mocking the interviewee, intended to give the impression they were doing that at the time rather than in a separate shoot. It's completely one-sided and uninformative. But usually, at least, the subjects are public figures, if minor league ones, who reasonably know what they're getting into.
To use these techniques on ordinary fans, presumably hand-picked to be ripe for mocking, and subject them to Jason Jones' skillset is unfair. To then pile on by stacking the panel with professional activists and comedians is just shameful.
Making fun of Redskins owner Daniel Snyder or other team executives, spokesmen, and the like is fair. Ditto sports columnists and other professionals who defend the nickname. But accusing ordinary people of racism, dehumanization, and psychologically damaging children for nothing more egregious that supporting a team whose nickname is out of touch with modern sensibilities is beyond the pale.