Dallas Cowboys Uniform Change
The Dallas Cowboys may finally get rid of the green pants for 2010.
The upcoming season will mark the 50th anniversary of the Dallas Cowboys.  And they may mark it with a subtle uniform change than many of us have been begging for for some time.
Richie Whitt, Dallas Observer:
For years and years and years me and my brother have wondered why the Cowboys' home pants looked – from some angles, in a certain light – green. Ish. Turns out it's because they are. Tex Schramm designed them that unique shade because, on TV, it came across blue-gray-silver.

"When fans go to our home games in person the No. 1 grief we hear about is the green pants," says Cowboys vice president of merchandising Bill Priakos. "Now we're hearing it from fans watching on TV because of HD. It's too realistic."

On old-school TV, Cowboys' green came across silver. On HD TV, Cowboys' green comes across, well, green.

The solution might be a rare, subtle uniform tweak.

"Nothing's set in stone," Priakos says. "But we want the pants to look silver, to be consistent to every fan no matter if they're at the game or watching on TV, whether we're home or on the road. Of course, we'll never change the home white jerseys or the helmets, but we're experimenting with some different shades in the pants."
While the Cowboys have had very little change in their uniforms since moving from their original blue and white unis to the current silver and blue in 1966, the divergence in colors between their home and away uniforms has long seemed odd.  Here are their official colors: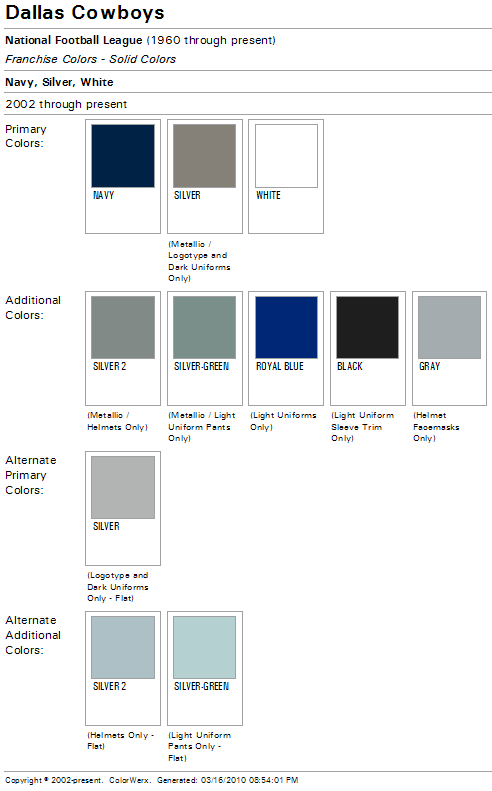 So, there are actually seven variations on the silver alone!  The helmet doesn't match either set of pants!   And there are two distinct blues:  a royal for the trim on the home white jerseys and a navy for the helmet star and stripe and the road jerseys.    More confusingly, the "throwback" alternate uniform, modeled after the franchise's original uni, is navy and white even though royal was the team's official blue until late in the 1980s.
My druthers would be for the silver on the helmets and the pants to match — and for the same set of pants to be used for both main uniforms — and for one blue to be used across the three uniforms, with the helmet star and jersey matching.   And, while royal is old school, the navy should likely be that blue.