Darth Vader More Popular Than Anyone Who Might Run For President In 2016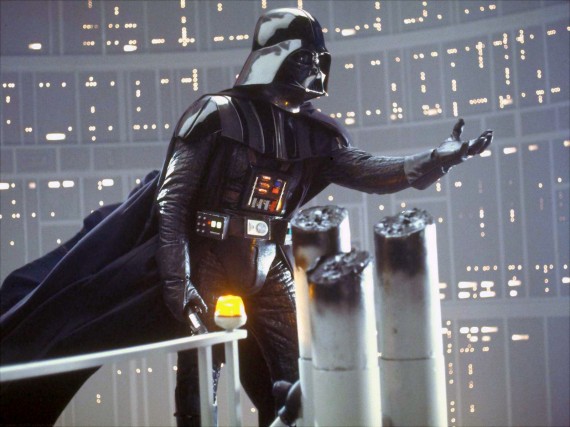 The Washington Post's Christopher Ingraham looks at some recent polling and finds that a Dark Lord of the Sith is apparently more popular than the people who will possibly run for President in 2016:
On Tuesday FiveThirtyEight released the results of a poll of Americans' opinions on the "Star Wars" universe. Not surprisingly, Jar Jar Binks is the most reviled character in the series. As Walt Hickey notes, the Gungan from Naboo posted lower favorability numbers than Emperor Palpatine, "the actual personification of evil in the galaxy."

On the other hand, with a net favorability of -8, Jar Jar is considerably more popular than the U.S. Congress, which currently enjoys a net favorability rating of -65. In fact, the last time congressional net favorability was above that was February 2005. Incidentally this was just before the release date of "Star Wars Episode III: Revenge of the Sith," which marked Jar Jar's last appearance on the big screen.

But picking on Congress' unpopularity is a bit like beating a dead tauntaun. After all, the legislative branch has been less popular than lice, brussels sprouts and Nickelback for some time now. What if we compared the favorability of 2016 presidential hopefuls and other political leaders with that of "Star Wars" characters?

Hillary Clinton currently has the highest net favorability of any 2016 White House contender. But to put her 19 percent favorable rating in context, she's tied with Boba Fett, the bounty hunter who froze Harrison Ford in carbonite.

None of the 2016 hopefuls is polling higher than Darth Vader.
Here's the chart comparing the two polls: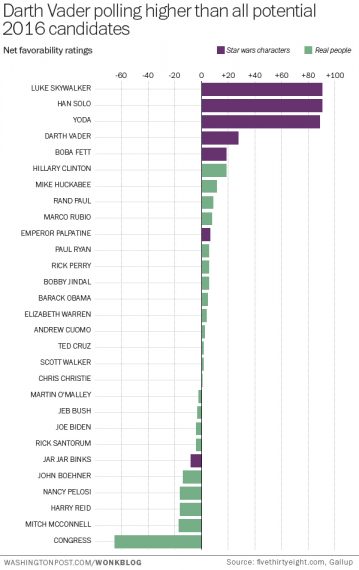 This is, quite obviously, entirely nonscientific. I mean, after all, the American people wouldn't really prefer a genocidal disciple of the Dark Side of The Force who tortured his daughter, cut off his son's hand with a lightsaber, and murdered hundreds of Jedi younglings over an American politician would they?
On second thought, maybe we need to think about this a little more.