Dave Chappelle's Weak Response to Critics
It's not funny when you have to constantly explain the jokes.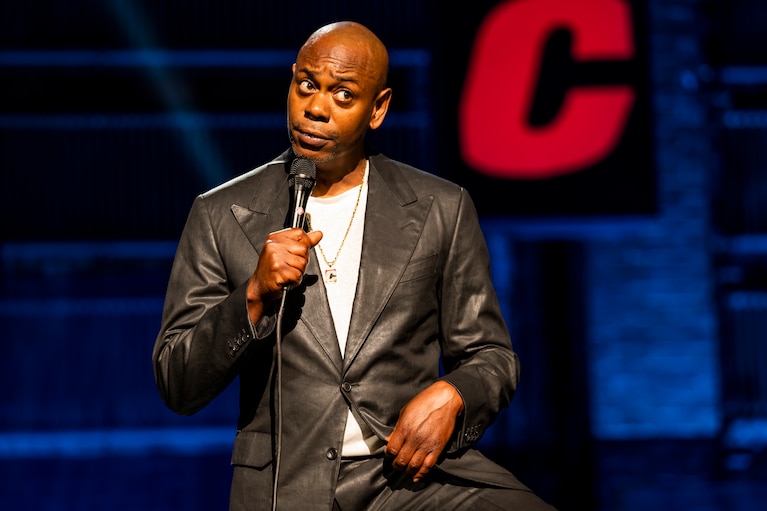 Earlier this month, I discussed Dave Chappelle's last Netflix special, "The Closer," and the criticism it faced over allegedly transphobic humor. While I can see where his critics are coming from, I see the work as both further evidence of his brilliance as a comedic craftsman and yet something more. Like most of the greats in the stand-up game, he blends serious commentary in a way that makes it difficult, indeed, to separate the jokes from the man.
But, I noted, in response to a critic's charge that Chappelle is awfully defensive about a man who claims not to care what people think,
Because, like most of us, there is sometimes a dichotomy between what we think and what we feel. Chappelle is a superstar with more money than he can ever spend and doesn't need to give a shit about what some rando on Twitter—or even critics at NPR, the Daily Beast, or Vulture—think of him. And, yet, of course, he does. He thinks he's a good dude and wants people to like him. Especially when he thinks the animosity results from people reading a couple of setup lines in a long bit as a representation of the whole act and, therefore, of him.
This comes out again in his latest bit, which he posted to his Instagram account:
NPR's Jonathan Franklin provides a partial transcription:
It's been said in the press that I was invited to speak to the transgender employees of Netflix and I refused. That is not true — if they had invited me I would have accepted it, although I am confused about what we would be speaking about. I said what I said, and boy, I heard what you said. My God, how could I not? You said you want a safe working environment at Netflix. It seems like I'm the only one who can't go to the office."

"I want everyone in this audience to know that even though the media frames it that it's me versus that community, that's not what it is. Do not blame the LGBTQ community for any of this. It's about corporate interests, and what I can say, and what I cannot say. For the record, and I need you to know this, everyone I know from that community has been loving and supportive, so I don't know what this nonsense is about."

"This film that I made was invited to every film festival in the United States. Some of those invitations I accepted. When this controversy came out about 'The Closer', they began disinviting me from these film festivals. And now, today, not a film company, not a movie studio, not a film festival, nobody will touch this film. Thank God for Ted Sarandos and Netflix, he's the only one that didn't cancel me yet."

"To the transgender community, I am more than willing to give you an audience, but you will not summon me. I am not bending to anyone's demands. And if you want to meet with me, I am more than willing to, but I have some conditions. First of all, you cannot come if you have not watched my special from beginning to end. You must come to a place of my choosing at a time of my choosing, and thirdly, you must admit that Hannah Gadsby is not funny."
While this has the desired effect of putting the attention back on his message rather than that of his critics, I don't see how it helps his cause any.
First, while I not only think he has every right to express his views on these issues but differ only at the margins from them, it's simply silly to say that this is somehow about "corporate interests" and not "the LGBTQ community." While it may well be that everyone Dave knows from said community has been supportive, there are clearly a number of people who find his comments hurtful.
I think he's genuine in not wanting to be hurtful and believe him when he says that he sees transgender individuals as full human beings deserving of love and respect. Yet there's simply no way to argue that transwomen aren't truly women—and make cutting jokes in support of that position—without insulting them.
His views on this are almost certainly mainstream. A decade or so ago, they were almost universal. But, coming from a very powerful cisgender man with a huge platform, these jokes are absolutely "punching down." The fact that he's Black doesn't change that. He is laughing at them, not with them. That's true even if the late Daphne Dorman and other transwomen Dave knows personally found them hysterically funny.
Second, the notion that Chappelle, who has been paid tens of millions by Netflix to produce these comedy specials, has been "canceled" is just silly. He's making jokes that are simultaneously in alignment with what most people think and that are taboo in the part of polite society where he happens to make a living. So, the creatives at Netflix—who are almost certainly disproportionately more LGBTQ and younger (and thus more LGBTQ-friendly) than the society at large—are naturally up in arms. But the "corporate interests"—in the person of heaven-sent CEO Ted Sarandos—are aligned with the side of profit—and thus Chappelle—rather than said creatives.
Still, I don't think it would be tenable for Netflix, HBO, or any other big corporation to distribute and promote future Chappelle specials that continue down this path. Not only will the backlash not be worth it but we're fast approaching the point where continued jokes about the anatomy of transgender people simply won't be funny to the most coveted demographics the networks are trying to court.