David Clarke's Plagiarized Masters Thesis
The infamous former sheriff and current Trump Homeland Security official committed academic fraud.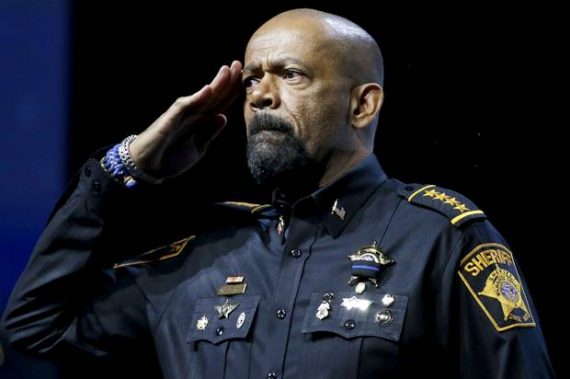 David Clarke, the infamous former Milwaukee County sheriff who recently claimed to have been appointed as an Assistant Secretary in the Department of Homeland Security, plagiarized significant portions of his thesis at the Naval Postgraduate School.
First, as many on my Twitter feed noted when this broke last evening, this offense pales in comparison to the outrages he committed as sheriff.
Second, prior to this revelation, I had no idea he'd gotten a graduate degree, much less at NPS.
Third, no, NPS is not part of the professional military education system in which I'm employed. While most of their students are relatively junior officers in the U.S. military, completion of the program does not substitute for attendance at a staff or war college. [Addendum: There is, however, a joint program available with the Naval War College that allows some NPS students to get PME credit. Clarke was not enrolled in that program.]
Fourth, the fact that he cited all of the sources in question does not absolve him of plagiarism. No one who has completed so much as a high school education can claim they don't know they're supposed to mark text taken from others with quotation marks. I mean, "quotation" is right there in the name. Further, the NPS's published Academic Integrity guidelines spell it out:
Whenever you make use of another person's distinctive ideas, information, or words, you must give credit. If a passage is quoted verbatim, it must be set off with quotation marks (or, if it is a longer passage, presented as indented text), and followed by a properly formulated citation. The length of the phrase does not matter. If someone else's words are sufficiently significant to be worth quoting, then accurate quotation followed by a correct citation is essential, even if only a few words are involved.

A citation is also required if you paraphrase or summarize someone else's work. Note, however, that if you paraphrase or summarize a text you must convert its substance into your own words, not merely change a few words here and there while leaving the rest intact; and you must still cite the source you have used, even though you are not quoting the original language.
Fifth, the plagiarism in this particular case is quite egregious. Not only are there numerous instances but the modest attempts at inserting Clarke's own words into the construction often changed the meaning of what was being said. In a couple of instances, the new construction is nonsensical. For example, the ACLU text
New institutions like fusion centers must be planned in a public, open manner, and their implications for privacy and other key values carefully thought out and debated.
Is transformed in Clarke's formulation as
They contended that the creation of new institutions like state and local fusion centers must be planned in a public, open manner with carefully thought-out and debated implications for privacy and other key values important in a democracy.
What does that even mean?
Similarly, this from a CRS report
Some of the civil liberties questions raised in response to anti- terrorism efforts stem from the conflict between individual privacy interests and the intelligence needs of law enforcement and national security.
Becomes this in Clarke's paper
Another report for Congress raises questions in responding to anti-terror efforts, stemming from the conflict between individual privacy interests and the intelligence needs of law enforcement and national security.
That's gibberish.
Sixth and relatedly, this poor work should have been flagged by his thesis advisors. At my institution, we use a plagiarism detection software package to help identify problematic usage. But, even if NPS doesn't, the confusing passages above should have raised a red flag. Clarke's thesis advisor was Robert Simeral, a retired Navy captain who is a senior lecturer at the school's Department of Information Sciences who has been "leading the [Fusion Center Leaders Program] since its inception in 2008."  My first instinct, then, was that the paper was supervised by a practitioner without a traditional academic background. (One presumes Simeral was an intelligence officer with a war college master's degree; if he had a PhD, the site would certainly list it.) But the second reader was Christopher Bellavita, who isn't listed on the faculty page but a 2008 publication bio lists him as the "director of academic programs for the Center for Homeland Defense and Security" at NPS and a Berkely PhD. Bellavita, then, is certainly well acquainted with academic protocols.
While not quite as embarrassing as Monica Crowley's hackishly plagiarized PhD dissertation at Columbia, this is nonetheless a black eye for the institution. Such an egregious case of plagiarism should never make it through the review process.
Correction: the initial opener to the post had Clarke appointed to a DHS post. While widely reported last week, he seems to be the sole source on this and no official announcement has been made.