Milwaukee Sheriff David Clarke Resigns, Will Reportedly Go Work For Trump
Controversial Milwaukee Sheriff David Clarke has resigned and will reportedly go to work for Donald Trump.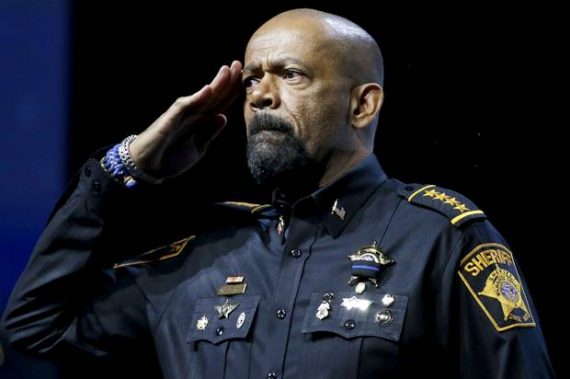 David Clarke, the controversial Sheriff of Milwaukee County, Wisconsin who has become something of a folk hero on the American right due to his political statements and carefully sculpted reputation for being a "law and order" officer in the mold of Joe Arpaio, abruptly resigned his position yesterday and appears set to take some kind of position in the Trump Administration:
Milwaukee County Sheriff David A. Clarke Jr. — the controversial, Stetson-wearing official who rose to national prominence with his no-holds-barred conservative rhetoric — resigned his office Thursday.

Clarke, who is in his fourth term, submitted a resignation letter to Milwaukee County Clerk George Christenson on Thursday.

"After almost forty years serving the great people of Milwaukee County, I have chosen to retire to pursue other opportunities," Clarke said in a statement.

Craig Peterson, an adviser to Clarke, said the sheriff would make an announcement about his future next week. "The sheriff wants people to know that he appreciates his 15 years of service and the support he's gotten from the residents of Milwaukee," Peterson said.
Several hours after the announced resignation, both Politico and The Hill reported that Clarke is expected to take a position with the Trump Administration. Earlier this year, there was a report, although it was never confirmed, that Clarke would be appointed to a sub-Cabinet position at the Department of Homeland Security that did not require Senate confirmation. That offer, however, was withdrawn shortly after it was revealed that Clarke had plagiarized significant portions of his Masters Thesis at the Naval Postgraduate School.  It's unclear at this time whether the Trump Administration position that Clarke will be assuming is the same DHS position that he was previously offered, or if it will be a staff position inside the White House. As noted, though, it will not be a position that requires Senate confirmation so that likely means either a relatively low-level position in a Cabinet Department or something inside the White House.
In addition to the plagiarized Thesis, other controversies have surrounded Clarke's time as Sheriff, during which he generally had jurisdiction over the County Jail and Courthouse security but, unlike equally controversial former Sheriff Joe Arpaio, did not include generalized law enforcement in the local community. Perhaps the most notable case involves the case of Terrill Thomas, who died of dehydration while being held in Clarke's jail after being held in solitary confinement for eight days without running water for allegedly bad behavior. A lawsuit against Clarke and the county was filed in April of this year and apparently remains pending. Additionally, a woman who gave birth while in custody at Clarke's jail is suing Clarke and the county after it was revealed that she was kept shackled while giving birth, a practice that is generally forbidden by both the Wisconsin Bureau of Collections and the Federal Bureau of Prisons. Clarke is also the subject of a harassment lawsuit arising from an incident at Milwaukee's airport where a fellow passenger alleges that he was detained and harassed by Sheriff's Office deputies after he asked Clarke about his favorite football team. After the incident, the man involved alleges that Clarke taunted him via his official Facebook feed. Finally, Clarke has resisted efforts by Milwaukee County officials to audit his department based on these and other incidents and has also been accused of "Stolen Valor"-like violations due to the fact that he chose to adorn his official uniform with medals and other insignias that were either completely meaningless or which appeared to symbolize that he had received honors to which he was not entitled.
Despite all of this, and despite the fact that he was registered and had run three times for office as a Democrat, Clarke has become something of a celebrity on the right thanks to outspokenly conservative political views and appearances on Fox News Channel as well as the radio show hosted by the controversial Alex Jones. More recently, Clarke had become an outspoken supporter of Donald Trump as both a candidate for President and as President, including a speech at the Republican National Convention at which he delivered a pro-Trump speech while wearing his official uniform. Given this, it's not surprising at all that Clarke would end up going to work for Trump.