David Duke on the Rallies and on Trump
And some comments on Trumps' anemic rhetoric.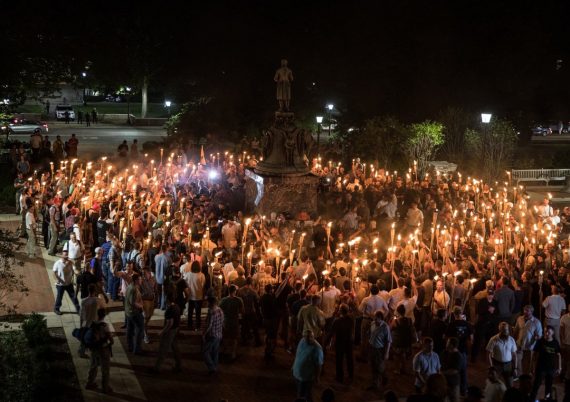 While the President may be equivocating on what has been happening in Charlottesville, VA, David Duke has clarity:
David Duke: "We are determined to take our country back." #Charlottesville https://t.co/dfTnZlUgT7 pic.twitter.com/akZaO6RxSe

— USA TODAY Video (@usatodayvideo) August 12, 2017
Indeed, he reinforced his position on Twitter in the face of the President's anemic criticisms:
I would recommend you take a good look in the mirror & remember it was White Americans who put you in the presidency, not radical leftists. https://t.co/Rkfs7O2Ykr

— David Duke (@DrDavidDuke) August 12, 2017
That President Trump has not distanced himself from these comments brings shame to himself and his presidency. While I do not expect that he, himself, would necessarily have seen either this clip or the tweet in question, his staff should be aware. Further, it would be impossible to ignore the general pro-Trump tenor of the events in question and their explicit linkages to white nationalism and, indeed to neo-nazism. That the president could not bring himself to condemn those elements, and that he saw no need to distance himself from this support in any way, shows at a bare minimum an acknowledgement of his need for the support of this movement.  At worst is shows endorsement.*  His foray in perhaps the worst case of "both sides do it" in American history was a shameful display (as was his eschewal of any responsibility):
We condemn in the strongest possible terms this egregious display of hatred, bigotry and violence, on many sides. On many sides. It's been going on for a long time in our country. Not Donald Trump, not Barack Obama. This has been going on for a long, long time.
I expect that the phrase "on many sides" will be one that will go down in historic infamy.
I am not willing to accept the notion that he is soft-pedaling these events out of ignorance or strategy. This is a man who, just this week, significantly escalated rhetoric about a potential nuclear confrontation with North Korea and went straight to talking about military options in Venezuela.  He is not known for his subtle touch or his desire to avoid confrontational rhetoric.  Indeed, as David French noted yesterday at NRO's The Corner (emphasis mine):
if there ever was a time in recent American political history for an American president to make a clear, unequivocal statement against the alt-right, it was today. Instead, we got a vague condemnation of "hatred, bigotry and violence on many sides." This is unacceptable, especially given that Trump can be quite specific when he's truly angry. Just ask the Khan family, Judge Curiel, James Comey, or any other person he considers a personal enemy. Even worse, members of the alt-right openly celebrated Trump's statement, taking it as a not-so-veiled decision to stand against media calls to condemn their movement.
As Doug Mataconic tweeted this morning:
Things @RealDonaldTrump will critize: Mtch McConnell, JRobert Mueller

Things he won't critize: Vladimir Putin, White Supremacists

— Doug Mataconis (@dmataconis) August 13, 2017
Further, some in the neo-nazi world took solace in Trump's words (Neo-nazis and white supremacists are celebrating Trump's remarks about the Charlottesville riots):
The founder of the Daily Stormer, a neo-Nazi and white supremacist website that considers itself a part of the alt-right, celebrated the fact that Trump "outright refused to disavow" the white nationalist rally and movement.

"People saying he cucked are shills and kikes," wrote the founder, Andrew Anglin. "He did the opposite of cuck. He refused to even mention anything to do with us. When reporters were screaming at him about White Nationalism he just walked out of the room."
It is worth noting, as per the tweet earlier in the post, David Duke saw the president's remarks as too critical of the marchers.
To conclude on Duke, I will share this tweet that I saw on his feed this morning:
Who is handing Trump these insane Globalist & Israeli first policies – WHO?!

Who is influencing Trump to abandon his campaign policies? pic.twitter.com/FN3Qk2Zmri

— David Duke (@DrDavidDuke) August 13, 2017
Just in case anyone was confused as to Duke's views.
—-
*It is not unfair to point out that the administration's policies on immigration, and Stephen Miller's confrontation with Jim Acosta, give solace to the views espoused by the marchers–just to name two examples.