DC Police Supported Women's March; We Shouldn't Know That
Police must be seen as neutral protectors of the peace.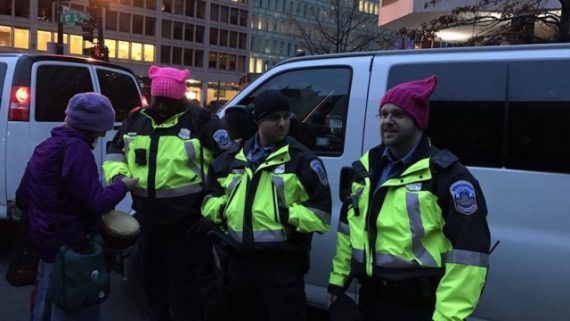 Members of the DC police wore "pussy hats" to show their support for the Women's March. They shouldn't have.
Some members of the Washington, D.C., Metropolitan Police Department donned the same hats as hundreds of thousands of protesters Saturday as they worked alongside the activists.

The hats, which were made in a variety of ways with pink yarn, are beanies with two cat ears.

Participants dubbed them "pussyhats" in response to the 2005 "Access Hollywood" tape of President Trump that leaked during the campaign, featuring him saying he'd grabbed women "by the pussy." Hundreds of signs at the march referenced the comments on the tape as well.

Washingtonian reporter Benjamin Freed posted photos of police officers wearing the caps on Twitter Saturday.
DC cops posted across from White House are wearing pink pussyhats and posing for photos with marchers. Big cheers from crowd. #WomensMarch pic.twitter.com/BCP6DO2lQp

— Benjamin Freed (@brfreed) January 21, 2017
Freed also first reported the trend in a Washingtonian piece published Saturday.

The hats are seen as a symbol for the march, and many of the participants made their own. According to the Washingtonian, they were also a response to Trump's "Make America Great Again" hat.

Hundreds of thousands of protesters descended upon Washington, D.C., on Saturday for the historic Women's March on Washington.
Now, I'm supportive of the stated goals of the march. Many friends and colleagues took part in it. That the cause was appealing to many members of the DC police department is not only not surprising but encouraging. But police are supposed to be neutral protectors of the peace, not partisans.
For one thing, this bit of news takes on a whole new context now:
No arrests were made at the march.
Now, presumably, the march was peaceful. But Trump supporters now have reason to think that police might have looked the other way at acts of violence or vandalism that would have led to arrest were the marchers from a pro-Trump group.
And, indeed, the next time a pro-Trump group holds a march, they now have reason to think the DC police is on the other side. That's dangerous.
Moreover, such politicization of the legitimate authorities feeds into the paranoia that already characterizes the Trump administration. If the DC police is actively in opposition to him, he's actually justified in wanting his own private security forces.