Defining 'Extremism' in the Military
It's harder than a looks, especially given the limited size of the problem.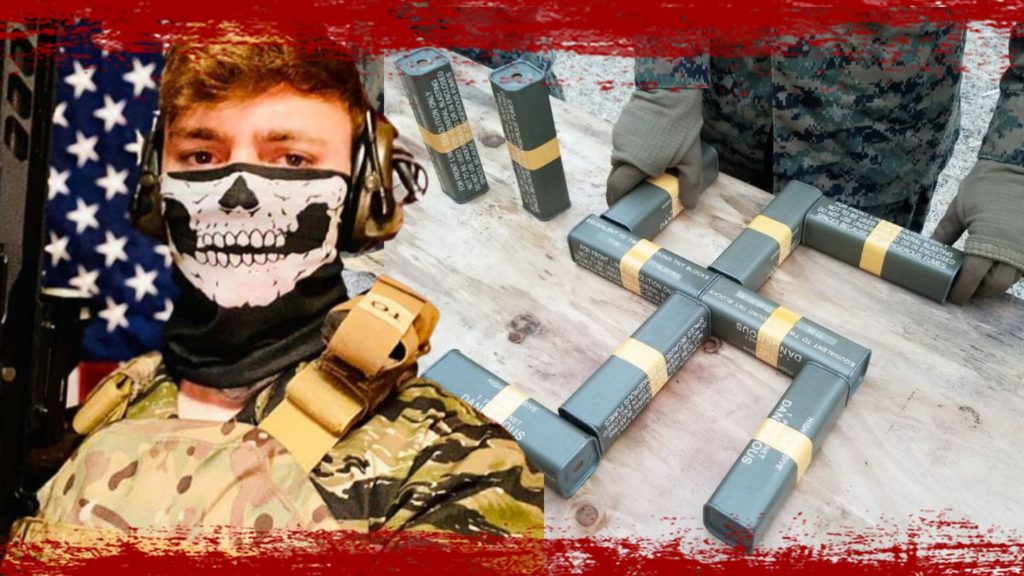 Barbara Starr, CNN's Pentagon correspondent, reports "Pentagon extremism adviser lays out challenge facing military after two commanders deny a problem exists."
One day after two four-star military commanders told Congress they did not have problems with extremists in their ranks, the top adviser on the issue to Defense Secretary Lloyd Austin took a different view and stated plainly that he believes the opposite.

[…]

"I am very confident that the number of extremists in my forces is zero," Adm. Charles Richard, head of the US Strategic Command, which oversees nuclear weapons, told the Senate Armed Services Committee. Richard said the high level of security clearances required to work for his command means extremists would be identified through questioning, security interviews and peer monitoring. "So if there are any extremists in my organization, one, they hide it very well. And two, it's just a matter of time until I get to them."

Gen. James Dickinson, head of US Space Command, also strongly suggested he did not have a major issue with extremists in the ranks: "I would tell you right now that we have done everything that Secretary Austin has asked us to do in terms of training and awareness, but in my organization I would say that number is zero" and said he had never encountered extremists in the ranks during his career. "I believe it's close to zero in my organization, if not zero."
Neither the gotcha question nor the knee-jerk answer were helpful. Is there rampant extremism of the white separatist variety in the US armed forces? Probably not. The nature of the vetting process and the day-to-day forces these attitudes underground. But are there "zero" extremists in the ranks? Of course not.
But this isn't helpful, either:
"It would be remiss if we didn't admit that there is a problem with extremist behavior in the military. That is to say that one extremist is one too many," Bishop Garrison on Wednesday told a Center for American Progress think tank seminar on ending White supremacist violence."The George Floyd murder hearing and a lot of these other day-to-day issues that greatly affect communities of color whether or not they wear a uniform or work for DoD are vitally important for us to understand. If we're going to be strong teammates we have to ensure that we're being proper allies for those individuals going through a lot of difficult times within their own communities, so having an education and training line of effort that helps us better understand these gray areas and what we need to do to help address a lot of these issues is going to be of vital importance for us," Garrison said. He is the first senior Pentagon official to speak about the Floyd case since the guilty verdict Tuesday against former police officer Derek Chauvin.
Garrison is a thoughtful person. He's a 2002 West Point graduate who got out after his five-year obligation to go to law school at William and Mary and has since built a career in Democratic politics, mostly advising in the national security-social justice space. But, while he's certainly right that it would be ideal if white servicemembers are good allies to persons of color in the ranks, able to see incidents like the George Floyd murder through their eyes, that's a whole different plane than "extremism." To be sure, a force where everyone met that objective would be free from one form of extremism. But conflating the issues confuses the process, sending the message that it's about thought conformity rather than activity that's prohibited under the Uniform Code of Military Justice.
Garrison is overseeing Austin's effort to better define the scope of the extremist problem in the ranks and ensure that troops know what behaviors are not acceptable. However, it is not clear the military will be able to come up with a specific definition of what constitutes extremism, one senior Defense official told CNN.

The Pentagon has struggled to define the issue because while extremist activity — including White supremacist and hate activity — is banned, there are limits on the military's ability to surveil the activities of the troops without violating their rights. Top Defense Department officials have said it's a priority to determine the scope of the problem.
Short of active violence and terroristic activity, such as the Ku Klux Klan and criminal gangs, drawing a sharp line is next to impossible. While soldiers don't enjoy the full protection of the First Amendment, they still have broad rights to think what they want to and to belong to organizations that engage in political expression. So, for example, former President Trump clearly expressed views popular with white nationalists. We're certainly not going to ban everyone who supported Trump from the armed forces. Ditto even those who thought the election was somehow stolen—so long as they don't openly advocate disobedience to President Biden.
But what about the Proud Boys and various "Patriot militia" groups like the Oath Keepers? There is movement in Congress to ban membership in these groups. But there's also understandable resistance.
A retired Navy commander in Congress though, Georgia Republican Rep. Andrew Clyde, bristled at the idea of screening troops for extremist ties, as was done to National Guard members ahead of the mission to provide security on Inauguration Day in Washington, D.C.

"This smacks of the 'Thought Police,'" Clyde said, referencing the secret police in George Orwell's dystopian novel "1984" that punished beliefs that weren't government-approved.
And some argue that existing law is sufficient:
"The Uniform Code of Military Justice already offers all the tools necessary to prosecute service members who have committed violent offenses, including any criminal act a violent extremist would potentially commit, and I am confident the UCMJ can be used as needed to protect all members of the military community," said Sen. Jim Inhofe (R-Okla.), the former chair of the Senate Armed Services Committee. "This kind of behavior directly undermines the ability of our armed forces to perform their constitutionally mandated role of defending the nation."
The thing that set off this conversation was, of course, the 6 January attack on the Capitol:
The fact that as many as 33 service members or veterans were charged following the insurrection at the Capitol on January 6, according to a CNN analysis, suggests the opposite is true. The involvement of those with military experience in the riots has raised fresh concerns that extremist groups are specifically trying to recruit former military members because of their firearms expertise and organizational skills.
There are some 1.4 million people on active duty right now and another 700,000 or so in the various reserve components. And more than 18 million veterans. So, that's roughly 20 million people, only a tiny fraction of them currently on active duty. And, of those, 33 people had some role in the Capitol riots. That's not even a rounding error.
Paul Szoldra, a former Marine infantryman and founder of Task and Purpose, rightly notes, "No one knows exactly how many extremists are in the U.S. military, but it takes only one to wreak havoc within the ranks." He cites examples of those who have carried out actual terroristic plots. His investigation found "dozens of current and former service members sentenced for, discharged over, or identified in news reports as having ties to extremist activity in the past five years." But almost all of them are either extremely young first-term enlistees, members of the Guard or Reserve, or both. And, frankly, most of the associations with extremism are tenuous. But, again, this is "dozens" over a span of five years in a force that's 2.1 million people at any moment.
Should the Defense Department be aware of the growing problem of white nationalism in the United States? Of course. Should we be looking to root out people who are hostile to women and minorities? Of course. And, certainly, those who advocate violent, unlawful activity have to go.
But, goodness, let's not imply that those who are insufficiently on board with the Black Lives Matter agenda are being targeted for separation. Keep the focus on violence, sedition, insurrection, and eliminationist beliefs.